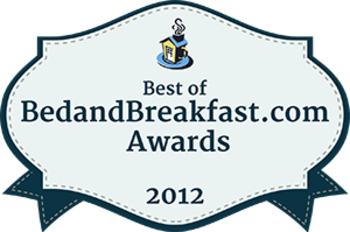 Recently, Bay City's own Historic Webster House was named one of the TOP 10 BED & BREAKFASTS IN THE US by bedandbreakfast.com! Look below to see what bedandbreakfast.com reviewers had to say about their stays at the Historic Webster House
Victorian elegance with modern amenities
Historic Webster House in Bay City, MI
"From the moment we walked in the door we felt right at home thanks to innkeepers, Gail and Steve. The Webster House is a beautifully restored old Victorian home that is comfortably furnished with period furnishings. Each afternoon at five there is a wine and cheese reception which gives an opportunity to meet other guests. We quickly discovered that others regard this bed and breakfast as a destination, rather than a place to stay while visiting nearby. One couple we met had visited four times and a second couple had visited twice. Breakfasts were delicious."
There's a reason why this B&B has nothing but 5 stars
"If you want relaxation in a beautiful home with great food and hospitality, GO HERE. I've looked around at other Michigan B&Bs, but none look like they can compare to the Webster House. The rooms are gorgeous, interesting, and clean. The hosts are friendly, accommodating and thoughtful. I requested to have flavored coffee creamer when I booked (YES, I really did) and it was always available. At breakfast, a nice bowlful of individual creamers was on our table. You will not find a nicer place!! Go to the Old City Hall for dinner then come back to your room for a nice jacuzzi soak and some complimentary wine. I also recommend inquiring about the heavenly sheets. They have sets for sale! Stay here once and you will be hard pressed to find a better place. I can't wait to go back!"
The Perfect B&B
"We only stayed one night but hated to leave. It was the perfect place. It was meticulously clean. Every comfort we could hope for was well thought out and met. The decor was absolutely beautiful. The outside was well kept with charming little garden sitting areas - The hosts were so nice and friendly. Had I known how great it would be, we would have stayed for at least 3 nights. This is a place I would highly recommend and would love to come back to!"
Click here
to read more reviews of Historic Webster House on Bedandbreakfast.com
Click here
to see all 10 winners of the Best of BedandBreakfast.com awards 2012!