Recently, my family and I made the trek from northern Kentucky to Go Great Lakes Bay in Pure Michigan, and I was absolutely amazed at just how much fun we squeezed into less than 48 hours with four adults and five children!  In addition to the travel planning ideas I received from the kind folks at Go Great Lakes Bay, when we arrived in Michigan, my cousins had prepared a long list of ways we could spend our time that weekend.   
I was overwhelmed with the task of deciding what we should do, so we talked to the kids to see what kinds of adventures they wanted to have.  We picked a few things to do each day, and tucked away a few of the ideas for our next visit to the area.  We didn't spend more than a few hours doing any one thing on the trip, so we could maximize our time and cram in as much fun as possible.   We had a blast in the Great Lakes Bay and are already planning to visit again next year!
Our Go Great Lakes Bay Getaway
After our drive to Michigan, my husband was ready to stretch his legs, so he went for a run on the trails at City Forest and couldn't get enough of the beautiful scenery.  I've added City Forest to our list of places we need to spend more time when we Go Great Lakes Bay again.  I'd love to take a hike, or even try the Toboggan Run in the winter time.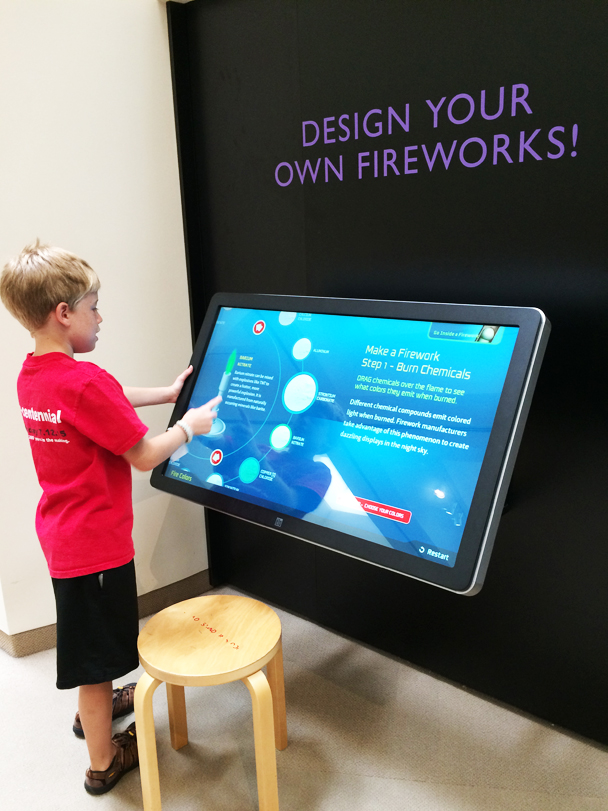 The Alden B. Dow Museum of Art & Science at Midland Center for the Arts was a great hands-on learning experience for the kids (and the adults as well).  We learned a great deal about the history of the region and the history of The Dow Chemical Company.  We also learned about great works of art, played musical instruments, built giant structures with building blocks, anchored a news cast, and much, much more!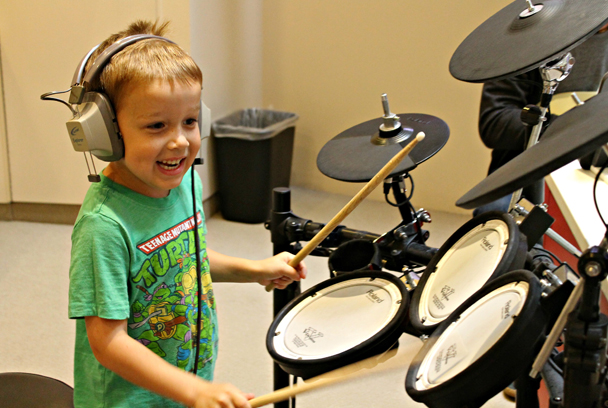 The icing on the cake for this visit was a special exhibit going on called "The Art of Dr. Seuss".  It was very cool to see some of his works presented in a larger-than-life way and also to see masterpieces of his that I've never seen before.  Midland Center for the Arts also offers many other events, such as live musical performances and theater.  Had our trip been a little bit longer, we would have loved to catch a live performance!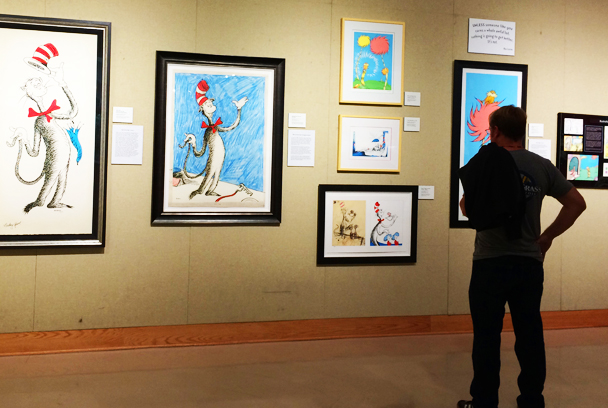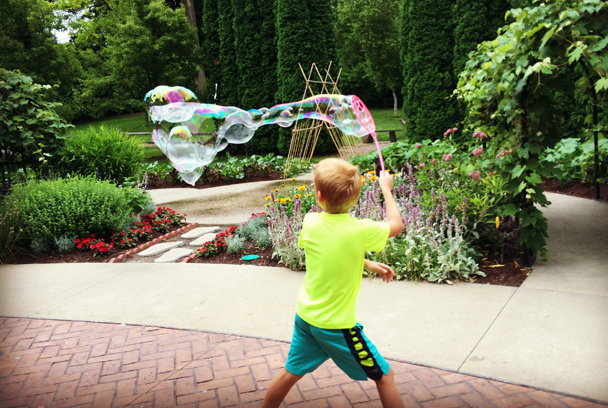 Right next door to the Midland Center for the Arts is Dow Gardens, a 110-acre wonderland of winding paths and beautiful gardens.  The founder of The Dow Chemical Company designed these gardens on his estate and the family foundation still maintains the gardens.  The Alden B. Dow Home & Studio is located near the gardens and offers tours of the home as well.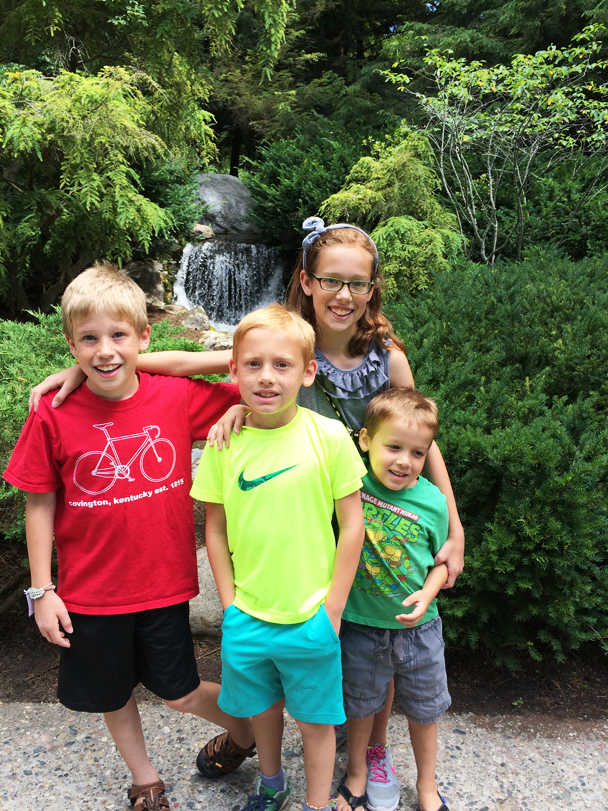 For our visit we stayed at the gardens, meandering around and taking in the gorgeous sights (and scents).  The gardens were also celebrating Dr. Seuss during our visit, and we were delighted to look for his works throughout the gardens.  The kids enjoyed the Children's Garden the most, but my favorite part of these huge gardens was the rose garden.  I've never seen so many rose bushes in one place, and I immediately made a list of a few varieties I would like to add to my own garden at home.  I could have sat in that rose garden for hours, reading a book or taking a nap in a hammock.  It smelled glorious and had a very peaceful air to it.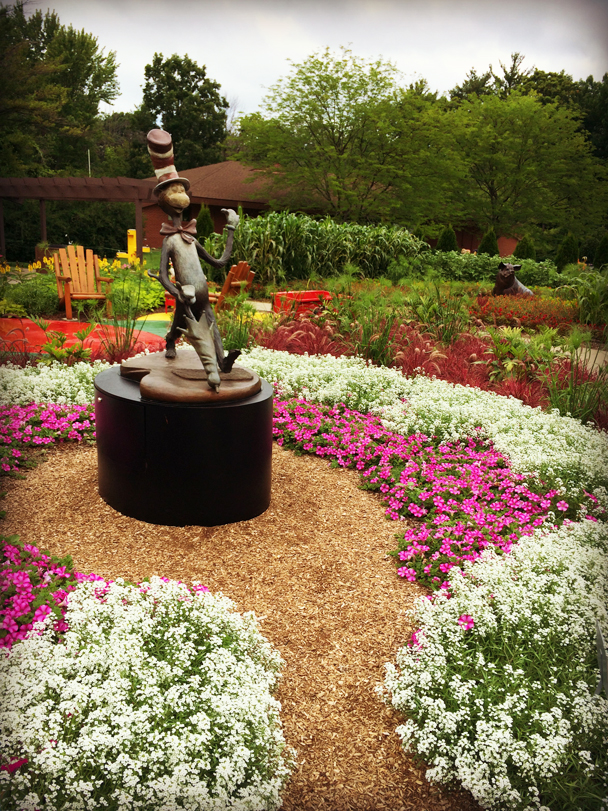 Boat Ride on the Tittabawassee River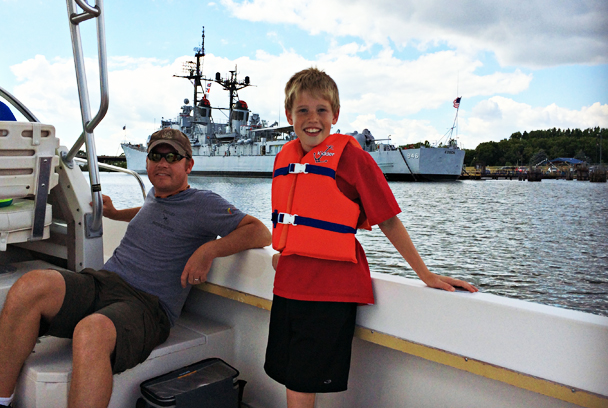 I love a good boat ride, so I was pretty excited to hear that our cousins were able to take us out on a leisurely ride on the Tittabawassee River on a friend's boat.  Bay City is so charming, and we got to see a  lot of it while driving through to it on our way to the river, but we also had some great views of the city from the boat.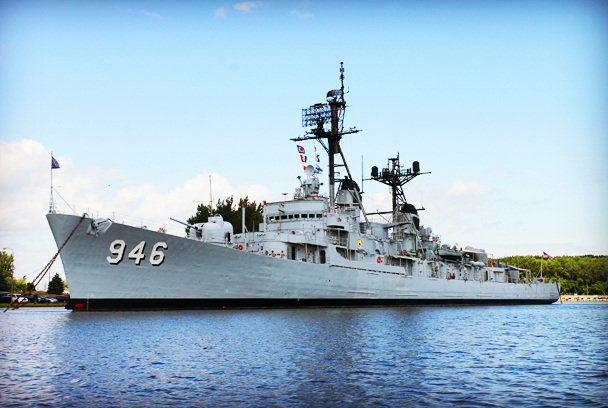 I feel like we have much more exploring to do in this quaint town next time we head north to Michigan.  While we were on our boat ride, the kids liked watching the draw bridges raise and lower and we were all impressed and awed when we rode by the U.S.S. Edson, an old naval ship that now houses its own historical museum.
After our boat ride on the Tittabawassee, we walked from the dock to Bay City's Tavern 101 for a bite to eat.  Along with their tantalizing food menu, Tavern 101 had an impressive beer menu, with several local brews to choose from. While you wait for your food, prepare to be served some sort of seasoned popcorn that is deliciously addictive.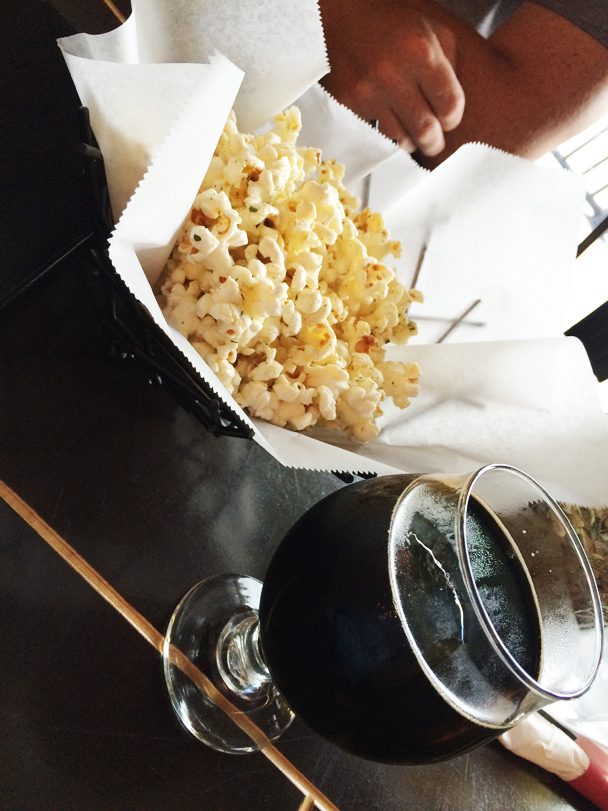 Our entire party was pleased with their meals.  Several people tried the flatbreads and pasta dishes, but I opted for the Pork Belly Patty Melt, and it was fantastic.  They paired the sandwich with Tavern Fries, which are a mix of traditional fries and sweet potato fries.  It was the first time I had ever had a sweet potato fry that I actually liked!  Aside from the great food and beverages,  I should also mention that we had awesome service at Tavern 101.  Our server was very attentive and friendly, which  made our meal that much more enjoyable.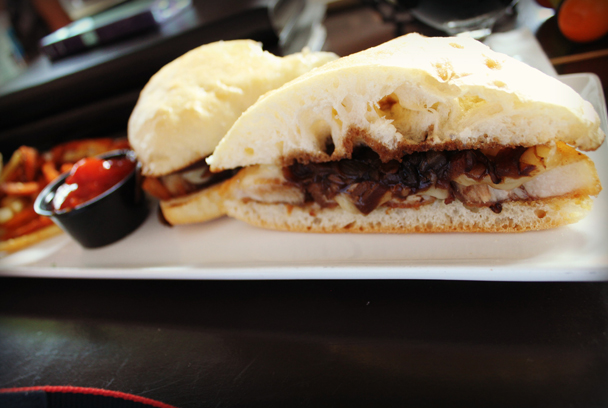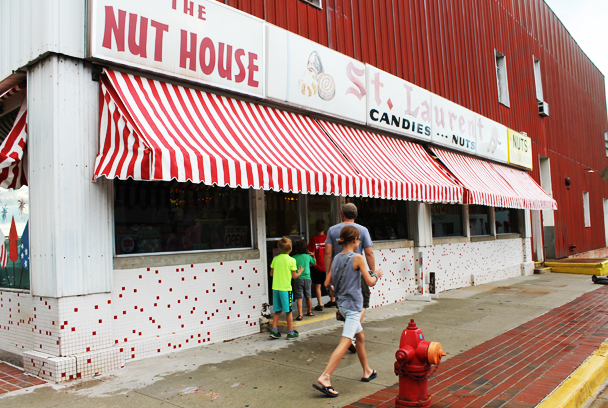 Even though we were all pretty full from our dinner at Tavern 101, we, of course, managed to find room for sweets.  We walked down the street to St. Laurent Brothers Nut & Candy Co. and everyone picked out a special treat to take home.  This store had more candy than any other candy store I've been to, including some more nostalgic candies I haven't seen in years.  If candy isn't your thing, St. Laurent Brothers also serves up a variety of ice cream flavors.
While we didn't make it to any of the Great Lakes on this trip, we did spend time at Sanford Lake on our last day in Michigan.  The kids (and adults as well) were so excited about playing in the sand at the beach and swimming in the lake.  The Sanford Lake Park is a wonderful place to spend the day.  You can go for boat rides there, play in the lake, splash at the spray park, walk along the beach, go fishing or even play disc golf.  I wish that we had a park like this near our home!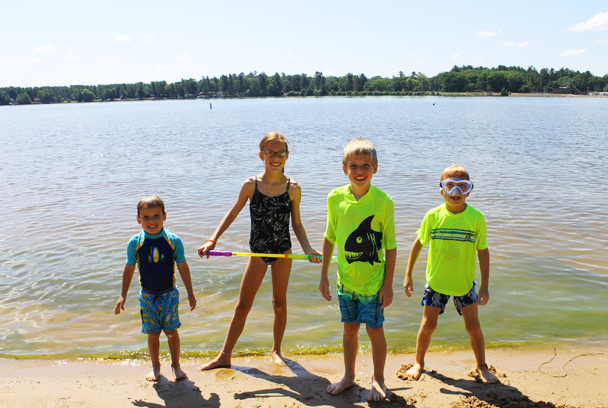 As you can see, we truly did cram tons of fun into a short amount of time, while still having a list of things to do and see next time we Go Great Lakes Bay.  After our weekend in Pure Michigan's Great Lakes Bay Region, I know we'll be returning again and again for future vacations... there is so much to explore in the state of the Great Lakes!