For some people, exploring takes place inside four walls (or on four wheels, for that matter). But for others, the experiences are - and the feeling of actually exploring is only - found outside, surrounded by fresh air, witnessing fleeting-moment sightings, getting fit and having fun while immersed in nature's glory!
Right here in our Great Lakes Bay stomping grounds lies the mecca of opportunity for outdoor escapades and year round adventures: The Great Lakes Bay Regional Trail! Grab your bike, pack up your in-line skates, bring along skis and snowshoes or just throw on some sneakers and get ready to explore!
Meet The Miles
Recreational trails for all non-motorized modes of travel and exploration, the Great Lakes Bay Regional Trail is a vision coming true. What are currently three individual trail systems - the Saginaw Valley Rail Trail, Pere-Marquette Rail Trail, and Bay City Riverwalk & Rail Trail - will soon be connected by an eventual 100-mile, looped path that is our Great Lakes Bay Regional Trail.
With the connector from Saginaw to Bay City newly-opened in October 2016, the vision to forge new paths while connecting existing ones continues to come to life!
Let's Talk Trails: Tips and To-Dos
Depending where you hop on (in Saginaw, Midland, St. Charles, or Bay City) - and in which season you're exploring - you'll find new and endless combinations of ways to explore each trail leg of the Great Lakes Bay Regional Trail 
And, heads up. Keep in mind the one-of-a-kind spot you're trailblazing when you Go Great Lakes Bay, where not one but two biotic provinces overlap, leaving a combination of flora and fauna (plants & animals) that refuse to make their homes anywhere else but here!
Bay County River Walk/Rail Trail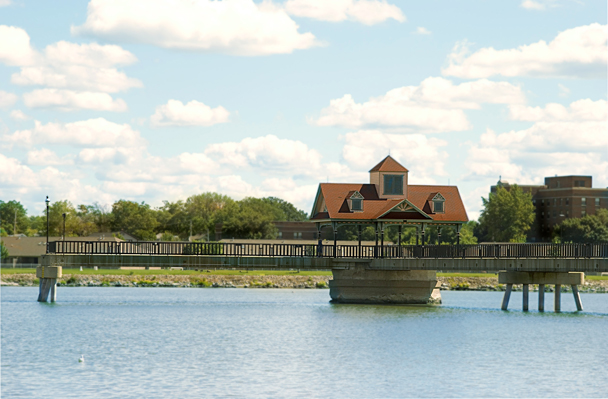 Hike (or bike?) into the Bay County River Walk/Rail Trail, and take in 17.5 miles through Bay County, including the Bay City State Recreation Area and exploration of Tobico Marsh. Prepare for wondrous views of the Saginaw Bay ... maybe stop to visit the nature center while in this memorable topography.
Looking for a rest or lunch stop? The Bay County River Walk/Rail Trail's 9.5-mile Bay City Loop travels through the heart of Downtown Bay City. (Think waterfront community, walking city blocks, and eateries, brew pubs, and coffee shops situated in historic brick buildings along the infamous Hell's Half Mile.) Grab a hearty sub sandwich at Intermission Deli, which happens to be very near Jack's Bicycle Shop if a tune-up or tandem bicycle rental is on your radar. 
Seasonal Trail Tip: Should snow be flying when you'll be on the Bay City River Walk/Rail Trail, snowshoe, cross-country ski, or fat tire bike through Tobico Marsh for a winter wonderland experience!
Saginaw Valley Rail Trail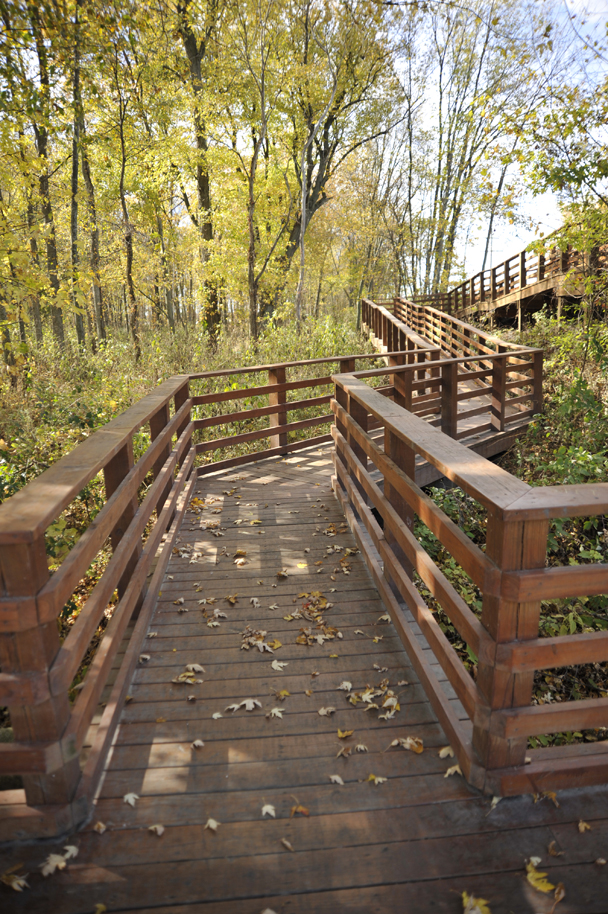 Depending on when and where you begin enjoying the Saginaw Valley Rail Trail (maybe even via the newer connector loop from Bay City), take in 11 miles of picturesque scenery, pocket parks and benches, a section of trail that skirts the Shiawassee River State Game Area affording excellent wildlife viewing, and even an historical stone railroad trestle bridge.
Look to the City of Saginaw Riverwalk path if venturing in-town for a bite to eat (or frothy mug of respite at the Rustic Inn Steakhouse & Saloon) is sought after.
Seasonal Trail Tip: Summertime along this trail includes foliage-created shade, wildflowers and even a fishing platform, where you might snag trout, perch, or smallmouth bass!
Pere Marquette Rail Trail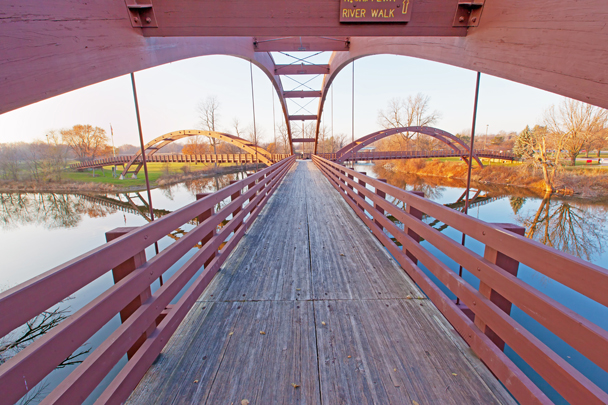 Should you find yourself along the 30-mile Pere Marquette Rail Trail running from Midland to Coleman, experience the serene, paved corridor through maple and pines with a loop around Chippewa Nature Center. Wildlife sightings are likely, as is witnessing the unique, three-way bridge, called The Tridge, located at the confluence of the Tittabawassee and Chippewa Rivers.
Exit the Pere Marquette Rail Trail at the Coleman Staging Area for lunch or even small-town, Amish-friendly shopping. The rail trail is the focal point for the city, and the Coleman Veterans Memorial is a noteworthy stop along the way.
Seasonal Trail Tip: Can you imagine the Pere Marquette Rail Trail in the fall, or picture yourself jogging or biking underneath the canopy of crimson and fields of golden glory? How about hearing the crunch of a freshly fallen snow beneath your snowshoes? Our sentiments exactly!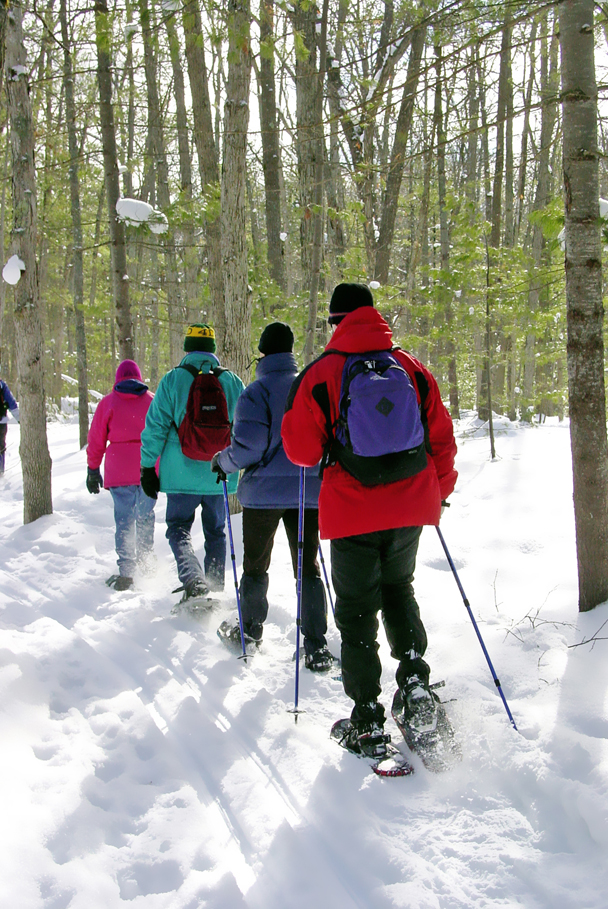 Whether you bike in the fall, or take birdwatching hikes in the spring, or snowshoe amongst wildlife in winter, or drop in lines during summer, the Great Lakes Bay Regional Trail's magnificent miles offer many, many options. May you enjoy them all!