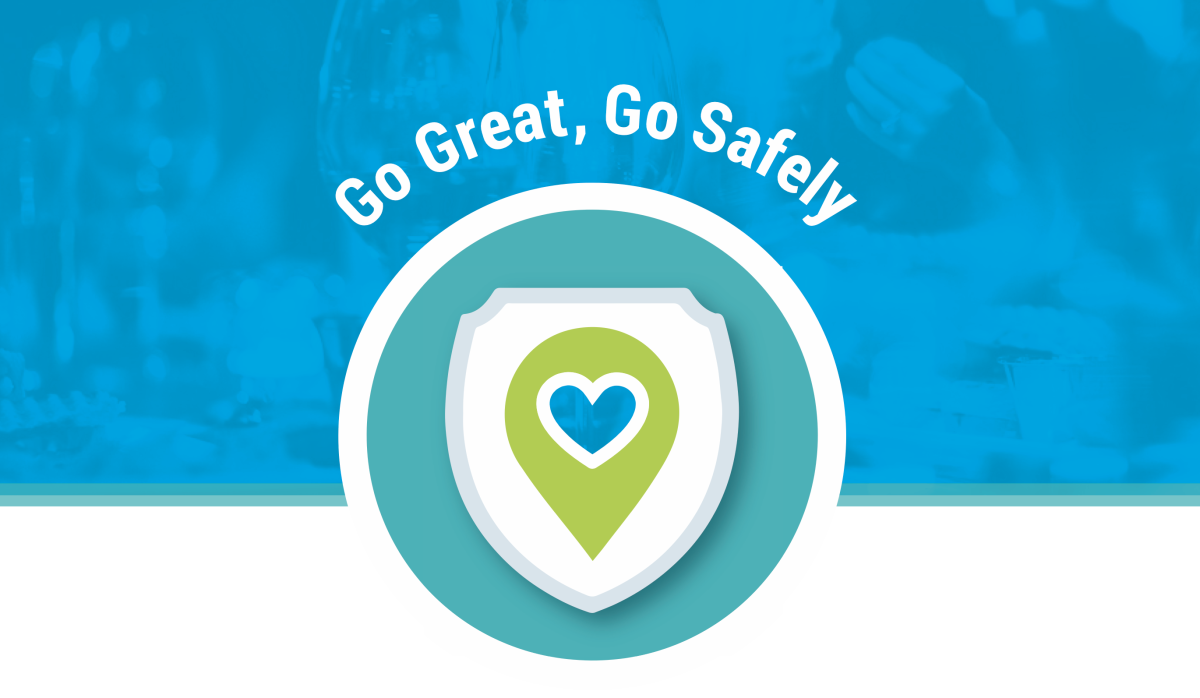 We care deeply about all who live, work, and visit here in the Great Lakes Bay Region. That's why, throughout COVID-19, we're taking every step possible to keep you safe as you get back to doing the things you love — like discovering new outdoor adventures, tasting the craft of our local chefs, sleeping on a bed of fresh hotel linens, or camping out under a blanket of stars.
---

---
At its core, the Go Great, Go Safely Pledge is a heartfelt reminder: we're all in this together. Beyond that, it's a simple, yet confident step toward giving you the peace of mind to Go Great Lakes Bay — in a way that's safe, responsible, and still? Every bit as memorable.
By creating the Go Great, Go Safely Pledge, we've given our hotels, attractions, restaurants, and shops a way to easily share what they're doing to protect you — and our locals — throughout your entire visit. So, wherever you see this badge — on GoGreat.com or at places you visit while here — you'll know you've found a business that's pledged to follow these six simple guidelines to protect your health: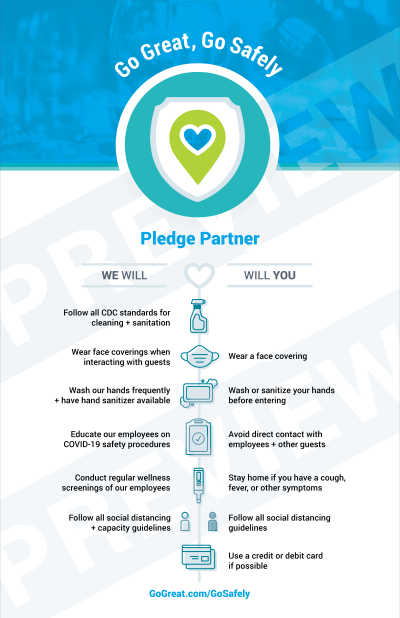 ---
Just as our local businesses are looking out for your safety, we ask that you pledge to do the same for us while you're here.
---
OUR GO GREAT, GO SAFELY PLEDGE PARTNERS WILL:

Follow all CDC standards for cleaning + sanitation

Wear face coverings when interacting with guests

Wash their hands frequently + have hand sanitizer available

Educate their employees on COVID-19 safety procedures

Conduct regular wellness screenings of their employees

Follow all social distancing + capacity guidelines
---
WHILE VISITING, WILL YOU?

Wear a face covering

Wash or sanitize your hands before entering

Avoid direct contact with employees + other guests

Stay home if you have a cough, fever, or other symptoms

Follow all social distancing guidelines
Use a credit or debit card if possible
---
Go Great Lakes Bay is inviting all hotels, attractions, restaurants, and shops in the Great Lakes Bay Region to join in a safe and responsible reopening by taking the Go Great, Go Safely Pledge.

---
COVID-19 Update:
As we welcome you back, we'll be doing our best to keep you in the loop on what's open & closed in the Great Lakes Bay Region. Just look for the orange banners below on our partner listings as you start planning for your next trip!


While we all navigate this new normal, some experiences may be slightly different, and some businesses may only be partially reopened. Please check with the individual businesses for their reopening status, new hours of operation, and updated policies before visiting!
---