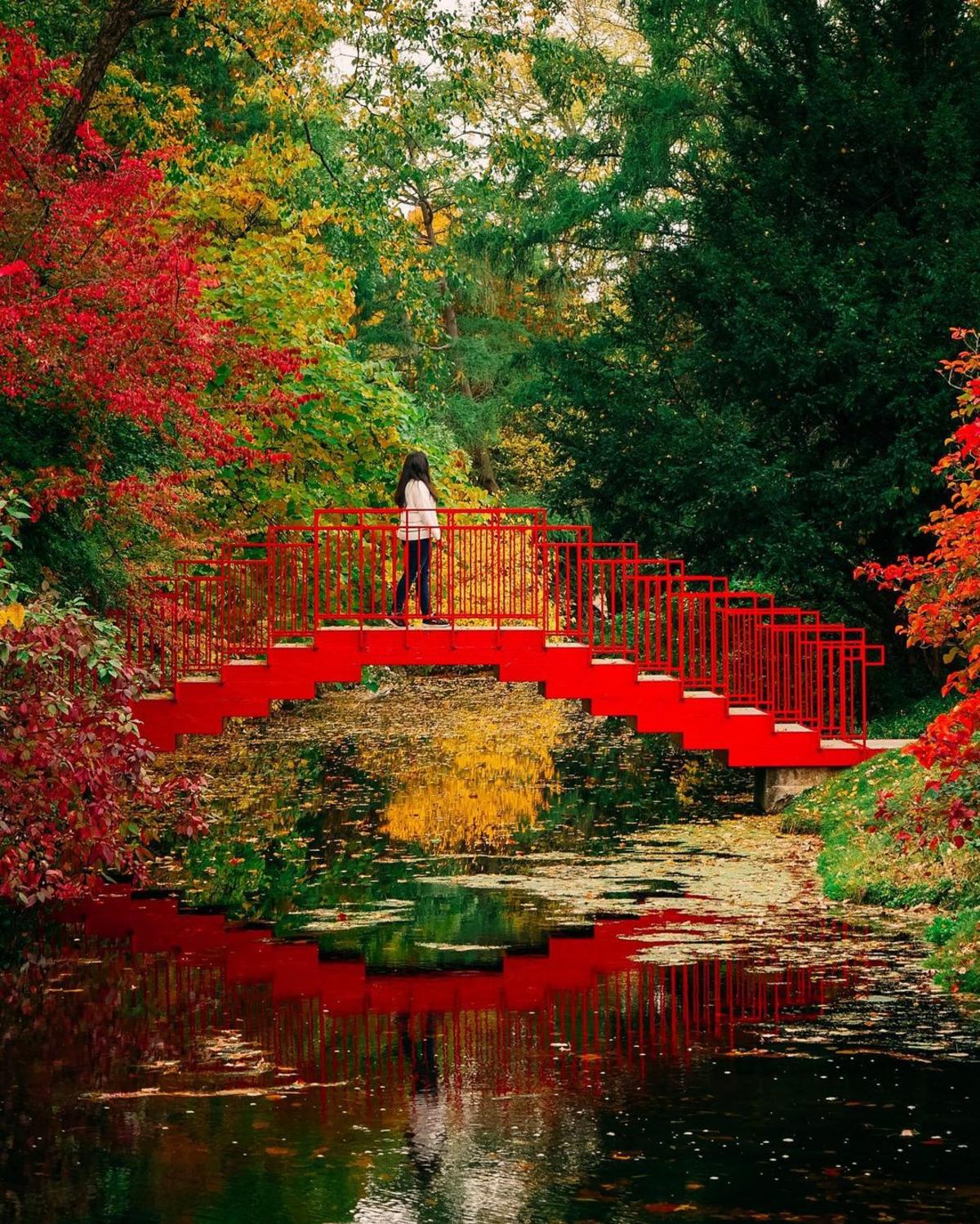 📍Dow Gardens 📷 @namitha_hegde
---
Looking for fun things to do in Midland, MI without the kids? Spend your days as planned below or use this as a starting point and let serendipity step in — or a bit of both!
---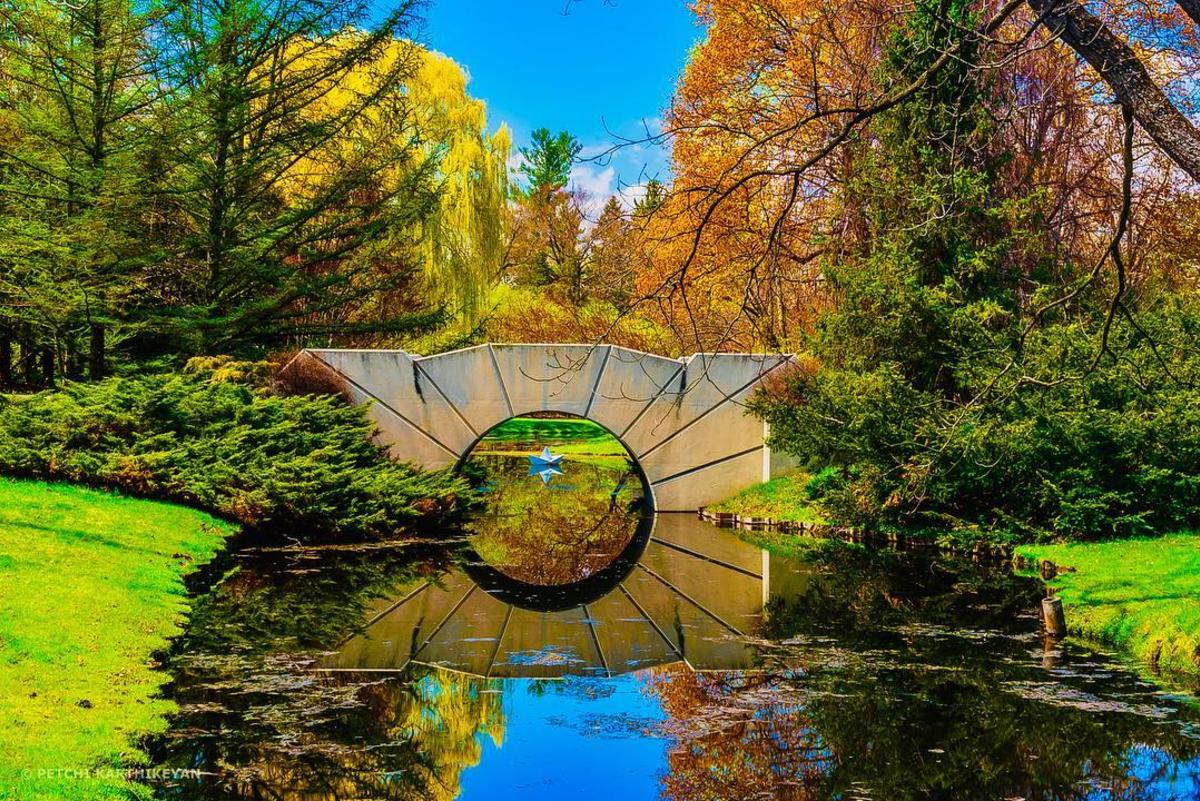 📍Dow Gardens 📷 @karthikeyan_petchi
When it's time to take a break from routine (because you're aching for an anything-goes kind of weekend), Midland is sure to deliver. Whether you're thinking "romantic getaway" or "roadtrip with friends", this city is an artful blend of upscale sophistication and downhome comfort, outskirts adventure, and in-town excitement.
Exploring the country's longest canopy walk and 110 acres of botanical gardens, biking a 30-mile stretch of scenic rail trail or sipping under the stars at an open-air beer garden, enjoy every last moment of your kid-free vacation in Midland, Michigan!
Day 1: Meet & Mingle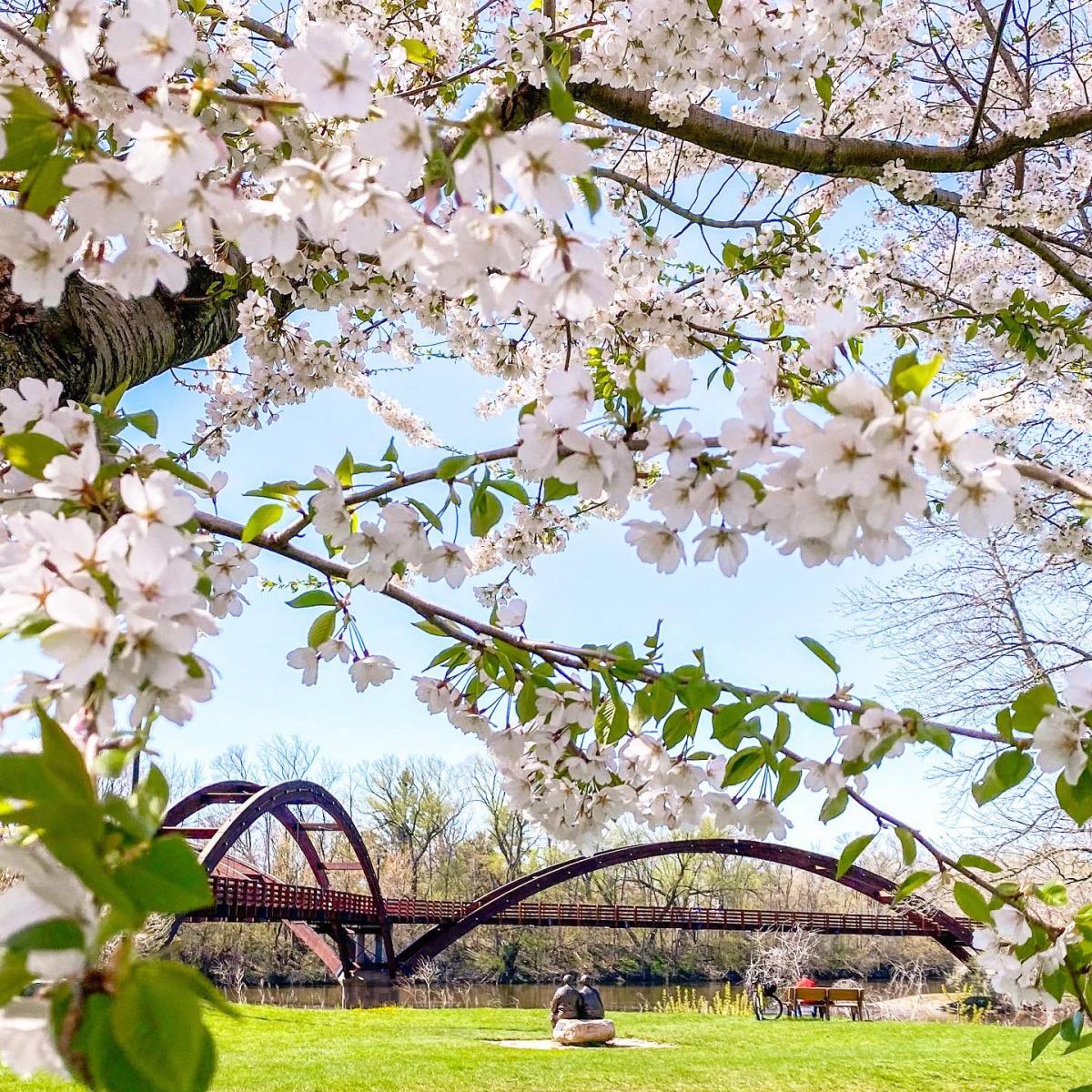 📍The Tridge 📷 @mekilouise
Breakfast: Meet Midtown Midland for starters, when you begin your day at Live Oak Coffeehouse. Come for the kombucha on-tap, locally roasted Creation Coffee, and traditional (or crustless) quiche. Return multiple more times while in Midland to feel welcomed at this "warm & inspiring place of gathering".
Venture Out: Rent rides from Ray's Bike Shop, right Downtown, and pedal the Pere Marquette Rail Trail for up to 30 naturally gorgeous miles, including a loop around Chippewa Nature Center. At Chippewa Nature Center, you'll discover a 1,200-acre haven of woodlands and rivers, and more than 19 miles of trails for hiking. Admission is free, and the serenity of the Pine River Overlook is unforgettable!
Or rent single or tandem, sit-in or sit-on kayaks from Ike's Mobile Kayak Rentals. Take a guided tour or an on-your-own paddle, whichever floats your boat!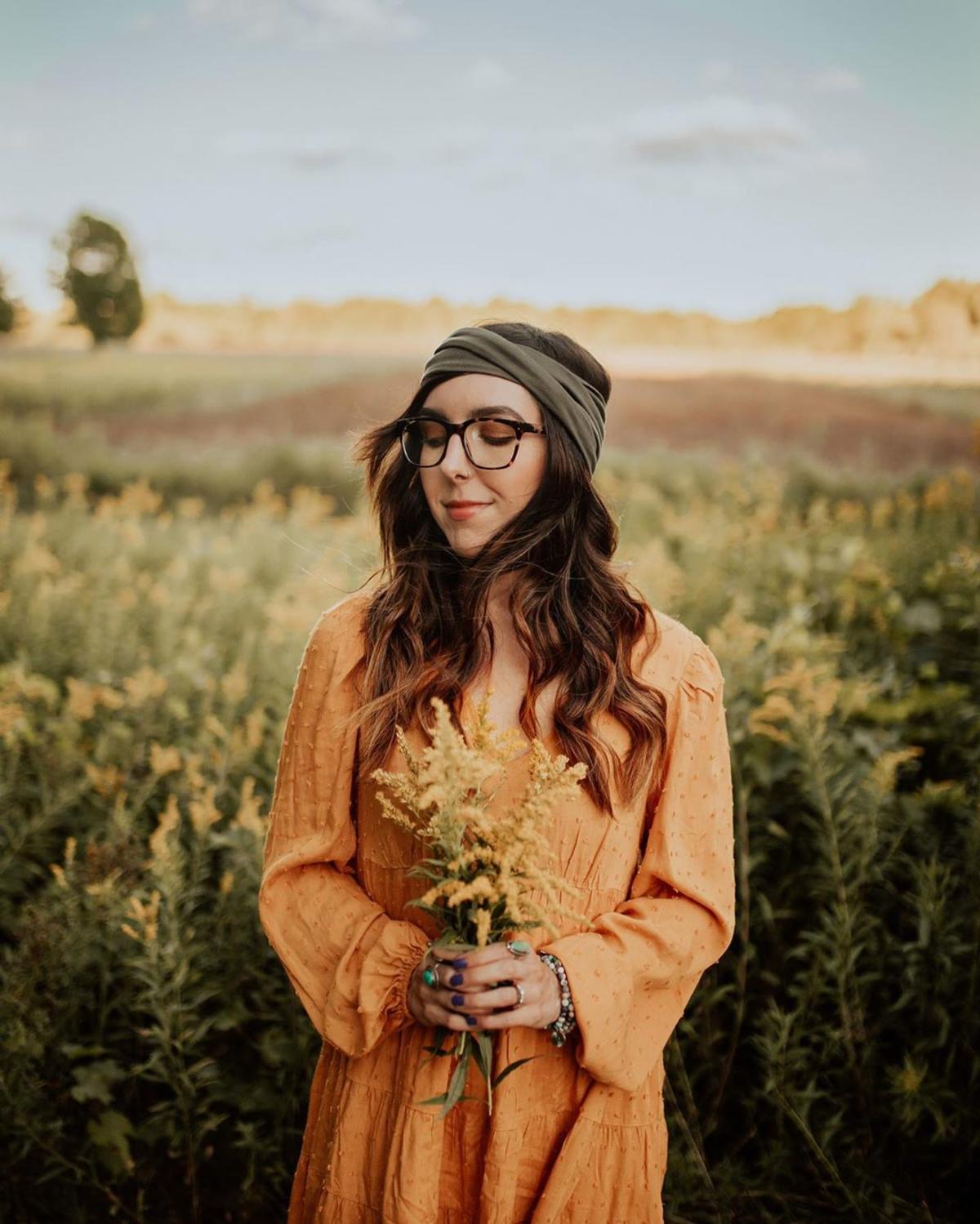 📍Chippewa Nature Center 📷 @andweheldhands
Lunch: Dip Downtown to grab some lunch. Try Proper Taco for house-made sauces, corn tortillas, the Oaxaca or Carnitas tacos, and sides like the Cactus Dip. Or enjoy authentic cuisine at Basil Thai Bistro and try the Peanut Curry and house tapioca drink.
Linger a Little: Spend some time walking about Downtown, stopping in & out of shops like Serendipity Road. Grab adventure gear at Little Forks Outfitters, or enjoy a down-to-earth wine tasting experience inside Grape Beginnings Winery, all within a few walkable blocks.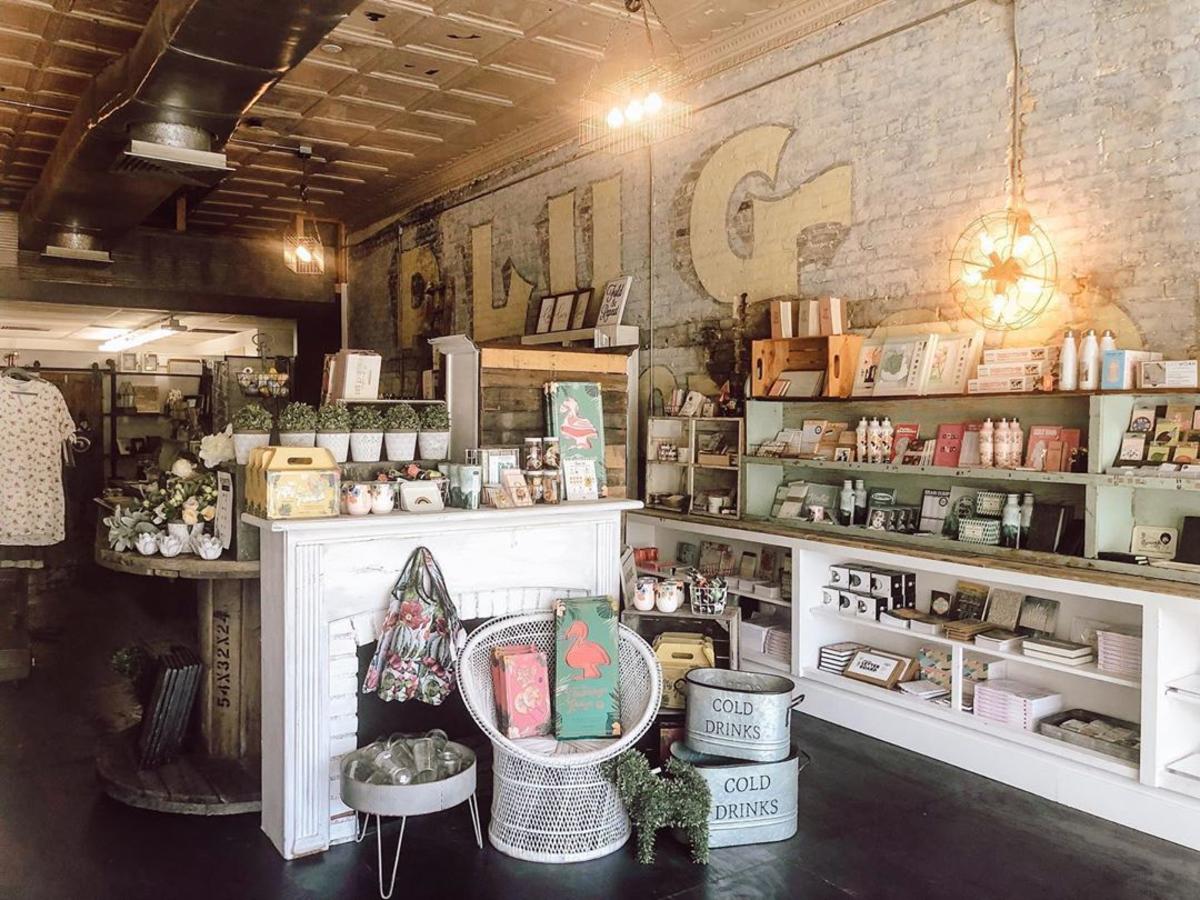 📍Serendipity Road 📷 @serendipityroadmi
Dinner: Experience a "wine bar, with attitude" at Whine. With an ample wine list and inventive small plates prepared with seasonally inspired, local ingredients, enjoy the ever-changing menu (and the Potato Gnocchi Genovese if it's in season). Or sample meats smoked "low and slow" at Molasses Smokehouse + Bar, and discover the key ingredient of all St. Louis-style barbecue: molasses.
📍Molasses Smokehouse + Bar 📷 @minnie_bites
Game On: Take in a Great Lakes Loons Friday-night game at Midland's Dow Diamond! A Single-A Minor League Baseball affiliate of the Los Angeles Dodgers, the Loons play 70 home games and you're sure to have a ball! The Dow Diamond welcomes 5,200 to two indoor fireplaces, two outdoor fire pits, and more than 24 concession stands. Look for MI Micro Brews, The Wing Wagon and Sausage Shack!
Seize the Night: Share in a toast to the start of your fabulous weekend at Midland Brewing Company, and raise your pints of Three Mile Marker Hefeweizen (while lounging fireside on the lawns of their outdoor beer garden)! Be sure to watch for Three Bridges Distillery & Taproom, too, coming soon to Downtown! Once open, customers will be able to watch the distilling process through a viewing wall in this 1940s industrial brewstillery, while sipping spirits crafted on-site.
Day 2: On the Edge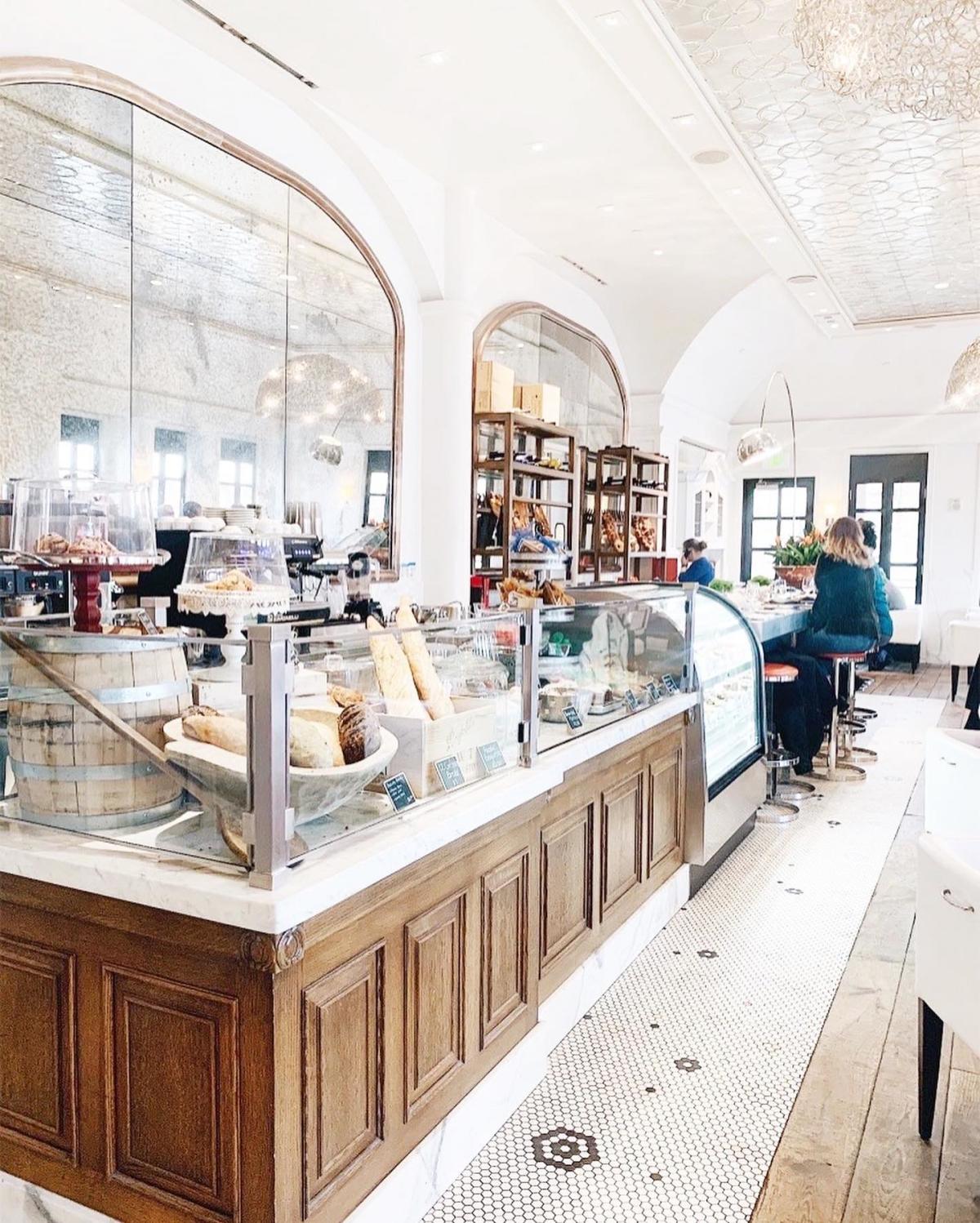 📍Cafe Zinc 📷 @placeswithb
Breakfast: Indulge right at the top of your day with made-to-order waffles, cinnamon rolls, and pastries at The Loch Coffee Company (and try the Morning Buns with sugar, orange, and walnuts). Enjoy Crêpes et Amis (and their Good Morning Paris crêpe with brown sugar and smoked ham) or dine at Café Zinc to savor European-style bread, tartlets, tortes and more — all made fresh daily by an in-house French pastry chef.
Fresh Fun: Stay Downtown to spend some time marveling at The Tridge, Midland's iconic three-legged pedestrian bridge! Built over the confluence of two rivers, each leg of The Tridge spans 180 feet and links recreation areas to Downtown.
If you're visiting May - October, head to the Midland Area Farmers Market and spend your Saturday morning stocking up for a picnic! Gather artisan goods and fresh market finds at the third-largest farmer's market in the state, or grab eats to-go from the on-site food trucks.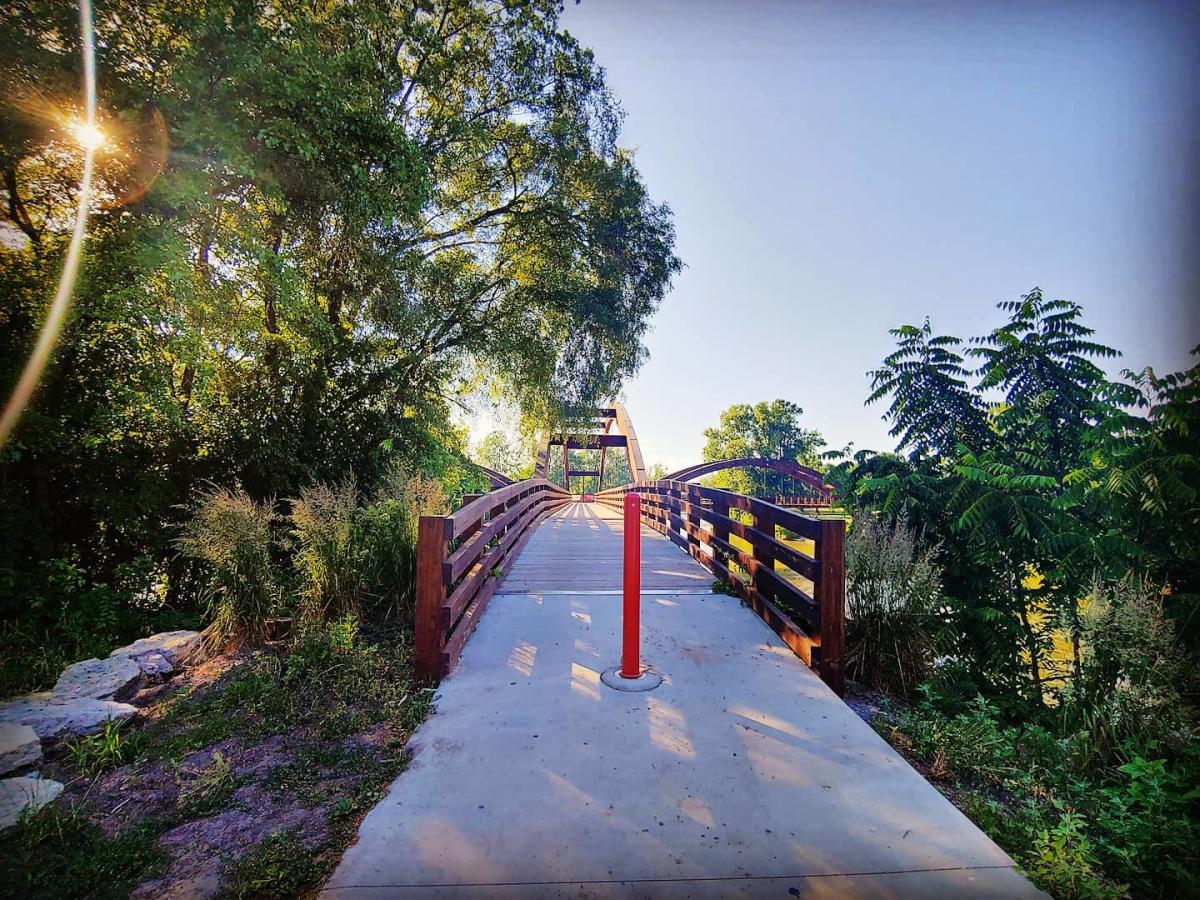 📍The Tridge 📷 @megsymarie13
Lunch: Head to Dow Gardens to picnic amidst 110 acres of botanical gardens, dotted by mature trees, rippling water features, and colorful flowers (with more than 35,000 annuals in spring and summer alone). Spread your blanket on rolling hills of grass by the Pines Home (and strongly consider touring this historic gem while you're here).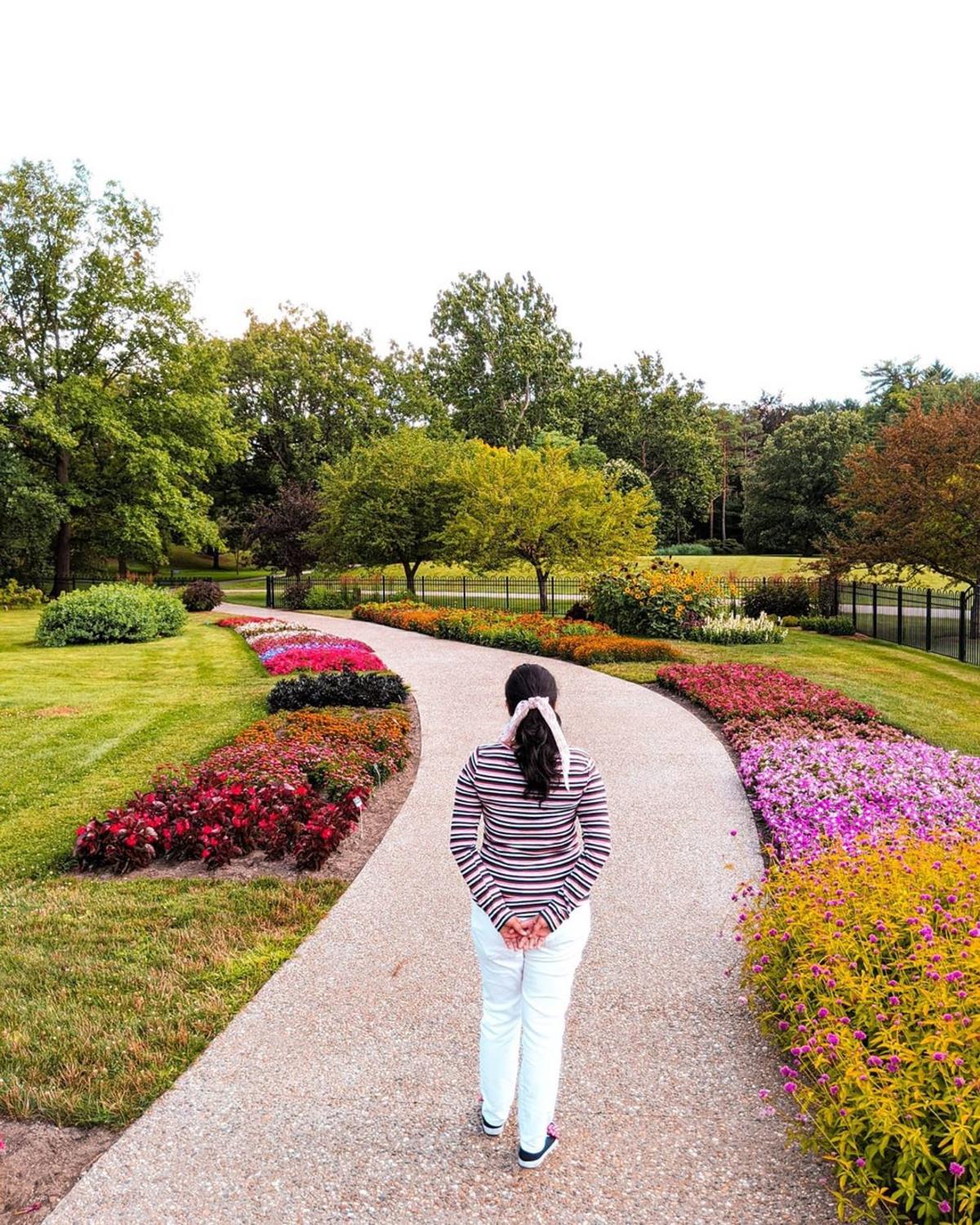 📍Dow Gardens 📷 @nrupalikulkarni
Dow Gardens is also home to its Whiting Forest within — which, in turn, is home to the longest canopy walk in the nation! Fully accessible for all ages and abilities, experience all 1,400 feet — and three unique viewing platforms including a glass floor overlooking an orchard 40 feet below! Grab a cup of locally roasted coffee from the on-site Whiting Forest Café to sip on while you wander through the canopy, and simply enjoy!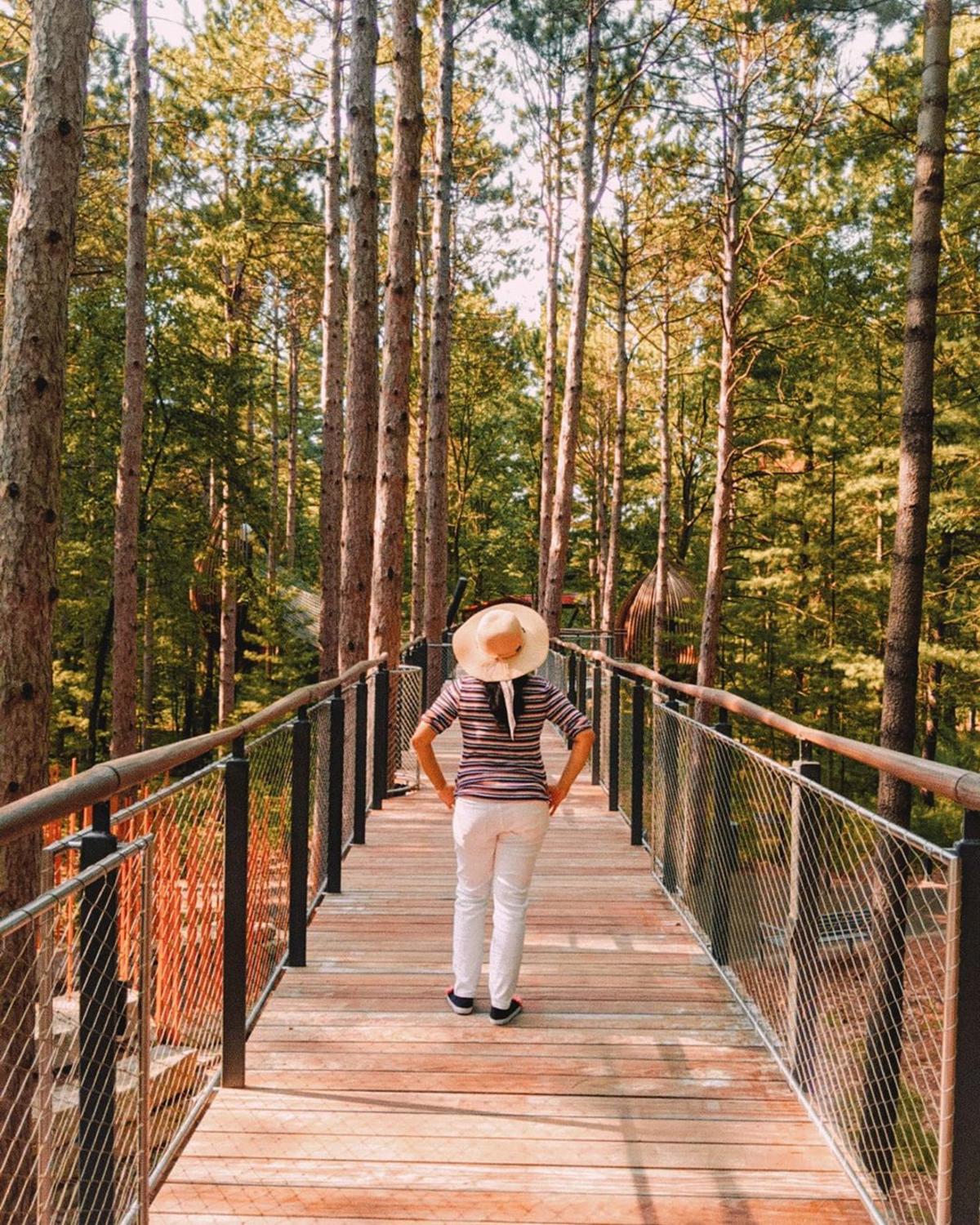 📍Whiting Forest of Dow Gardens 📷 @nrupalikulkarni
Dinner: Dine on fresh, regional Italian cuisine at Gratzi, and experience prime meats and top-catch seafood (like Parmigiano di Coregone, or parmesan-crusted whitefish). Or experience ONe Eighteen, an American tavern with gorgeous mid-century modern styling, a seasonal menu, Chef's Premium Selections, and classic, handcrafted cocktails.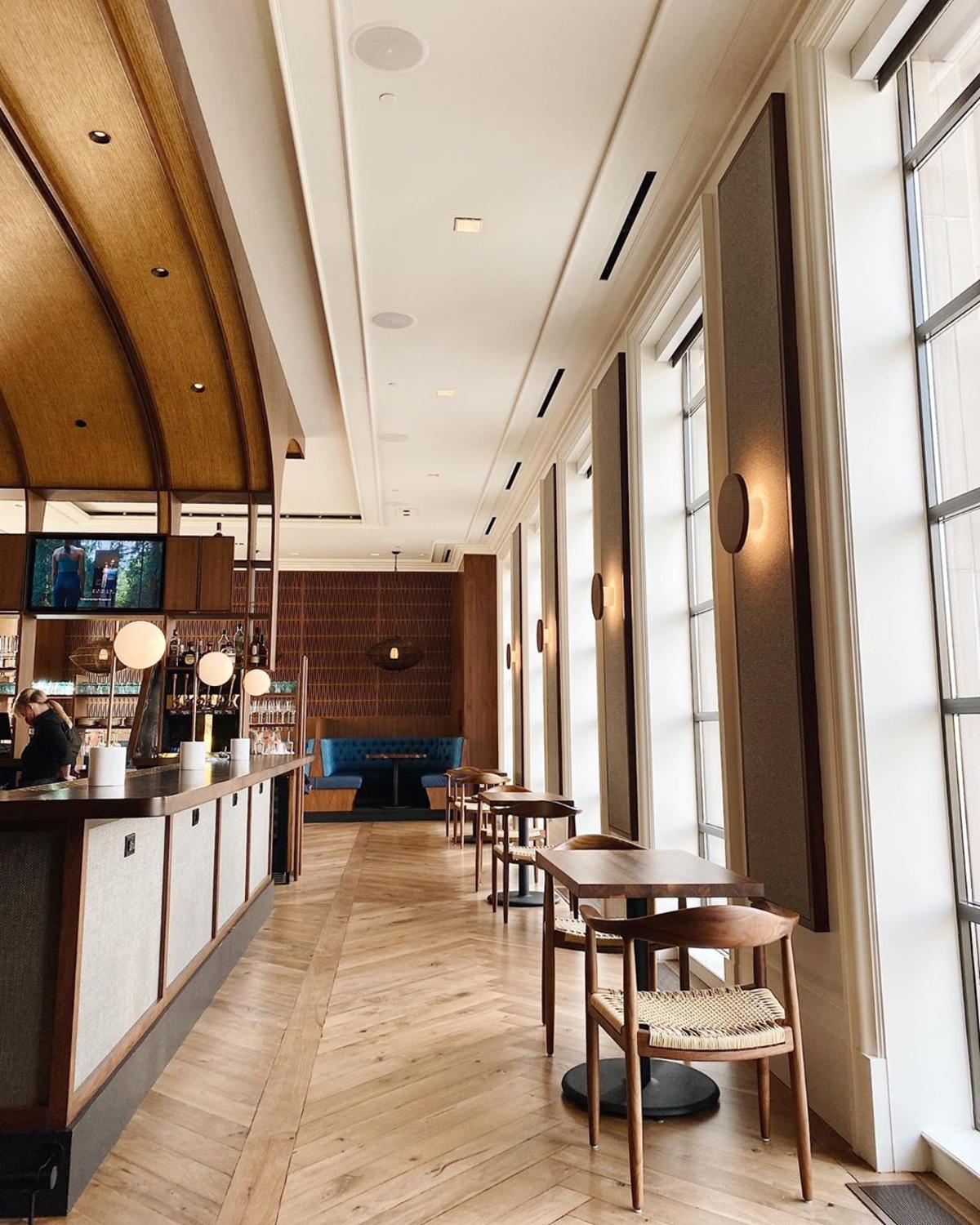 📍ONe Eighteen 📷 @placeswithb
Good Evening: Time it right, and you just might be in town to catch an event at Midland Center for the Arts! From comedy to classic theatre shows, folk musicians to Midland Symphony Orchestra performances, MCFTA is a sure bet for a memorable evening.
Nighttime: Wind up at Whichcraft Taproom and select from more than 80 varieties of Michigan-made craft brews, ciders, and meads (more than 40 on tap). Or cozy up at Oxygen Lounge inside The H Hotel for a nightcap in a luxurious, intimate ambiance. Late-May to September, saunter over to Larkin Beer Garden's outdoor shipping container bar and enjoy the laid-back feel, life-sized board games, plentiful beer selections, and a playlist chosen by that night's patrons!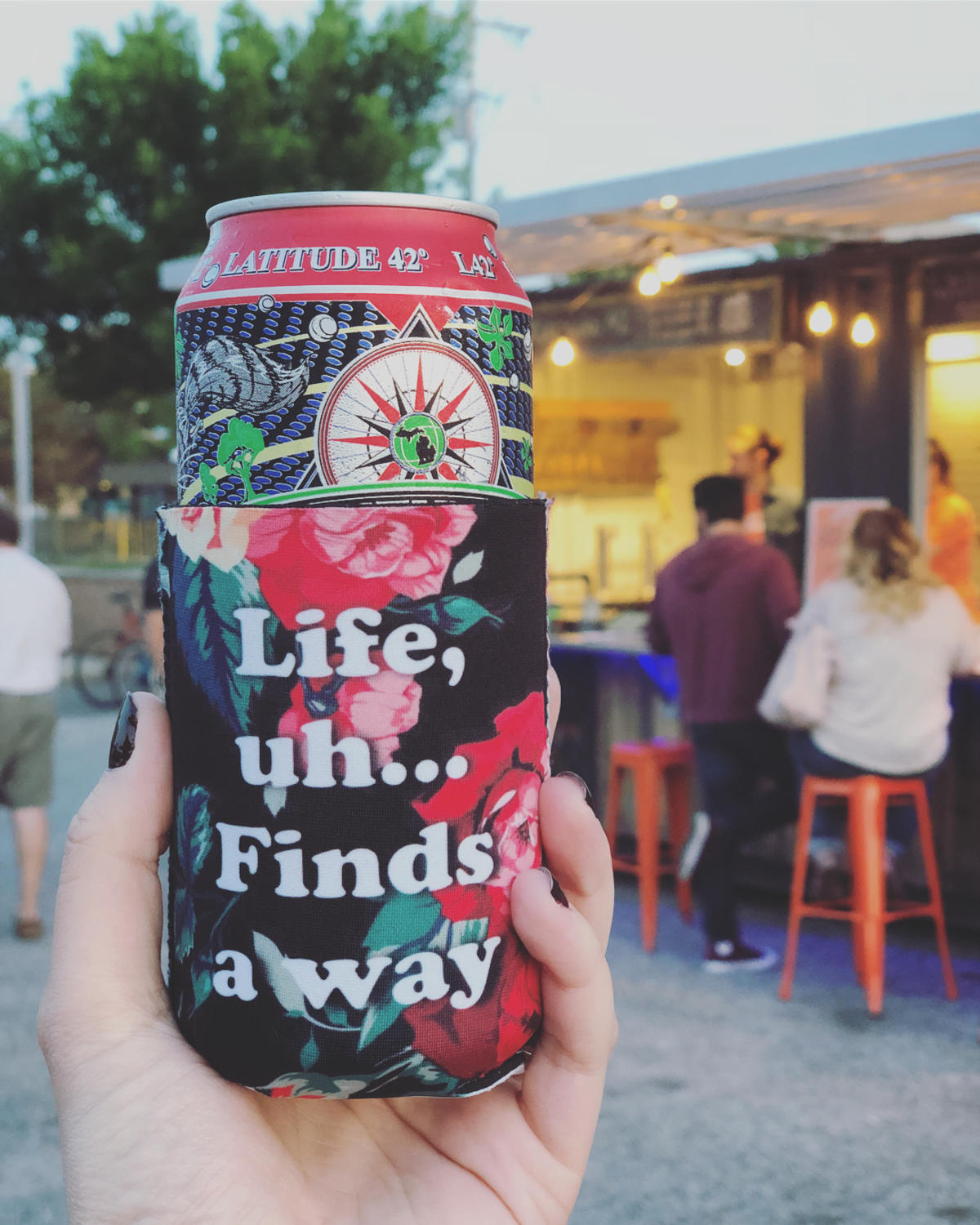 📍Larkin Beer Garden 📷 @k_jorg
Day 3: Make It Happen
Breakfast or Brunch: Depending on what time you arrive at Grove Tea Lounge, enjoy made-in-house pastries or artisan Avocado Toast for breakfast, or a Hot Granny Sandwich (turkey, bacon, granny smith apple and balsamic onion jam, served on ciabatta) for brunch. Sip hot or iced loose-leaf tea, kombucha on-tap, or a latte with house-made (vanilla, lavender, honey, hazelnut…) syrup.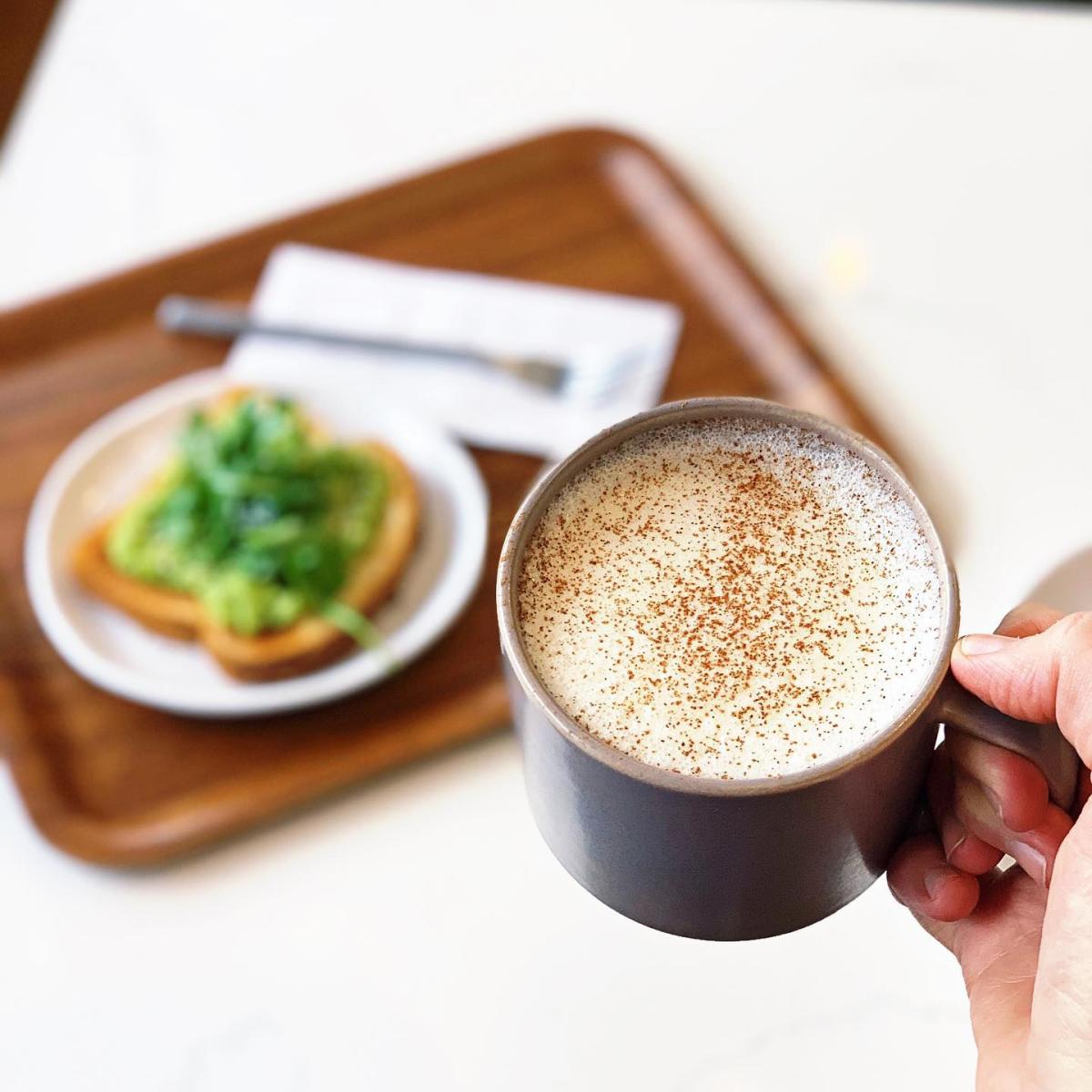 📍Grove Tea Lounge 📷 @grovetealounge
Head Over the Hill: Dahlia Hill, that is, to experience (April – November) eight terraces blooming with more than 300 varieties and 3,000 gorgeous dahlias! Enjoy the Memorial Circle, garden sculpture, and Charles Breed's working studio and museum on-premise.
Artistic Adventures: Midland is home to the Alden B. Dow Home & Studio, and touring this architectural masterpiece is not to be missed! Spend approximately 1 ½ hours in one of the most important structures in 20th Century American design, described by visitors to "delight, entertain, and surprise, even after repeated visits". If timing allows, take a self-guided tour to see any of 400+ other incredible mid-century modern structures dotted throughout Midland, using the Mid-Century Modern Midland mobile app!
Lunch: Order up (and plan to share) signature sushi rolls, sashimi, and nigiri at Maru Sushi & Grill — a chef-driven restaurant known for using only the finest fish, vegetables, sushi rice, and scratch-made sauces. Don't miss out on Sunday's specials — $12 mimosa kits or $6 bloody marys — and a toast to the great times you had this weekend!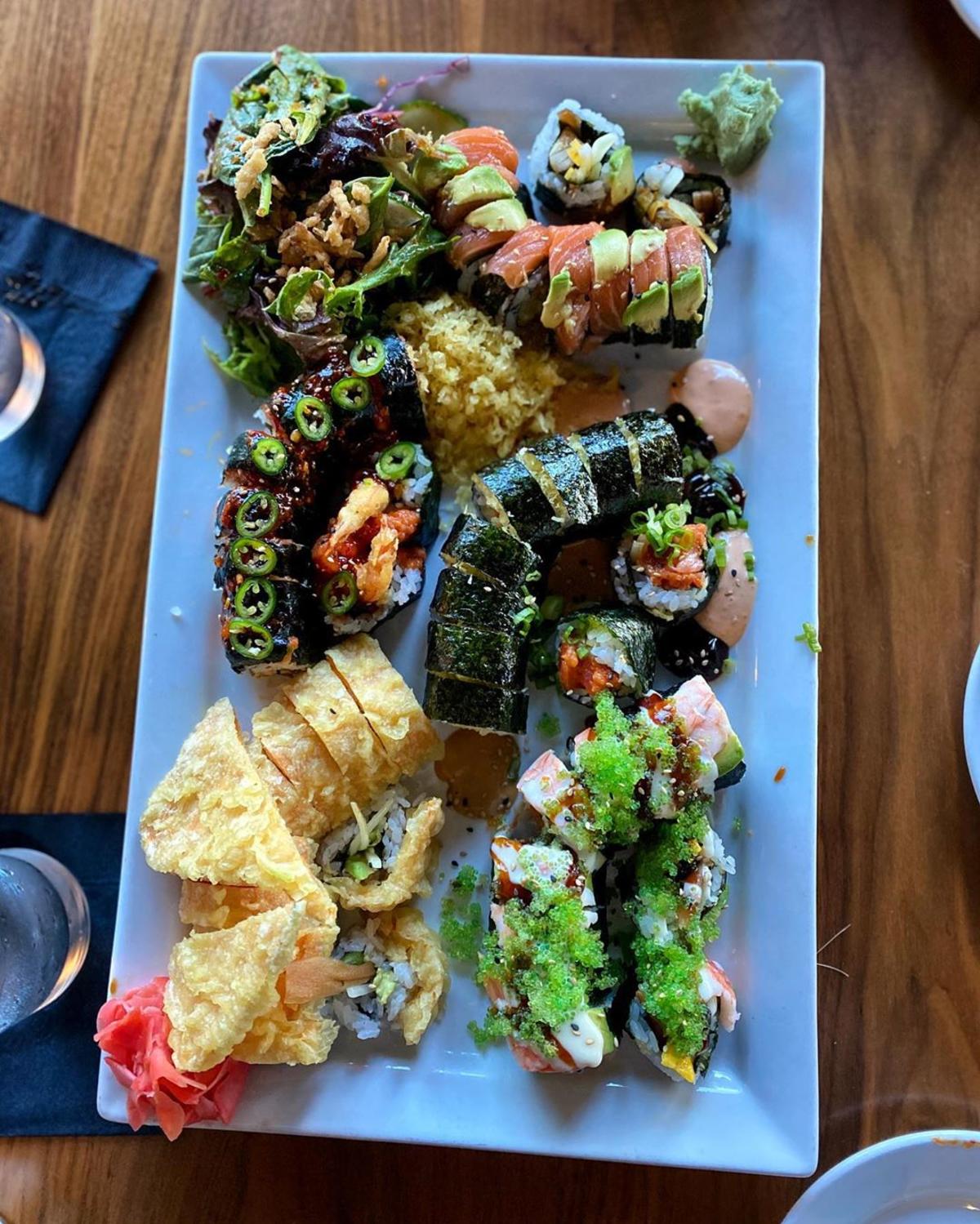 📍Maru Sushi & Grill 📷 @_simply_nourished
On Your Way Out: Visit Space Studios, an architecturally unique facility situated on five acres of rural property on the outskirts of Midland. Inside, you'll find The Glaze Bar and a wide selection of ready-to-be painted pottery. Get creative here & make a beautiful, artistic souvenir from your weekend in Midland!