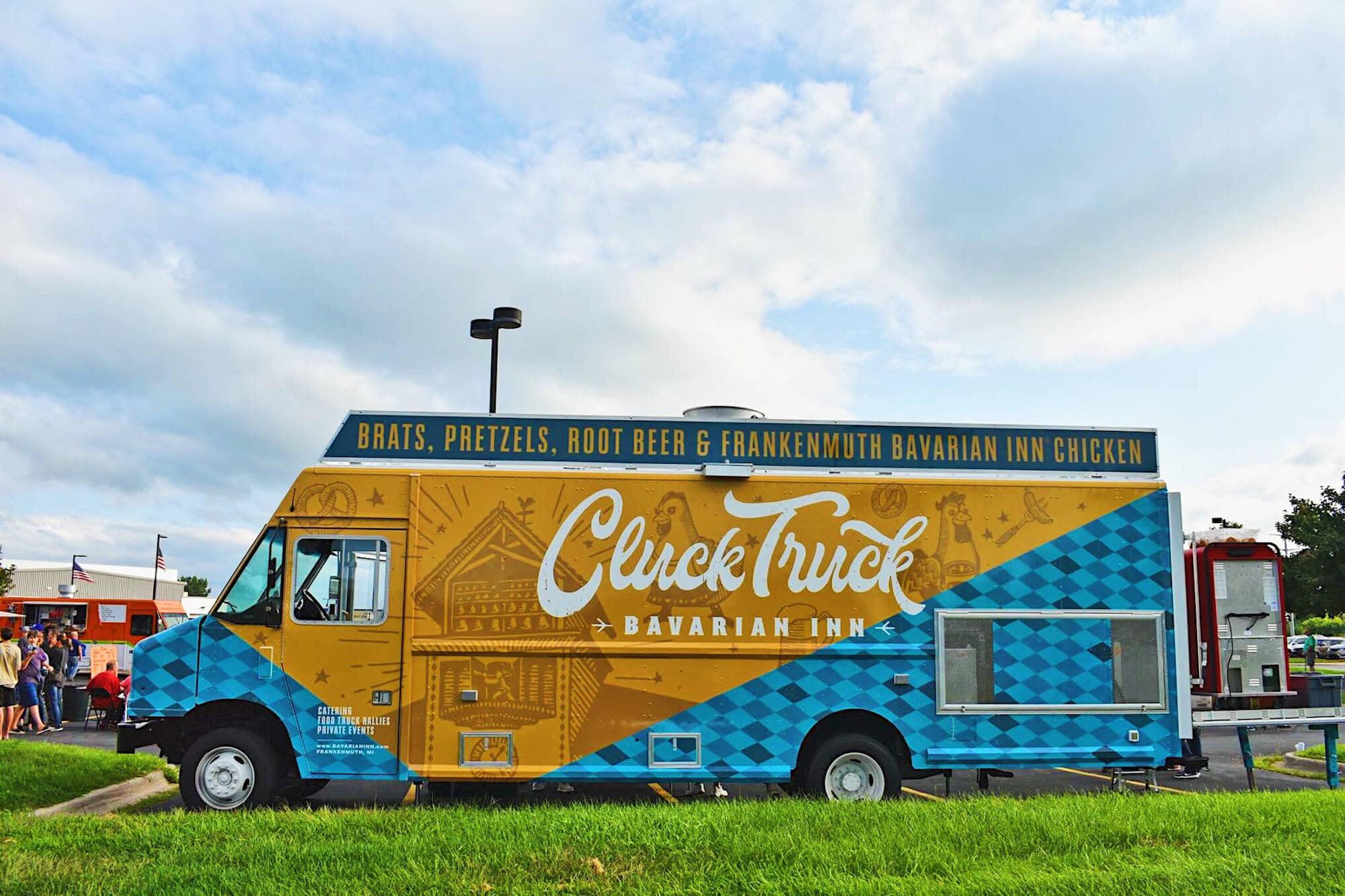 ---
An insider look at some of the local food trucks popping up throughout the region, plus where you can try to track them down!
---
Bringing delicious dishes, crave-worthy foods, and even gourmet selections to the streets (often at incredibly affordable prices), food trucks are popular for many reasons!
But which trucks serve what, and where can you find these mobile eating experiences? Read on to meet our growing fleet and discover sure spots to find & feast on local food truck fare, right here in Michigan's Great Lakes Bay Region!
Meet & Greet: Local Food Trucks
We could never name them all, but get to know some of our favorite local food trucks popping up around the region:
Midland Burger Company: Notorious, handcrafted burgers on buns from a local bakery, hand-cut Michigan fries, and Faygo
Makin' Bacon Truck: Menu centered on "smoky, salty, deliciousness of ... next level bacon", breakfast burritos, bacon mac 'n' cheese, chocolate-covered bacon
Bavarian Inn Cluck Truck: World famous chicken, bratwurst, Bavarian pretzels, buttered noodles, potato cheese puffs, and more
The Cheese Trap: Frankenmuth Cheese Haus cheeses (on Bavarian Inn breads), gourmet grilled cheese sandwiches, fried cheese curds, tomato bisque soup, freshly squeezed lemonade
5-2-oh: Creative blend of Mexican and Korean flavors and a unique twist on Asian fusion street food, from Korean Tacos to Bahn Mi
Pizza Baker: Handcrafted, wood-fired, Neapolitan-style, artisan pizzas (with a brick-and-mortar spot coming soon!)
Olvera's BBQ: Beef brisket burrito, ribs, chicken fajitas, baked beans, potato salad, $7 Value Menu options
3 Lil' Pigs BBQ: Twisted BBQ — ribs to sliders and turkey legs — even a Brisket Bear Claw (brisket-topped donut with sweet maple BBQ)
Bad Wolf BBQ: Award-winning BBQ and Mexican fusion dishes, served up with their own competition-inspired sauce
Whole Enchilada Mobile Kitchen: Enchiladas, burritos, patitos, fajitas, tacos, rice, beans, and more
T&T Authentic Mexican: Burritos, tacos, tamales, carnitas, and more
Kona Ice of Saginaw: Shaved ice, flavors like "Groovy Grape", low calorie, non-GMO, gluten-free.
Find Your Flavors: Food Truck Hotspots
Food trucks are always on the move! Know where they go (so you can be where they are!)
Midland Area Farmers Market: On Wednesdays and Saturdays, from 7 a.m. - 1 p.m., you're sure to find fresh produce, plants, flowers, and, of course... food trucks!
Larkin Beer Garden: Everyone's welcome (even pets) to this outdoor, seasonal bar on Thursday and Friday evenings through September for craft brews, life-size board games, and food truck selections!
Food Trucks on Federal: On the outdoor plaza of Saginaw's SVRC Marketplace between 11 a.m. and  2 p.m. Tuesdays, enjoy lunch from local food trucks and market vendors! Join SVRC's "Text Club" for updates on weekly flavors.
Birch Run Premium Outlets: Hosting food trucks every Friday - Sunday through Labor Day weekend, find your flavor in the Section A parking lot (across from Kate Spade New York).
Dow Gardens Lunchtime Concerts: Held from 12 - 1:30 p.m. on most Thursdays throughout summer at Dow Gardens in Midland, enjoy live music and food truck selections inside this botanical gardens' Birch Grove!
Tunes by the Tridge: Every Thursday from 7 - 9 p.m., June 13 - August 15, is your free opportunity to enjoy family-friendly, outdoor concerts in Midland (and plenty of food trucks, too)!
Tri-City Brewing Company: As only beer is served in this local hub, food trucks are often on-site! Enjoy!
Food Truck Fridays: Fridays from May - October, 11 a.m. - 2 p.m., enjoy a different food truck each week at either Labadie Buick GMC or Labadie Toyota in Bay City. Food trucks alternate between the two dealerships, so check their schedules on Facebook to see which truck will pop up next... and where! 
All For One: Food Truck Festivals
Centered around food trucks, be sure to show up to these flavorful get-downs!
Frankenmuth Funtown Chowdown Food Truck Festival: With about 20 food trucks per festival, the "chowdown" takes place from 3 - 9 p.m. each second Thursday (or June 13, July 11, August 8, September 12) at Frankenmuth River Place Shops! Admission is free to access mouthwatering food options and family-friendly activities, plus Battle of the Breweries tap takeovers!
Eat Great Food Festival: Kicking off the 2019 Dow Great Lakes Bay Invitational week, Eat Great Food Festival is from 5 - 9 p.m. July 14 - 15! Downtown Midland's Main Street is the place to be for beer, wine, and signature dishes from food trucks and regional restaurants, as well as live entertainment!
Firkin Food Truck Festivals: Mark your calendars for June 27 and August 29, 5 - 9 p.m., and enjoy free admission, craft vendors, face painting and games for kids, Firkin Beer from Frankenmuth Brewery, a full bar, great music — and, of course, amazing food trucks — at the Frankenmuth Credit Union Event Center in Birch Run!
Food Truck Faceoffs: Who will be crowned the "Food Truck Faceoff Champion"? Find out at multiple Food Truck Faceoff events this summer at Huntington Event Park in Downtown Saginaw! Bring blankets and chairs, and enjoy food truck fare and friendly competition, live music, and yard games. Admission is free for all faceoffs! Dates and times are: June 20 and September 19, 11 a.m. - 9 p.m.; July 18 and August 15, 11 a.m. - 3 p.m.
Midland Food Truck Festival: Make it to Center City Midland (where South Saginaw Road meets Washington Street) from 4 - 9 p.m. the second Saturday of each month, May to September — where food trucks, beer, wine, cider, and live music will fill the site of a former Ford dealership with feel-good vibes and summer flavors. Browse artisan vendors and flea market booths while you sip and sample, too!
And while the following don't include "food truck" in the title, you're sure to find food trucks on-site and serving up unforgettable flavors at: Hop Riot Beer Festival; Friday Night Live; Bay City Fireworks Festival; Midland Riverdays / Midland Balloon Fest; Party on McCarty; Riverscene Indie Music Festival; MI Made Marketplace; and more!
Now that you've met the food trucks and know where to find them, the only question that remains is: Who's hungry? Enjoy!