The childhood game of "Duck, Duck, Goose" is simple. The grown-up, Great Lakes Bay version is delightfully more complex: selecting which form of fowl - duck or goose - to pursue, in one of the state's richest waterfowling regions.
Duck hunting on the open waters of Saginaw Bay, duck (and goose) hunting at one of three blue-ribbon DNR-managed waterfowl areas, or goose hunting on one of hundreds of fields where they regularly rest and feed - these are just the "big three" of splendid waterfowling available in the Great Lakes Bay Region.
Michigan's native peoples and its earliest European explorers alike found the Saginaw Bay and its watershed a generous provider of ducks and geese; the region's residents and, especially, visitors, marvel still.
Planning A Well-managed Hunt
In many ways, the easiest-to-plan waterfowling adventures here in the Great Lakes Bay are managed area hunts.
Three of the Michigan DNR's seven managed areas - rightly referred to as their "Wetland Wonder" - are in the region: the Shiawassee River State Game Area at St. Charles (Saginaw County), Nayanquing Point Wildlife Area near Pinconning (Bay County), and Fish Point State Wildlife Area at Unionville (Tuscola County).
These areas feature fall-flooded farmlands that provide food and resting spots for ducks (and primes hunting spots for the people who frequent them)! Hunting areas are divided into zones, each featuring a central area where camouflaged hunters hide, almost always after deploying a flock of decoys in the water in front of them.
The managed areas host two hunts per day, each preceded by a drawing to determine the blind-picking order. Draws for the morning hunts are between 5 and 6 a.m., depending on area, while afternoon draws are held at 11 a.m. or so (check the waterfowl hunting digest for specific rules and times for each area).
Be sure to quit by the end of legal shooting time, and return to the check stations to file a report on how long you hunted and how you fared!
No Need To Be Shy
Sure, it can be intimidating the first time you're packed into the managed-area check station with dozens of camo-clad waterfowlers who seem to know the lands and waters like second nature. But listening to them can be a source of helpful information on which area's best; it's like eavesdropping for investment tips at a cocktail party.
When your turn comes, pick a spot. Then it's off to the parking lot that serves it, to load decoys into boat or canoe (a few spots offer wader-clad, walk-in hunting), and head for the blind you've chosen. Set your decoys, remembering that ducks take off and land into the wind, most often settling into a pocket in the center of a U-shaped or hook-shaped spread. Place the furthest decoy at the limit of your range, 40 yards or so; any duck closer than that is fair game.
Calling is part of the fun of duck hunting, but, beware - birds at managed areas quickly learn to be suspicious of human "accents" in duck language. Give calling a try, but remember that, on many days, the best action comes when the silent decoys do the 'talking' for you.
Mind Your Manners
Managed areas are created and operated to provide the best possible hunting to the largest number of people. Like any situation in which people are packed, manners are important.
When hunting a managed area, it always looks like someone else is shooting at birds way too far away, and it never looks like you are. 'Sky-busting' just scares birds off, and spoils the hunt for everyone. So, resist the urge to stretch the range of your shotgun; 40 yards is plenty. You'll tumble more ducks that just need retrieving, not chasing. And, your neighbors will be less likely to discuss your shooting style in not-so-hushed voices.
This Year's Flood Of Questions
Which portions of managed waterfowl areas are the ducks using? What are the conditions for access and hiding in wait? Those questions may be a bit trickier to answer this fall, thanks to a colossal series of rainstorms that came as spring turned into summer, dumping five to 10 inches of rain in just a few days at the aforementioned areas, inundating young crops long before the planned fall flooding of fields. The result was a failure of crops, especially corn, which not only feeds waterfowl but provides cover in which hunters can hide.       
For up-to-the-minute reports on the condition of the managed areas along with bird use and hunting conditions, check back often to Michigan's wetland wonders on Michigan.gov.
Our local Shiawassee Flats Citizens and Hunters Association helped the Michigan DNR map plans for handling flooding at the Shiawassee River State Game Area. Follow this local group of avid hunters on Facebook as the season approaches; you'll find them an endless source of information on fields and flights so you can make better choices for your own hunts!
Bounty on the Bay
Long before the DNR created managed waterfowl hunting areas, the Saginaw Bay drew both ducks and duck hunters every fall, and this rich tradition continues yet today.
In shallow cattail marshes ringing the Bay, puddle ducks like mallards feed and loaf. Newcomers and birds returning from inland farm fields tumble from the sky to join their brethren - or fake brethren - decoys set by hunters who deepen the deceit by calling plaintively. Meanwhile, offshore, diving ducks such as bluebills, redheads and canvasbacks are the lure.
Some big-water hunters wait in boat blinds - elaborately concealed craft that look like floating islands. Others are in "layout boats" - pumpkinseed-shaped craft in which hunters lay flat and become part of the watery landscape, ready to pop up to a sitting position and shoot when ducks come in for a landing. The layout boat and its occupants are watched by partners in larger craft near enough to help if there's trouble, but far enough away so as not to spook the ducks.
Looking for a little additional help on your Saginaw Bay waterfowl adventure? Take it straight from my friend (and acclaimed outdoor radio host) Mike Avery and set out with one of these two top-notch crews: Doug Deming at Fish Point Lodge or Jeff Godi of The Michigan Experience out of Linwood Beach Marina.
Oh, Canada (Goose!)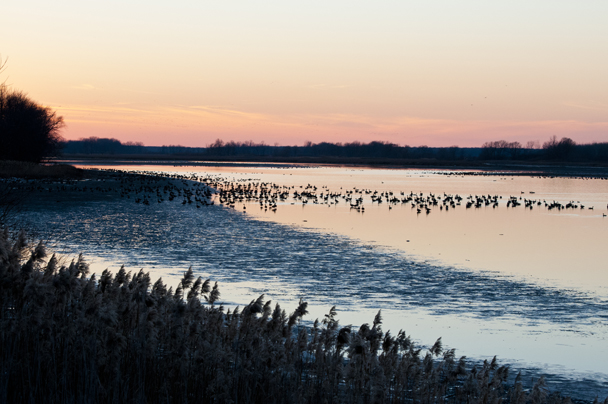 My Dad said that, in his youth, Canada geese were mysterious creatures that passed overhead late on fall evenings, their honking calls echoing off the Great Lakes Bay landscapes as the migrants from the far North made their winter trip to the South.
He told me this while we were hunkered in a cornfield blind, watching hundreds of geese in the air and hoping a few would settle into the decoys in front of us. Some did, our shotguns boomed, and we knew we'd celebrate the new abundance of Canada geese in our area at the upcoming Thanksgiving family feast.
The Goose News
Local production of 'giant' Canada geese along with changes in water management and agriculture in just a few decades have multiplied the number of geese in our area and the length of time they spend here.
That's been a nuisance sometimes for yard, cottage, park and golf course owners and managers, but a boon for hunters who now have long seasons and liberal bag limits. One can hunt geese under one framework or another from Labor Day weekend well into February, and during parts of the season one can bag up to five geese per day!
The key to a successful field goose hunt is knowledge: the birds move from field to field as food supplies change (and as they're being hunted), and there's little as quiet as last week's hotspot.
That means a goose hunter spends plenty of non-hunting time driving through the countryside, a not unpleasant task, trying to pin down the birds' current haunts and habits. Early mornings and evenings are prime times to spot birds in flight and follow them; otherwise, binoculars or spotting scopes help you spot birds on the ground mid-day.
Then it's a matter of seeking landowner permission to stage a hunt. Plat books, available at county offices and some hardware stores, help you figure out who owns what. If the owner or a family member isn't a goose hunter, and if the hunting rights haven't been leased out, you just might get an okay.
Permission secured, get there early and set up decoys - a few dozen field (not floating) decoys to a hundred or more - and conceal yourself, either in a field-end brushy blind or, most effectively, in a coffin-shaped blind to which you add corn stalks or other cover, hiding until the birds settle in when, as in a layout boat on the open Saginaw Bay, you rise and fire.
A Special Shiawassee Goose Hunt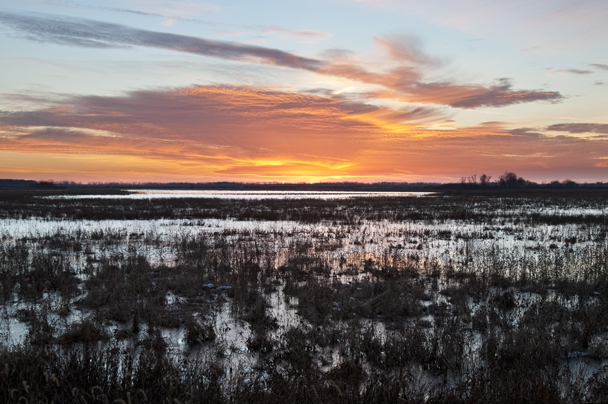 A grade-A managed hunting area specifically for goose hunting comes at the Shiawassee National Wildlife Refuge in Saginaw. These are permit-only hunts; details on how to apply are in the DNR waterfowl hunting guide. There are fewer blinds maintained today than in the past, as the federal refuge's agricultural fields are increasingly returned to original wetland settings, but geese still fill the sky here - and your visit may be rewarded with views of bald eagles, sandhill cranes, egrets and many rare species.
Waterfowling, Famous & Fabled 
Saginaw Bay's waterfowling is so fabled that it was recently featured in an episode of Ducks Unlimited TV, a production of the international wetlands and waterfowl conservation organization.
In the segment, Field Hudnall hunts diving ducks on Saginaw Bay. "Guys that hunt this area," said Hudnall in a news release, "they've really got something special. There's a lot of waterfowl in the area. It's rich in waterfowling heritage. And it's an area that, as a waterfowl hunter, you need to come and visit at some point." 
More About Managed Waterfowl Reservations 
Managed Waterfowl Hunting Area reservations for the first weekend of this season, October 14-15, 2017, are issued through a random drawing for at the Shiawassee River State Game Area and the Fish Point State Wildlife Area, plus the goose hunt at the Shiawassee National Wildlife Refuge. The DNR administers the drawing.
Applications, available for $5 at license agents, DNR Customer Service Centers, and online at mdnr-elicense.com, are accepted August 1 through August 28, 2017.
For information on applications and other waterfowling rules and regulations, consult the 2017 DNR Michigan Waterfowl Digest.