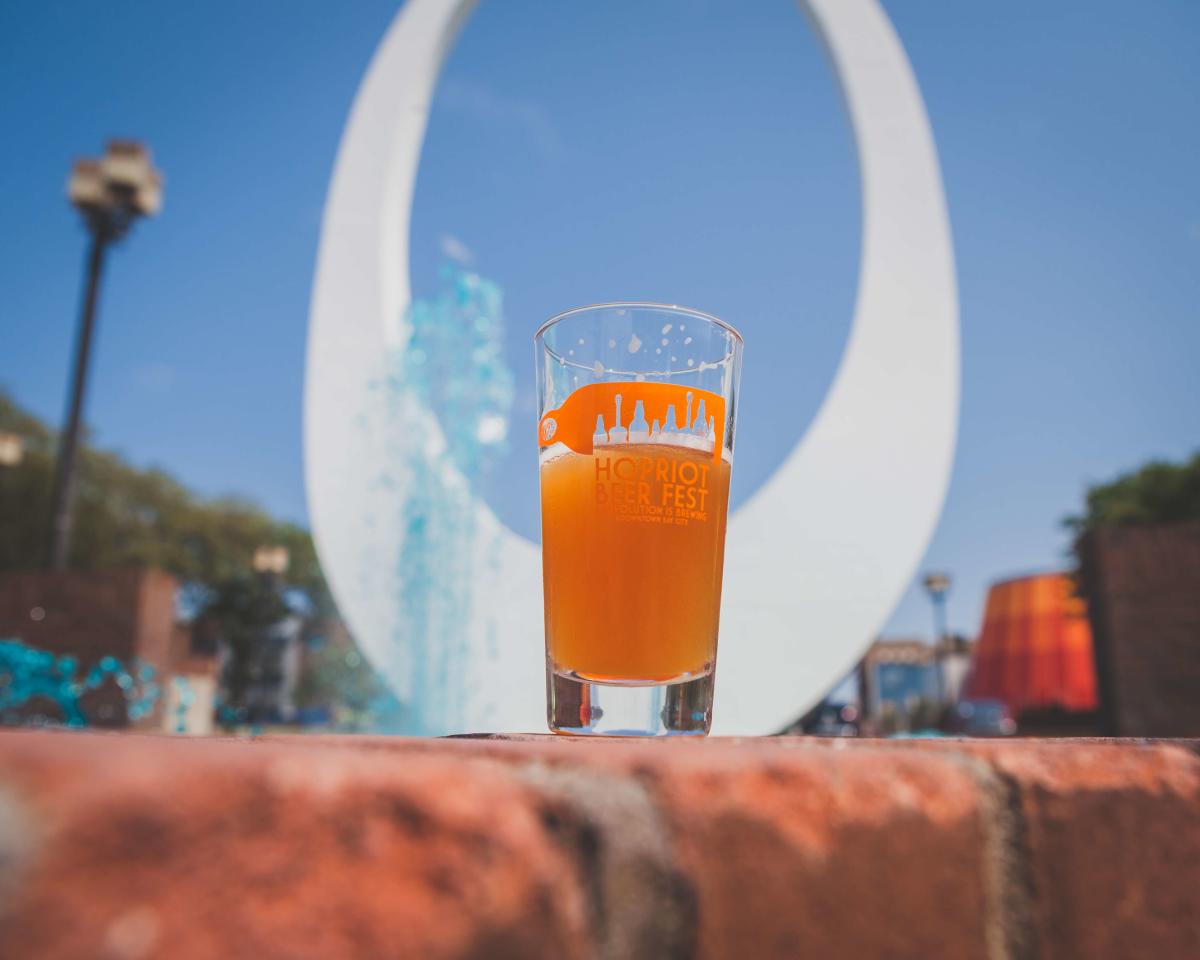 Looking forward to smooth sips in the sunshine and sharing belly laughs at outdoor beer gardens? Counting down the days 'til you can kick it with craft-brew-kindred at festivals dedicated to frothy fun? Well, cheers to that! Because good times are brewing in Michigan's Great Lakes Bay, and they're so close you can nearly taste 'em!
This summer, pedal your way to the perfect pour, let your taste buds vote at Battle of the Breweries, and discover what the "festival within a festival" called Ballads & Brews is all about. (Hint: You can only get into this blowout every few years, so don't miss out!) 
---
Whether you're looking for stoutly suds or IPA perfection, get mouth-watering-ready for heady fun underneath the summer sun and starry night skies of Michigan's Great Lakes Bay!
---
Summer Craft Beer Festivals
World Expo of Beer — One of the largest beer sampling events in Michigan, be prepared for two days of tossing back your tasting mug while choosing from more than 300 beers from around the world! Admission is just $18 and includes a free collector sampling mug and six tasting tickets for this Frankenmuth party at the Harvey Kern Pavilion in Heritage Park that takes place from 5 - 10 p.m. on May 17, 2019 and 3 - 10 p.m. on May 18, 2019.
Tapped: Downtown Midland's Craft Beer Festival — Enjoy Michigan-made flavors from breweries, wineries, and cideries from 11 a.m. - 7 p.m. on June 15, 2019 along Downtown Midland's Main Street. You can pre-purchase tickets for $20 from May 1 - June 14, 2019, or $25 day-of will gain you entrance into the three Craft Tasting Tents. (Yes, you read that right, there will be three thirst-quenching tents!) Admission includes a commemorative tasting cup, six complimentary drink tickets, and access to live music (and keep on the lookout for after-party tap takeovers all across town)!
Hop Riot Beer Fest — "A Revolution is Brewing" at Wenonah Park in Downtown Bay City from 1 - 5 p.m. on August 3, 2019! With multiple breweries and wineries serving their craft and Lightnin' Licks Vinyl Preservation Society spinning tunes, $25 will get you into this waterfront get-down, five tasting tickets in-hand! (Psst! You can gain early entry and a Hop Riot t-shirt for only $10 more!) 
Brews Inside Epic Festivals
Frankenmuth Bavarian Festival — June 6 - 9, 2019 is sure to be four days full of German food and beer, traditional entertainers, and fun for just $5 admission! Travel between the Main Tent and Rock Tent, attend the Friday Night Street Party, and tempt your taste buds at the Chamber Platz' featured beer garden.
2019 Tall Ship Celebration: Bay City — When daytime festivities of this massive maritime festival come to a close on July 19 - 21, 2019, the "festival within a festival" that is Ballads & Brews begins! Be at The Quarterdeck at 5 p.m., and be ready for lively shanty tunes from international musicians and taps flowing with Michigan craft brews. Aye, Matey!
Frankenmuth Funtown Chowdown Food Truck Festival — Not just for great eats, this mega-fun food truck festival in Frankenmuth is also home to the Battle of the Breweries! Mark your calendars for May 9, June 13, July 11, August 8, and September 12, 2019, where two craft breweries will battle at each event and the winner will be invited back to defend its title as victor. Who will be named Best Craft Brewery of 2019? Come sip and see!
Outdoor Summer Beer Excursions & Beer Gardens
Sunrise Pedal Trolley — Pedal your way to the perfect pour in Downtown Bay City (with brews in-hand along the way)! Sunny smiles are guaranteed aboard this Dutch-made bike for eight - 16 passengers, while smaller crews will find the new, six-person Sunrise Pedal Trolley Circle Cruiser a pint-sized version of full-flavored fun! 
PedAle Trolley — Which tour will you take? How many local watering holes will you visit? Be sure to check out this pedal trolley in Frankenmuth, too, if sightseeing Michigan's Little Bavaria (while sippin') is what your crew is craving! 
Larkin Beer Garden — Bring the whole family (pets, too!) every Thursday and Friday night from 4 - 10 p.m., May 31 - September 28, to this "hoppy place" patio and bar that was once a shipping container! This one-of-a-kind spot, where "soft foam meets parched lips", offers life-sized board games, bike racks, food trucks, and cool tunes to accompany cold brews.
Schnitzelbank Bier Garten — Located in front of the Bavarian Inn Lodge in Frankenmuth, enjoy dinner, drinks, and outdoor entertainment (weather permitting) from May - October. (Psst! Weather won't cooperate? Belly up inside Bavarian Inn's Lorelei Lounge to enjoy "Ein Prosit der Gemütlichkeit!" or "A drink to good friends and good times!")
To every tasty memory made this summer in Michigan's Great Lakes Bay, cheers!