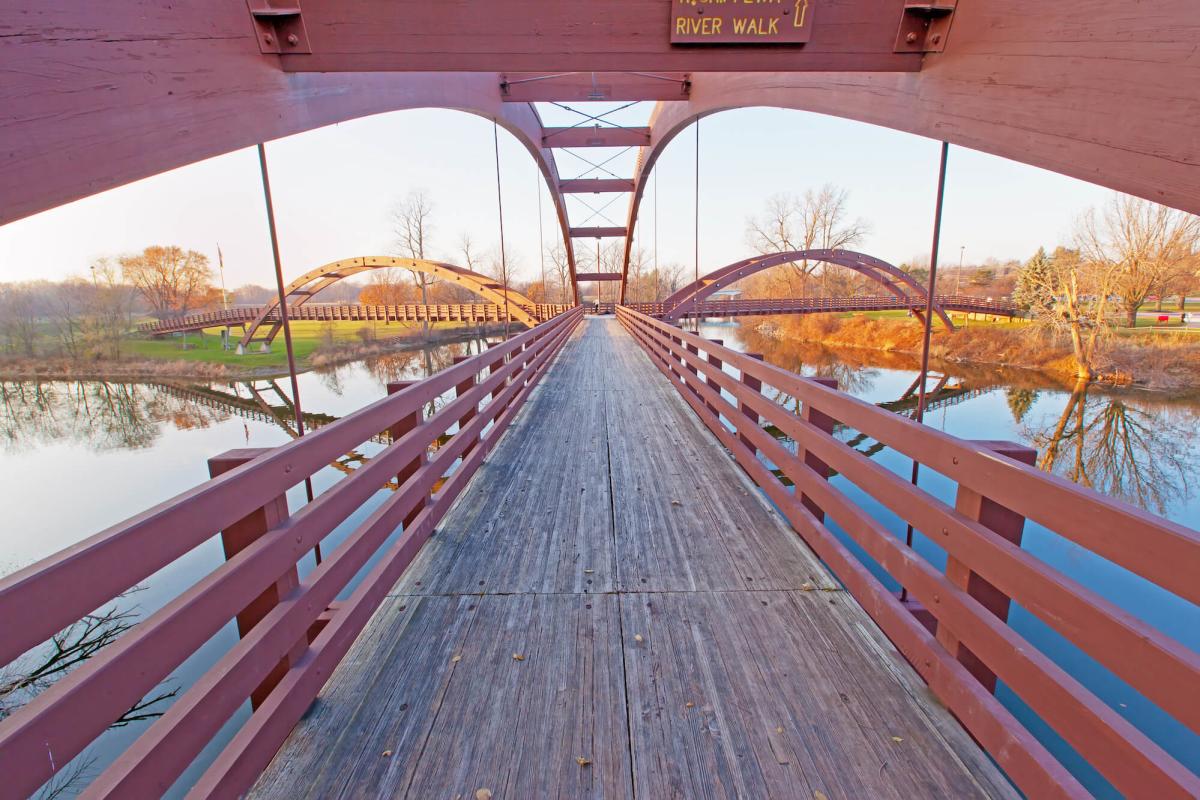 ---
You know that you're welcome in the Great Lakes Bay Region, right — an area chock-full of great places to go and fun things to do? Well, your dog's welcome in this pet-friendly region, too!
Formal, fenced-in dog parks are available in four of the region's bigger cities — Bay City, Frankenmuth, Midland and Saginaw — and other places large and small, properties public and private, are as pooch-pleasing as a scratch behind the ears. Yes, to you and your dog, and fun-filled days spent here in the Great Lakes Bay!
---
"The Parks are for the Pooches!"
'Bark Parks' are fence-secured, off-leash facilities where every dog can have its day. They welcome well behaved, non-aggressive pets in good health and under owner control. License and rabies tags must be up to date and visible.
There are bark parks in Bay City, Frankenmuth, Midland and Saginaw and while each has its own personality and specific rules, most of those rules are just common sense and good manners: pick up any mess your dog leaves, for example, and fill in any holes it digs. Visit at your (and your dog's) own risk. Kids should have adults with them. No food or snacks (dog or people) within the fence.
Most parks have rules against pups less than four months old, or females in heat. Separate, smaller areas are set aside for smaller dogs, usually 20 pounds or less. But in exchange for abiding by those rules and conditions, within a bark park fence you can unclip your dog from its leash, and let it run, romp and frolic. Training time? Most have agility training structures, too. Some, but not all, have drinking water available for pets and their owners.
Off-Leash Dog Parks in the Great Lakes Bay
Midland's only official dog park (more on that in a bit), is a fenced two-unit, four-acre facility within Chippewassee Park. It's adjacent to the Tridge in downtown Midland and, during a multi-year bridge replacement, accessible only by walking over the Tridge to it. (Otherwise there's car access via Currie Parkway and Golfside Drive.)
With fenced sections for big and small dogs, it has both open and tree-shaded areas. In warm seasons there's a water source by the main gate. Agility courses stand ready. Waste bags are provided, along with containers. Hours are 8 a.m. to dusk.
Midland Dog Park hosts dog events — Bark in the Park by the SOS Animal Rescue, and Dog Days of Summer by the Humane Society of Midland County, alternating on Wednesday evenings in June, July and August. Educational presentations, door prizes and lots of dog fun are the rule. And, if you want to stretch your legs a bit, take your leashed dog for a stroll on the Pere Marquette Rail Trail, which begins its 30-mile run to Clare here, the shorter 4-mile Chippewa, or the 4.25-mile Grand Curve Trail through the city.
Located on the Bay County Fairgrounds, this is the only public place in Bay County where dogs can legally be off-leash. Connected to the Bay City Area Riverwalk/Railtrail (popular with leashed-dog walkers), it provides a playground for people to stop and play with their dogs. That play is aided by features such as jumps, tunnels, weave poles, and teeter totters — all but the latter built to U.S. Dog Agility Association (USDAA) standards.
In Saginaw County, the Steven A. Kirshenbaum Memorial Bark Park is within Imerman Memorial Park on M-47 between Freeland and Saginaw. The dog park is open year-around during normal park hours, 7 a.m. - 9 a.m., with separate areas for large and small dogs. My friend Janet Nash, member and instructor in the all-volunteer Tri-Cities Dog Training Club of Saginaw, says special gatherings here called "Dog Days of Summer" boost the social angle, with exhibits and more.
Didn't think you knew any German? Now you do: "Hund Platz" means "Dog Park", and this one's operated by the Frankenmuth Parks & Recreation Department. The one-half-acre fenced area inside Memorial Park was built in the German-themed community in 2006, completely funded by donations. Within the park are benches and dog agility equipment; bring your own water for your dog and yourself.
Hund Platz rules specify that dogs be off-leash while inside the fence, to avoid conflicts and panic fights. No more than three dogs (and/or small children) are allowed per handler; and no food, treats, alcoholic beverages, glass containers, strollers, bicycles or children's toys allowed in the park.
Leashed, But Not Least!
Bark parks are designed for dogs off-leash, but there are many other ways to explore the Great Lakes Bay Region with your pet, including other parks!
Midland's Barstow Woods Park is sort of an 'unofficial' dog park; city signage and the sponsorship of a dog walkers group makes it clear dogs are welcome. It's definitely a place friendly to pets and their owners, what with multiple poop-bag-and-pail stations, picnic tables, memorial benches, and even water dishes set along the trail.
Yes, trail, because beyond the open play area adjacent to the parking lot off Saginaw Road, a network of trails meanders through the wooded park; put a few together for a mile hike.
Don't be shocked to see un-leashed and frolicking dogs; owners seem to do a good job of keeping them under control. (Be advised that although the Barstow Park area is fenced, there are places where a gate is missing, or sometimes left open. This is not an escape-proof place!)
In Saginaw's 'other' (not bark park) parks, dogs must be on a six-foot leash. Some areas ban them if they pose a threat to wildlife, particularly threatened or endangered species. It never hurts to call ahead — and read signs before hitting trails. Wherever, pick up poop, fill holes, report or repair any damage.
Dog lover Jan Nash says 'people parks' particularly popular with pet owners include Imerman Memorial Park (beyond the dog park fences), Wickes Park on McCarty Rd, and Roethke Park off M-46 in Thomas Township. Saginaw Valley Rail Trail, 9.55 miles long from St. Charles to Stroebel Road, like many area trails welcomes dogs on a leash no longer than six feet — and with the pet's owner picking up after the pooch. Similar rules apply to other area trails, including the Pere Marquette Rail Trail.
Special Canine Events
A don't-miss event for dog lovers is the Frankenmuth Dog Bowl, the world's largest Olympic-style event for dogs. Headquartered at Frankenmuth River Place Shops, it's family-friendly, and free!
The high-energy event showcases dogs running, jumping, diving, and retrieving and more. There are contests for disc dogs, dock dogs, costumed dogs, and just about every other kind of dog. See demonstrations featuring border collies (sheep herding), police K-9 dogs, and Paws with a Cause service animals.
Jan Nash calls the Dog Bowl "an absolute area highlight," but adds, "Personally, I like going to Frankenmuth downtown with my dogs anytime at all. I am always made to feel welcome with my dogs and people are calm, friendly and interested in interacting with us and other dogs visiting in the city. Lots of places to sit and talk, water bowls out on the sidewalks, water fountains for people too."
More Pet-Focused Favorites
Human-oriented attractions at which pets are welcome include the Bavarian Belle Riverboat in Frankenmuth and Larkin Beer Garden Thursday and Friday evenings in Downtown Midland. If near Frankenmuth River Place Shops, don't pass up SugarHigh Bakery's "Barkery," Pasty Haus' pet friendly patio & doggie menu, and Hello Cats & Dogs. Or, head to nearby Birch Run for treats at Doodle Dog Bakery.
Whatever your adventures, be sure to book your stay at any of more than 30 pet-friendly hotels in Bay City, Birch Run, Chesaning, Frankenmuth, Midland and Saginaw!