Sailing & Boating on the Great Lakes & Beyond
What is it about water that makes any adventure magically better? Is it the calm hues of blue reminding us to slow down, or the way the sun dances along the water's surface? Maybe it's the refreshment we experience when we jump right in. Honestly? All of the above and then some!
Just add water: suddenly you're basking on Lake Huron's Saginaw Bay, paddling along freshwater streams, or even sipping cocktails while taking in scenic views and radiant, riverfront sunsets. Get to our Great Lakes Bay waterfront and find yourself enjoying every cool-blue vista and waterway memory made with these Michigan waterfront vacations on the Saginaw Bay of Lake Huron and beyond!
Set Your Sights on Sailing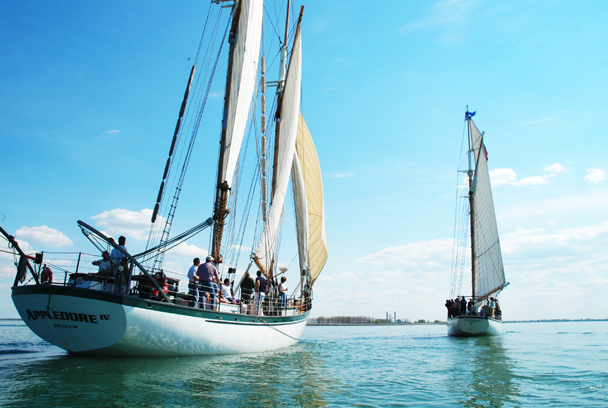 Board the majestic Appledore Tall Ships with BaySail in Bay City and take to the water like never before! With wooden decks and swooping sails, the majestic Appledore IV and Appledore V schooners are simply awe-inspiring.
Choose from daytime excursions like the Legends of the Saginaw Sail, or plan for an evening adventure to include dinner and live entertainment on varying Dinner Sails. And if sailing into a moon shadow underneath the starry night sky sounds like your kind of waterfront escape, make sure to look into Celestial Excursions.
After a day or evening on the water, consider Doubletree by Hilton Hotel Bay City - Riverfront as both close to Bay Sail and a luxury respite located in historic Downtown Bay City that's worth escaping to in its own right!
Escape to Nature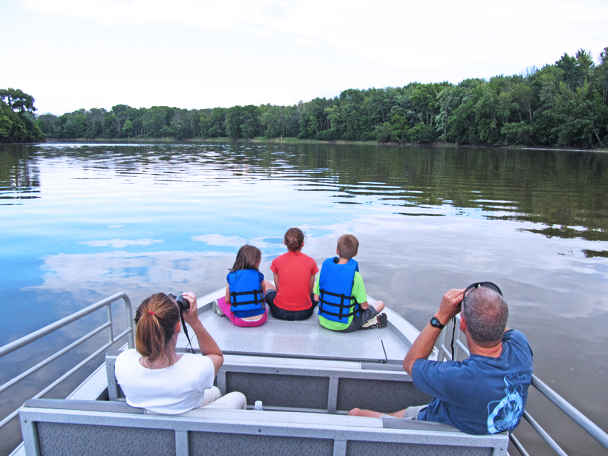 Whether you get on the inland waters of the almost-10,000-acre natural bounty that is the Shiawassee National Wildlife Refuge in spring, summer, or fall, prepare for Johnny Panther Quest Adventure Trips to supply precisely the waterfront escape you're looking for.
From wildlife-spotting ecotours to drenched-in-autumnal fall color tours, romantic escapes, and even bed & breakfast packages, relax while riding aboard a custom-built boat, watch rare birds take flight before your eyes, and find yourself immersed in natural surroundings and pristine waterways you won't soon forget.
Board Three Boats for Triple the Fun   
For both an hour-long tour of the scenic Cass River and a wine and chocolate tasting experience, boarding Frankenmuth FunShips will bring both Michigan wines and hand-made gourmet chocolates to your waterfront escape. (Psst! Here's a bonus boat option for groups of four or more: rent Frankenmuth FunShip's Aqua Cycle paddleboats for added fun!)
Board the Bavarian Belle Riverboat for a one-hour narrated sightseeing tour, and be sure to look out your window while staying at the Bavarian Inn Lodge to see this riverboat queen from afar. She's quite a sight! Also, the Bavarian Inn Lodge not only offers gorgeous riverfront views, but the hotel is home to four indoor pools, three whirlpools, and two waterslides for a whole different kind of waterfront fun!
Ride into the sunset with Bay City Boat Lines while enjoying dinner, then dance the night away on Friday night Dinner and Entertainment Cruises on the Princess Wenonah. From '80s Night to Beatles Tribute Night and even Island Night with the Caribbean Blue Band, you're sure to enjoy these waterfront get-downs! Bay City Boat Lines also offers a free Narrated History Tour at 10 a.m. every Monday - Friday during summer months, but reserve tickets because spots fill quickly!
Make a Splash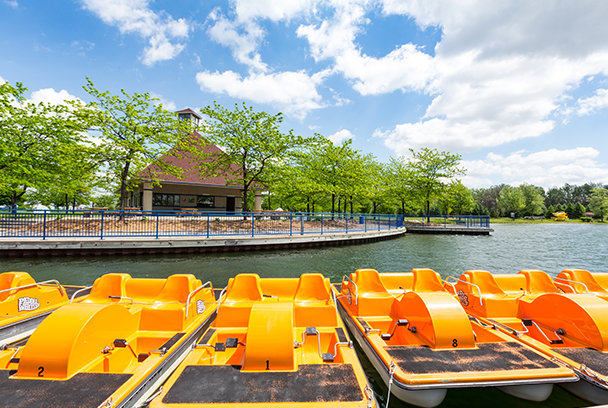 With more than 1,000 feet of sandy beach and Sanford Lake for swimming fun, Sanford Lake Park is also home to a 4,000 square-foot aquatic spray park to add splashing play to your waterfront escape. Pack up your coolers and get right into the water at Sanford Lake Park - and at The William H. Haithco Recreation Area in Saginaw. You'll want to bring fishing poles to this beach (access is there), and you might consider renting paddleboats, canoes or kayaks, too!
In fact, you might want to check out Ike's Mobile Kayak Rentals in Midland to add a half-day, whole-day, or even overnight kayak adventure into your waterfront escape. Get out on Lake Huron's Saginaw Bay with any of our Michigan fishing charters if world-class walleye fishing whets your whistle, or venture out to Chippewa Nature Center and spend time hiking along the picturesque Pine River.
Regardless of which adventures you choose, one thing is for certain: in the Great Lakes Bay, the options for Michigan vacations on the waterfront (and the wonderful memories made) are endless.