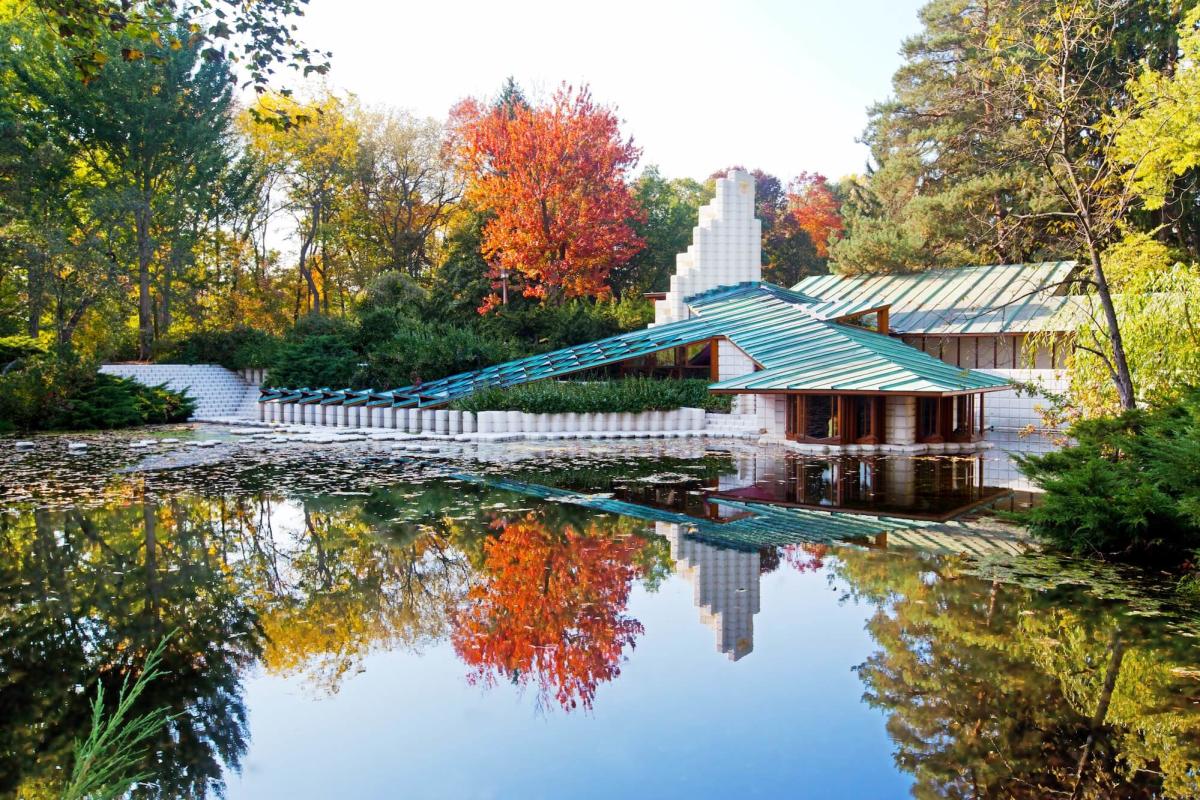 Historic theaters and architectural gems to art museums and galleries galore — the paint has yet to dry on all of the fresh, imaginative, and immersive arts and cultural experiences to be had here!
Taking tea at one of North America's most authentic Japanese tea houses, taking a stroll through an art museum inside a 1904 Georgian-Revival mansion, or taking time to unwind while you craft a masterpiece all your own — enjoy this expressive region and the community of local artists and visionaries who bring it to life!
---
COVID-19 Update:
As we welcome you back, we'll be doing our best to keep you in the loop on what's open & closed in the Great Lakes Bay Region. Just look for the orange banners below on our partner listings as you start planning for your next trip!


While we all navigate this new normal, some experiences may be slightly different, and some businesses may only be partially reopened. Please check with the individual businesses for their reopening status, new hours of operation, and updated policies before visiting!
---
Cultural + Community Gems
Japanese Cultural Center, Tea House, and Gardens of Saginaw (Saginaw) One of the most authentic Japanese tea houses on the continent, offering a form of Traditional Tea Ceremony (Chanoyu) dating back to 1600 A.D. See celebrants in traditional kimono perform the 400-year-old ritual of serving tea, then roam the tranquil, three-acre Japanese gardens on your own.
Alden B. Dow Home & Studio (Midland) One of "25 Best Historic Homes in America" (Traditional Home, 2014) and a National Historic Landmark. Tour this mid-century modern masterpiece designed by Alden B. Dow himself, and catch unbelievable glimpses of the encompassing pond from the sunken-in Submarine Room.
Mid-Century Modern Midland (Midland) Experience the rich architectural heritage of Midland through over 400 incredible structures woven throughout this inspired community — including the works of renowned architects from Alden B. Dow to Frances "Red" Warner and Jackson Hallett. Download the mobile app to track down these rare beauties on a self-guided tour!
The Dow Event Center (Saginaw) Massive arena and theater that plays host to everything from big-name musicians to Broadway-award-winning musical theater! Keep a close watch on their calendar of events; new and exciting shows are always being announced!
Historic Theaters
Temple Theatre (Saginaw) Historic 1927 theater, home to the world's only Barton Butterfield Special organ in original condition! Experience everything from concerts to comedy shows, plays to films — and enjoy performances by the Saginaw Bay Symphony Orchestra and Saginaw Choral Society, especially during the holidays.
State Theatre of Bay City (Bay City) Built in 1908 as The Bijou Theatre, experience this Mayan-inspired jewel box when you catch live music or comedy, a performance by The Bijou Orchestra, or classic holiday films shown here during Sundays in the City!
Court Street Theater (Saginaw) The art of viewing, as it was always intended. Experience this revitalized 1938 theater with state-of-the-art sound and unmatched acoustics, and enjoy everything from films to concerts and small play productions.
Arts Collectives
Midland Center for the Arts (Midland) The core of arts and culture in the region — home to two performance venues, two museums, art studios, and more. Experience performances from concerts to comedy shows, theatre to dance — and bring your little explorers to the Alden B. Dow Museum of Science and Art for hands-on galleries and immersive exhibitions.
Studio 23 / The Arts Center (Bay City) Try your hand at Sip 'N Swirl painting lessons paired with wine, join hands-on workshops from watercolor to acrylics, and enjoy artist lectures and gallery events here. Or, pop in anytime to pick (and make) your own art project off the Craft Bar "Menu"  — with all the instructions and supplies provided!
Creative 360 Stage, Studios & Gallery (Midland) Free art gallery and complete creative outlet, offering everything from art classes to dinner theater.
Art Museums + Art Galleries
Saginaw Art Museum (Saginaw) Stunning art museum inside a 1904 mansion, encased in Italianate gardens. Two award-winning modern wings, rotating exhibitions, and an expansive permanent collection of art with more than 2,000+ objects — primarily paintings, sculpture, and watercolors by 18th- through 21st-century American and European artists — all make this a must-see!
Marshall M. Fredericks Sculpture Museum (Saginaw) An astounding collection of more than 2,000 featured objects from the 70-year career of one of the most prolific sculptors of the 20th century. Pay special attention to the Sculptor's Studio — a replica of Fredericks' Royal Oak studio, featuring many of his original clay models, molds, and machinery!
Gingerblue Gallery (Saginaw) Old Town art gallery tucked inside a historic landmark building, highlighting artists both local and global.
Golden Gallery & Custom Framing (Bay City) Historic building situated beneath the 3rd Street Star Bridge, where Michigan and regional fine art photography lines the walls.
Do-Art Studio & Gallery (Bay City) Old-timey department store turned art center, where you'll browse works by individuals both with and without disabilities. Sculptures crafted from found-and-gathered items to framed paintings and handmade jewelry, enjoy every unmistakable find.
Imagine That! A Local Artists' Co-op (Midland) A local collective of 60+ artists selling their handcrafted wares from a Main Street Midland storefront. Wall art to home and garden accents, jewelry to Michigan-themed items — explore an eclectic mashup of one-of-a-kinds.
More Art Galleries (Multiple Cities) From Northwood Gallery's contemporary fine art and glasswork to University Art Gallery's rotating contemporary art exhibits, discover all of the incredible art galleries here!
Painting + Pottery Studios
Board & Brush Creative Studio (Saginaw) DIY & BYOB combine at these one-of-a-kind, wood-sign-making workshops. Just book a class and bring your creativity... and a bottle of wine, if you'd like! You'll pick your own project; Board & Brush supplies the instruction, materials, and design to help you distress, sand, stain, and paint your own hand-lettered, custom creation!
Painterly Pottery (Saginaw, Bay City) Paint-your-own pottery studio with 1,000+ unfinished ceramic pieces begging for a splash of color! Glass fusing to mosaics, let your creativity shine across many different mediums!
Space Studios (Midland) Pottery studio and store inside a modern gallery setting — complete with a massive glaze bar stocked with ready-to-paint pieces handcrafted by local potters!
Performing Arts
Community Theaters (Multiple Cities) From one of the oldest community theaters in the country, Pit & Balcony Community Theatre, to Michigan's oldest continually operating community theater, Bay City Players, and the national-award-winning volunteer theater program of Center Stage Theatre — experience the performing arts in all their glory.
Symphony Orchestras (Multiple Cities) Hear the Midland Symphony Orchestra's 70+ ensemble of professional musicians perform their concert season at Midland Center for the Arts, listen to Saginaw Bay Symphony Orchestra's fully professional ensemble inside the historic Temple Theatre, or enjoy The Bijou Orchestra's 13-piece at State Theatre of Bay City.
Choirs + More (Multiple Cities) Hear Center Stage Choirs or Saginaw Choral Society perform everything from classical masterworks to popular favorites, or step inside the White Crow Conservatory of Music for their annual concert series.
Museums + Historic Wonders
Saginaw Valley Naval Ship Museum (Bay City) Naval ship museum aboard a National Historic Landmark — the U.S.S. Edson DD-946 destroyer — open daily for self-guided tours. Explore on your own, book a limited-availability tour with a former Edson crew member, or take a paranormal tour of this allegedly haunted warship, featured on the popular Destination America TV series, "Ghost Asylum".
Castle Museum of Saginaw County History (Saginaw) Expansive historical museum set inside an 1897 French chateau-style castle. Delve into the area's rich history — lumbering to automotive manufacturing and archaeology — and watch for a robust lineup of rotating exhibitions. 
The Michigan Heroes Museum (Frankenmuth) The only museum dedicated solely to the wartime experiences of men and women from Michigan. Honor heroes who fought in America's seven foreign wars as you explore 140 displays, 700 exhibits, and the nation's largest Medal of Honor collection on display.
Antique Toy & Firehouse Museum (Bay City) 60+ motorized fire trucks — touted as the world's largest collection — and home to the world's largest and most famous firetruck, the FDNY Super Pumper. Browse more than 12,000 antique and collectible toys — many of them are fire, police, and rescue vehicles!
More Historical Museums (Multiple Cities) From the Frankenmuth Historical Association Museum to the Bridgeport Historical Museum and Village — even the Theodore Roethke Home Museum — enjoy all of the incredible places to immerse yourself in the rich history of the Great Lakes Bay Region.