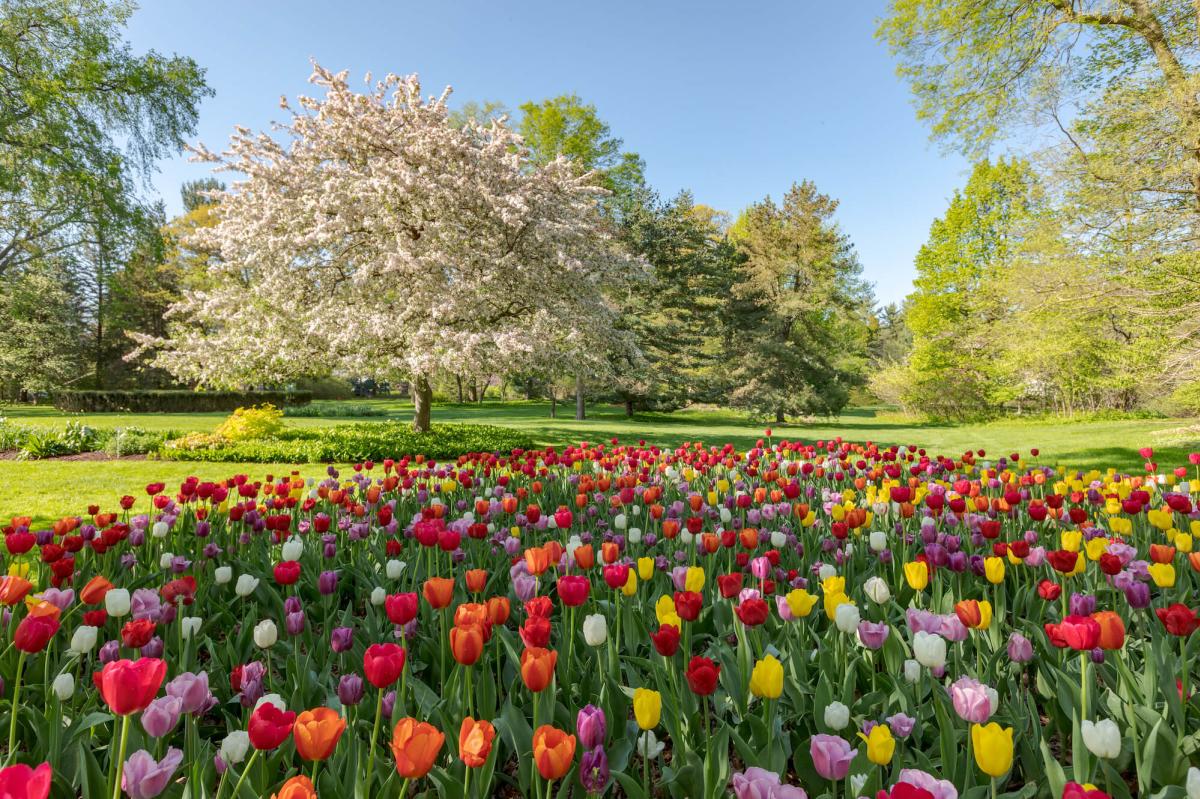 Just being in the great outdoors is a magical experience all its own. But, when that magic means exploring the longest canopy walk in the country from four stories high in the treetops, ecotouring through more than 19,000 acres of some of Michigan's richest wildlife habitat, or trekking along almost 100 miles of scenic trails — dotted by pocket parks and prime nooks for birding — you know you've found a place that'll leave you filled with wonder.
---
On guided ecotour, rented bike, or just your own two feet — Pure Michigan's raw, unfiltered beauty is yours to feel firsthand. Just bring your sense of adventure; our Great Lakes Bay trails and treetop adventures, wetlands and wildlife await!
---
Natural Wonders + Outdoor Adventures
Whiting Forest of Dow Gardens — Midland — The longest canopy walk in the United States — 1,400 feet long, 40 feet above the forest floor, and fully ADA-accessible. Lounge in suspended cargo nets amidst the treetops, pause to reflect inside wooden pod sanctuaries, get a birds-eye view over 54 acres of forest trails, and feel the magnitude of this natural wonder wash over you — maybe while standing on a glass-bottomed overlook, perched high above a four-zoned orchard!
Dow Gardens — Midland — 110 acres of breathtaking botanical gardens, connected to above-mentioned Whiting Forest by pedestrian bridge. Explore everything from the Color Garden to the Rose Garden, stroll the Stream Walk to see an abundance of tulips in spring or over 20,000 annual varieties in summer, and ponder in nature at Pineside — a secluded grove with a peaceful reflecting pool.
Johnny Panther Quests Adventure Trips — Saginaw — Ecotours through the "Everglades of Michigan" — over 19,000 combined acres of Shiawassee National Wildlife Refuge and Shiawassee River State Game Area — rich with epic waterfowl migrations and wildlife sightings. Explore it all aboard a shallow-draft boat and alongside this expert local guide!
Chippewa Nature Center — Midland — One of the largest private, non-profit nature centers in the U.S. — spanning 1,200 acres of wetlands and woodlands — with 19 miles of trails and an observation tower offering birds-eye views over the wetlands. Enjoy two river overlooks, explore the Arboretum's 100+ species of Michigan-native trees and shrubs, and stop to marvel at the Oxbow's mature woods and abundant wildlife.
Frankenmuth Aerial Park — Frankenmuth — Sprawling aerial ropes course and ziplining adventure, designed to give everyone — young and old, rookie to pro — a signature Pure Michigan experience in the trees! Swing through the shaded canopy of this lush forest — climbing and gliding your way along the challenges — and consider a twilight climb to experience the illuminated forest at dusk!
Sunrise Pedal Trolley and PedAle Trolley — Bay City, Frankenmuth — Hop aboard these custom-built, eight- to 16-person trolleys — in both Bay City and Frankenmuth — and pedal off into the sunset, surrounded by natural beauty! Don't have enough riders to rent the full trolley? Buy single seats on Frankenmuth's PedAle Trolley or try the new Sunrise Circle Cruiser in Bay City for smaller crews of up to six!
Trails, Hiking + Biking
Great Lakes Bay Regional Trail — Multiple Cities — An almost-100-mile, non-motorized regional trail system — part of the longest designated state trail in the United States, Iron Belle Trail — with miles upon miles just made for hiking, biking, and birding. Enjoy three main trail legs — the 30-mile Pere Marquette Rail Trail, 17.5-mile Bay City Area Riverwalk/Railtrail, and 11-mile Saginaw Valley Rail Trail — then, branch off to the many network trails that intertwine.
Ray's Bike Shop — Bay City, Midland — Comfort bikes to fat bikes, Surrey singles to doubles (and pedicabs, too) — rent here, and ride on!
Jack's Bicycle Shop — Bay City — Affordable full- and half-day rentals and an impressive fleet — singles to tandems, mountain bikes to hybrids.
Birding + Wildlife Viewing
Saginaw Bay Birding Trail — Multiple Cities — 40-site birding trail weaving 142 breathtaking miles along the Saginaw Bay shoreline and the conserved lands that surround — with half of its sites here in Bay and Saginaw Counties! Start off at the official trail hub inside Discovery Preserve — a natural oasis in urban Bay City — and enjoy every epic birding experience that follows, from Nayanquing Point State Wildlife Area to Green Point Environmental Learning Center.
Shiawassee National Wildlife Refuge — Saginaw — Almost 10,000 acres of marsh, bottomland hardwood forest, and grasslands — designated a U.S. Important Bird Area — attracting over 270 species of birds and peak spring waterfowl populations of almost 20,000! Enjoy four trails and a seasonal auto tour route, plus three wildlife observation decks (two with spotting scopes).
Wildlife Drive — Saginaw — 6.5-mile auto tour route through the Shiawassee National Wildlife Refuge — open June - September, sunrise to sunset. Wind past forests, grasslands, and marshes, spotting wildlife from the comfort of your car!
Shiawassee River State Game Area — St. Charles — One of Michigan's seven Wetland Wonders, with nearly 10,000 acres adjoining the Shiawassee National Wildlife Refuge. Witness everything from abundant waterfowl to swans and shorebirds, and hike the Saginaw Valley Rail Trail that passes through for even more great observation.
Tobico Marsh — Bay City — One of the largest freshwater coastal wetlands on the Great Lakes — named a National Natural Landmark — and an ideal staging area for migratory birds. Hike almost five miles of trails and view wildlife from two 32-foot observation towers.
Nayanquing Point State Wildlife Area — Pinconning — One of Michigan's Wetland Wonders and one of the most visited areas along the Saginaw Bay for water birds. View large populations of migrating waterfowl and one of Michigan's largest and oldest colonies of Yellow-headed Blackbirds.
Green Point Environmental Learning Center — Saginaw — Learning center with a wildlife viewing room, set on 82 acres just outside the Shiawassee National Wildlife Refuge. See migrating warblers or nearly 150 other species observed here, and enjoy two miles of trails that wind through the forest.