📍Uptown Bay City 📷 @jeffcaverlyphotography
---
Browsing boutiques for the season's top styles, wandering city markets for the things most loved by locals, or foraging through antique havens for days — shopping in the Great Lakes Bay means enjoying the experience as much as the things you'll bring home.
Walk along streetscapes in full bloom, wander into inviting shops, and stay awhile. The quaint boutiques and antiquing spots that line our streets can't wait to welcome you inside!
---
Outlet Malls + Outdoor Shopping Malls
Birch Run Premium Outlets® (Birch Run) One of the largest outlet malls in the Midwest and one of the country's original outlet malls, home to over 100 stores — Coach to Michael Kors, Columbia to Calvin Klein. Stroll leisurely between stores to stock up on designer favorites at incredible savings!
Frankenmuth River Place Shops (Frankenmuth) 40-store, European-inspired outdoor shopping mall, with picturesque Bavarian architecture and iconic waterfalls. Shop favorites like Michigan's largest bead store, Bead Haven — complete with Modern Craft Winery Tasting Room tucked inside — or fashion boutiques like Calla Lilie's and Emilie B's.
Pride and Country Village (Saginaw) Massive village of unique shops (housed in historic farm buildings) and a must-see-to-believe, 40,000-square-foot experience. From The Mill's seasonal shop to The Farmhouse's five levels of fine home furnishings and Tumbleweed Farms' outdoor garden center, this multi-building mecca offers a bit of it all.
City Markets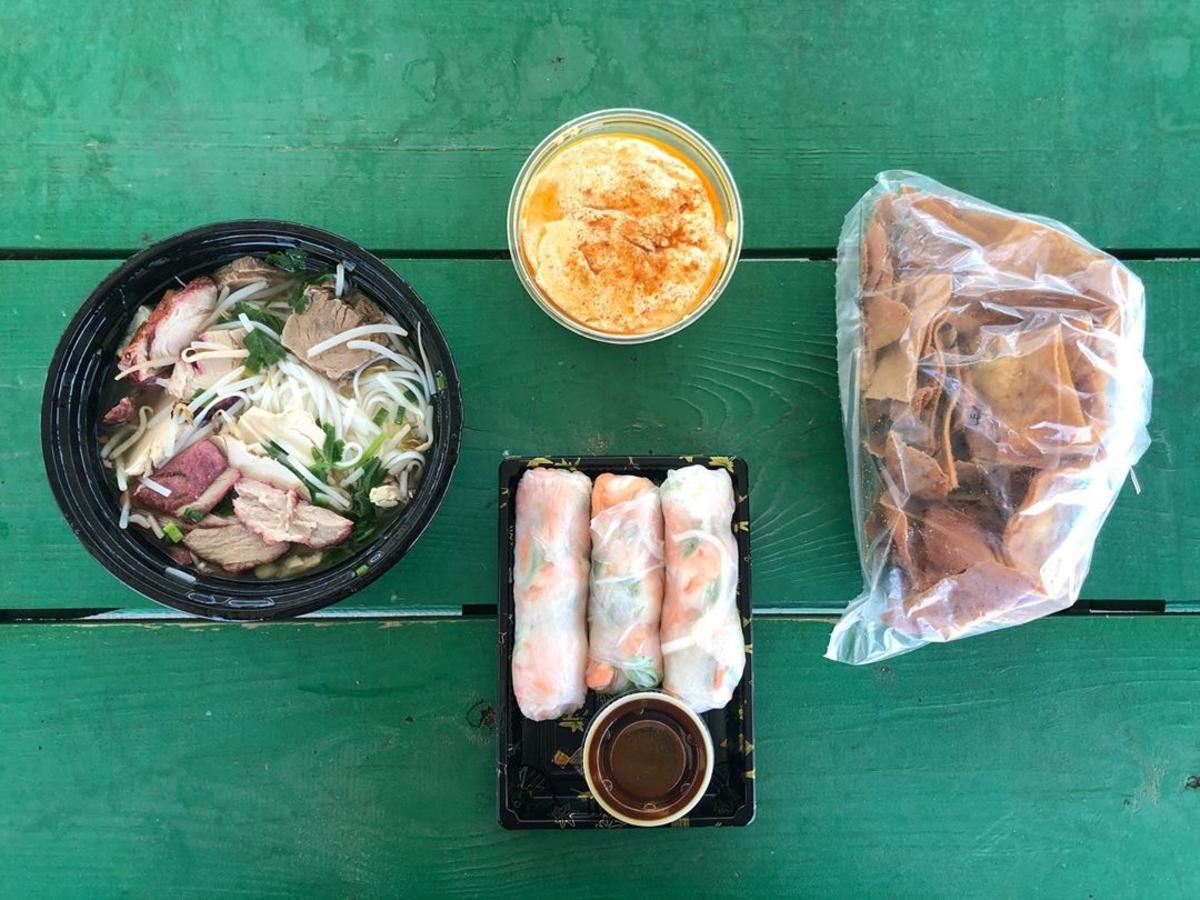 📍SVRC Marketplace 📷 @riverfrontsaginaw
SVRC Marketplace (Saginaw) 100,000-square-foot marketplace, home to the Downtown Saginaw Farmers Market and over two-dozen vendors indoors. Shop Those Nature People's unique line of products inspired purely by nature, or The Little Yarn Shoppe's curated studio of yarns and supplies — and enjoy all the on-site eateries while you do!
City Market (Bay City) Shop everything from Oily Apothecary's essential oils to Those Nature People's handmade, natural products — and cool off with a healthy treat from Replenish juice bar.
Antiques + Vintage Shops
Bay City Antiques Center / Bay Antique Center (Bay City) Michigan's largest antique center, this 60,000-square-foot, three-story, multi-dealer shop spans an entire city block, with European imports to memorabilia, glassware to architectural salvage — rated #1 by AAA and open 361 days a year!
The Saginaw Antique Warehouse and Specialty Shoppes (Saginaw) 70+ dealers and over 20,000 square feet of furniture, glassware, china, and collectibles — home to The Loft Marketplace and Memory Lane Cafe.
Freeland Antique Mall (Freeland) 16,000-square-foot haven of antique finds, filled by the collections of more than 90 quality dealers.
Americana Company Antique Mall (Bay City) An eclectic mix of unique antiquities and a big dose of nostalgia.
Retro Attics (Bay City) A collection of surprising mid-century modern finds, curated by two talented, local pickers.
Court Street Antiques (Saginaw) Antique, vintage, and up-cycle shop, complete with a Junque & Salvage Room you just can't miss.
Adomaitis Antiques (Saginaw) Old Town antique shop with a special selection of estate sale and consignment items, plus thousands of costumes and vintage clothing pieces.
Iron Gate Emporium (Birch Run) Vintage and antique marketplace, featuring everything from shabby to industrial chic and even made-in-Michigan.
Thrifty Treasures Antiques & More (Birch Run) Antique shop home to 35+ vendors, with a great selection of glassware and anything mid-century.
Lifestyle Boutiques & Artisan Wares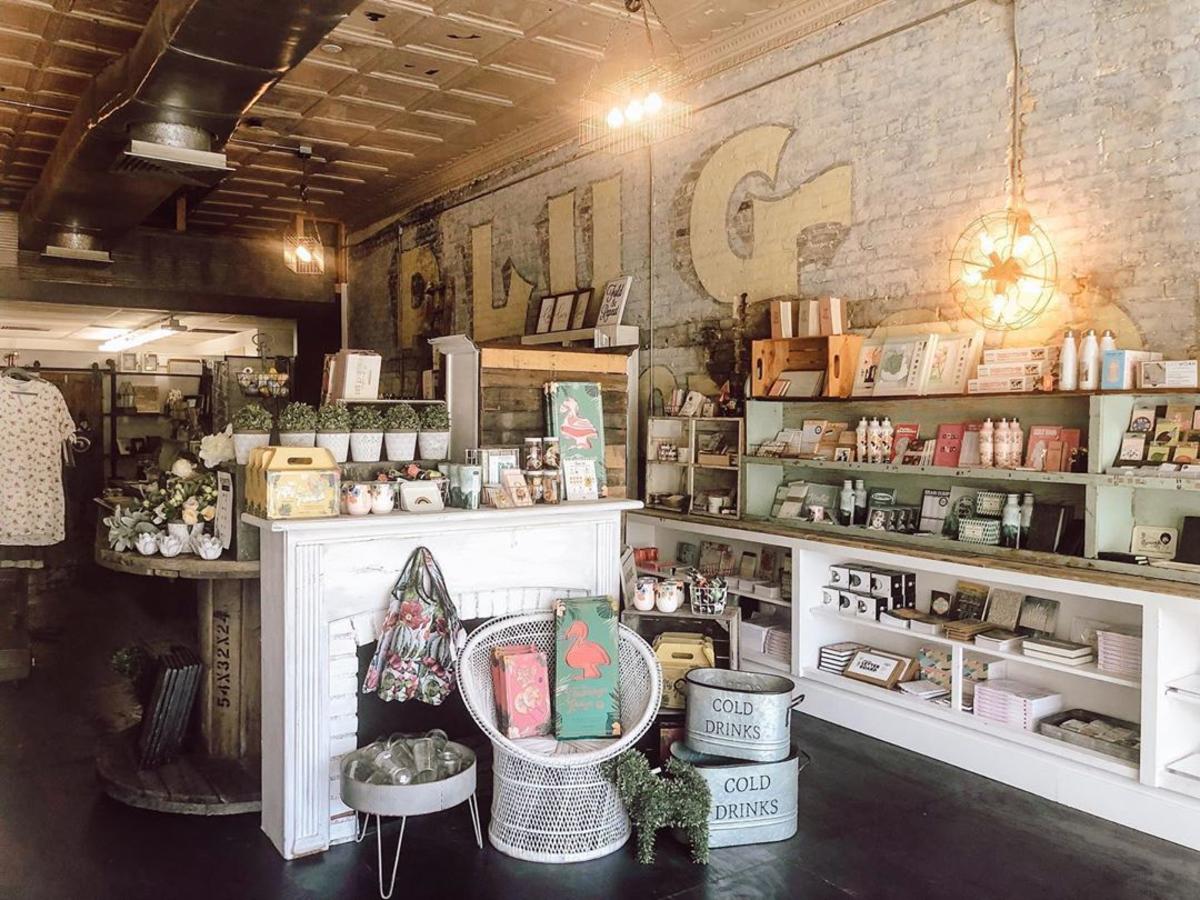 📍Serendipity Road 📷 @serendipityroadmi
Serendipity Road (Midland) Home decor to housewares, textiles to jewelry, this makers-market-meets-boutique sells the wares of artisans from all throughout Michigan.
Rebel Magnolia (Saginaw) Vintage-meets-modern-bohemian oasis of clothes and accessories, home decor, global textiles, and apothecary items. Shop here, or experience Rebel Magnolia Flea Market — a free-spirited, festival-style market filled with vintage and handcrafted items — held in both spring and fall.
Half Mile Handmade (Bay City) Curated, handmade finds for your closet and home — and, especially, Michigan-themed goods and gifts crafted by local artisans — all inside a shop that supports the maker movement.
Violets Blue (Bay City) Shop everything from home decor to luxury household products, and time your trip to one of their regular sidewalk sales.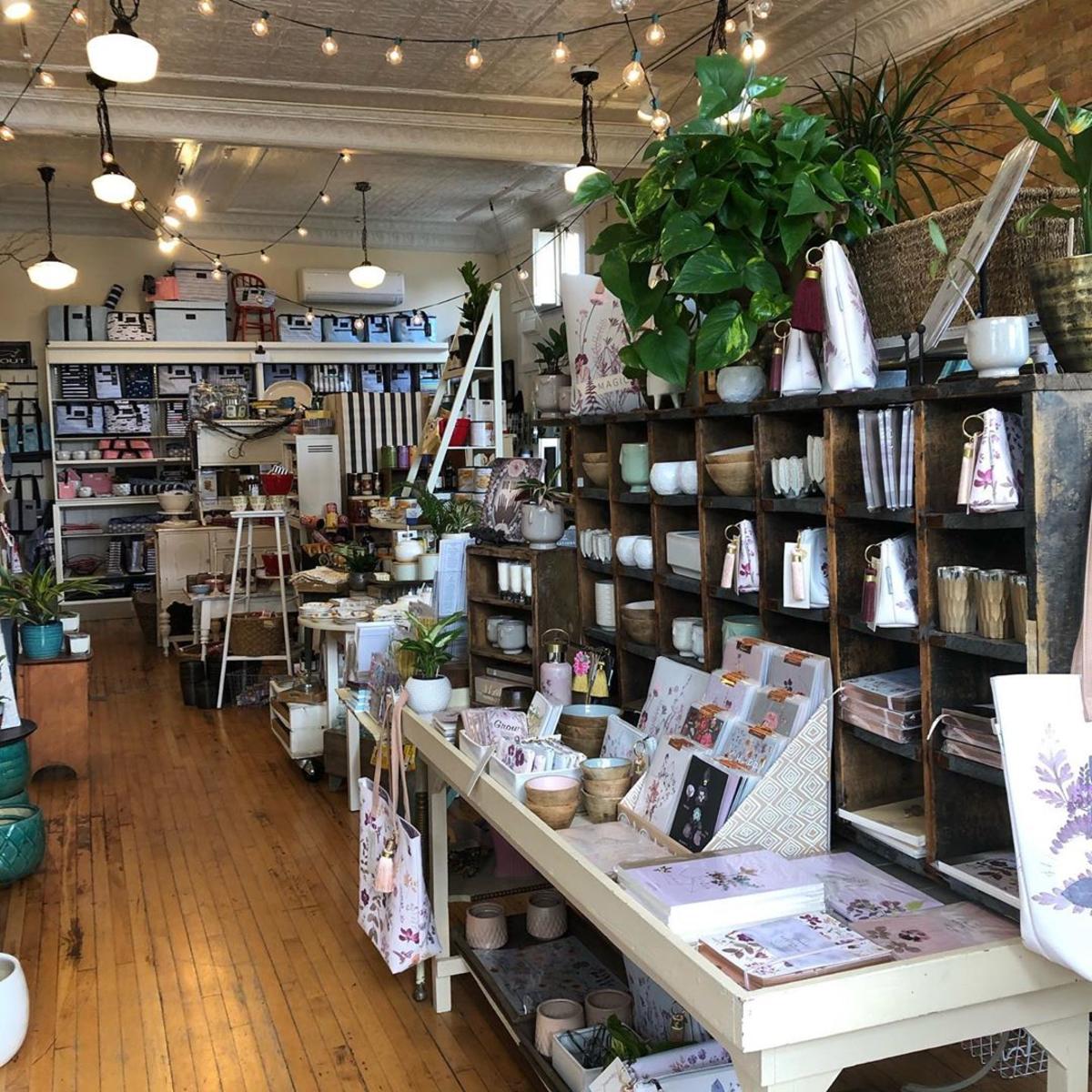 📍Violets Blue 📷 @violetsbluebaycity
Home + Garden Havens
Warmbier Farms (Auburn) 12,000 square feet of home decor, garden accents, and gifts, plus an impressive outdoor garden center with 1,300 concrete statues!
My Secret Garden (Bay City) 7,000-square-foot haven of home furnishings, clothing, accessories, and gifts, plus garden decor galore.
G.T. Homestead (Bay City) An inspired selection of seasonal decor, plus home and garden accents. Find their colorful storefront beneath the Third Street Star Bridge!
Little House (Bay City) Unique home decor, garden art, and gift items. Watch for spring open houses and shop the incredible summer sidewalk sales.
Fashion Boutiques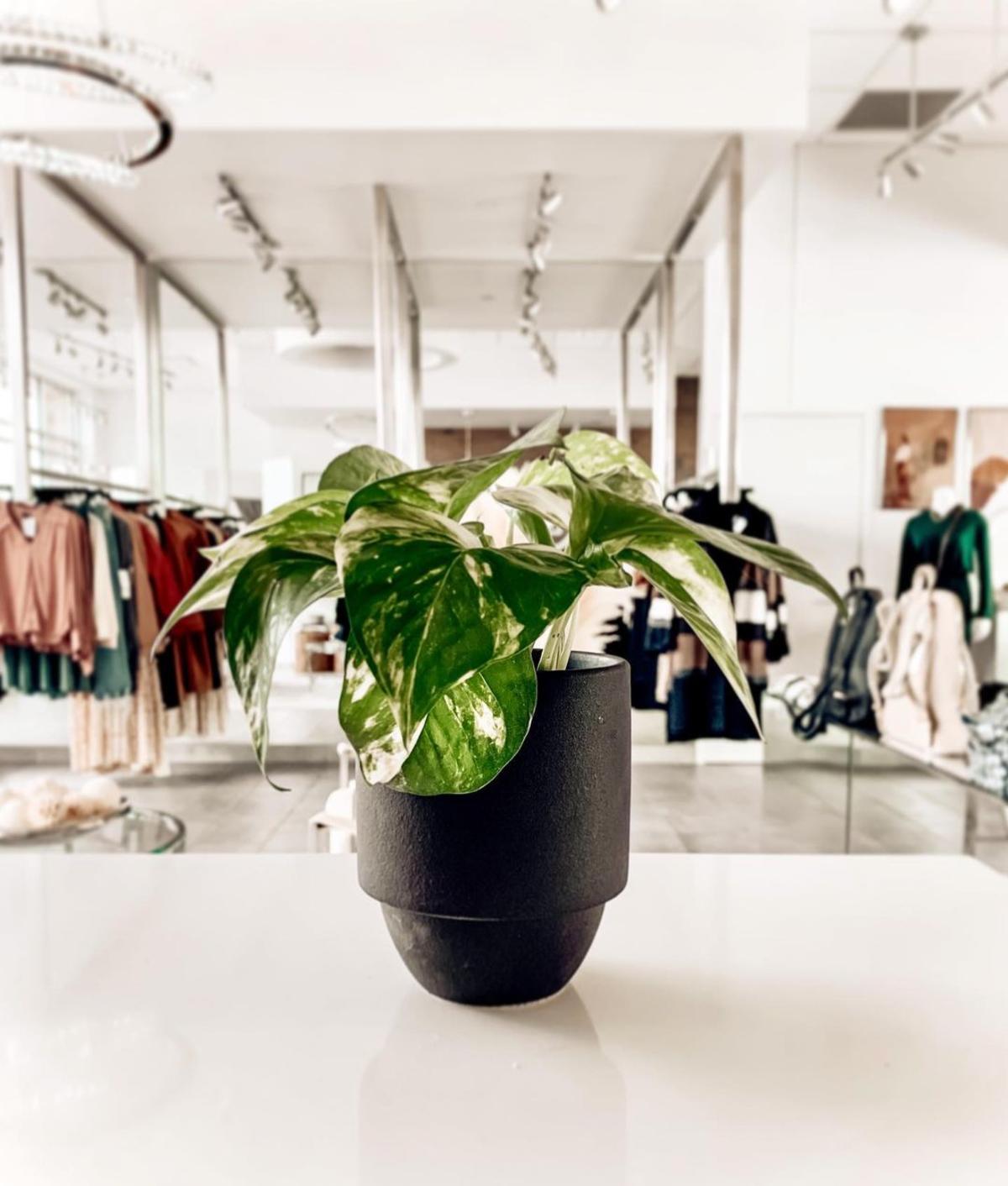 📍OMONI Boutique 📷 @omoniboutique
OMONI Boutique (Bay City) Pieces curated for the modern-minded and fashion-forward — with premium labels and stylish-yet-wearable looks.
Ferne Boutique (Bay City) Contemporary apparel and accessories, and all the stylish spring and summer must-haves — jumpsuits to rompers, summery tops to sundresses — with seasonal sidewalk sales.
White House Boutique (Frankenmuth) Stylish and timeless selections, favorites from Brighton to Pandora, and spring and summer porch sales you can't miss.
Adorn Boutique (Frankenmuth) Current trends and classic styles, accessories and apothecary items, plus pop-up shops and sidewalk sales.
Elodie Boutique (Midland) A little slice of retail heaven, right on Midland's Main Street. Shop curated, on-trend fashions and accessories here!
Panache Boutique (Bay City) Downtown boutique with trend-forward favorites, dedicated to empowerment through fashion.
Uptown Girl (Bay City) Casual fashions and spring and summer open houses, offering the season's latest at storewide discounts.
Willow Classic Ladies Apparel (Midland) Timeless, classic fashions and favorites from Brighton to Tribal, with seasonal sidewalk sales.