Go Great, Go Safely
Our Tourism Partner + Traveler Pledge
As COVID-19 restrictions in Michigan are eased and the Great Lakes Bay Region continues to slowly and safely reopen — protecting all who live, work, and visit here is our top priority.
But, how can your business communicate your commitment to keeping guests safe? And how can you ask those same guests to honor the current public health recommendations while they're here? We can help!
The Go Great, Go Safely Pledge is a new tool for our tourism partners, designed to help you share with guests what you'll be doing to welcome them safely — at the same time, protecting the people who call our region home.
---
Taking the Go Great, Go Safely Pledge is your promise to reopen responsibly by following these six simple guidelines — protecting our local communities and enhancing traveler confidence in the process: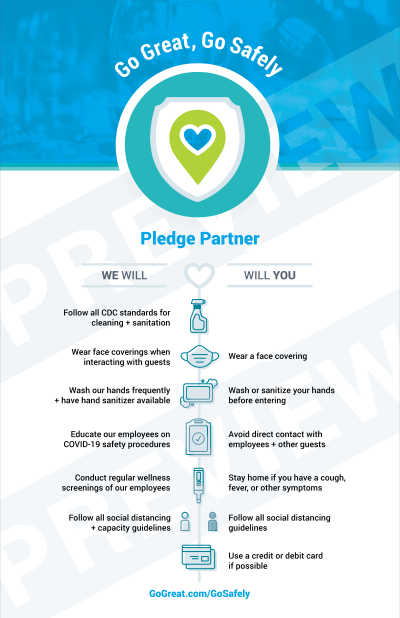 ---
When you take the Go Great, Go Safely Pledge, we'll hand-deliver a professionally printed Pledge Toolkit to your business — including posters and table tents you can proudly display to show guests what you're doing to keep them safe.
You'll also gain instant access to our entire digital Pledge Toolkit — complete with website badges, curated social media assets, and a press release template you can easily customize to share your own announcement!
We'll even add a special Pledge Partner badge to your GoGreat.com listing so potential visitors know the extra steps you're taking to protect them.
---

---
---