Take the Go Great, Go Safely Partner Pledge
At its core, the Go Great, Go Safely Pledge is a heartfelt reminder: we're all in this together. Beyond that, it's a simple, yet confident step toward reassuring locals and visitors we're doing everything possible to protect them as they get back to doing the things they love.
United by the Go Great, Go Safely Pledge, together, we can protect our local communities, foster traveler confidence, and inspire visitors to keep dreaming of — and planning for — their future trips.
---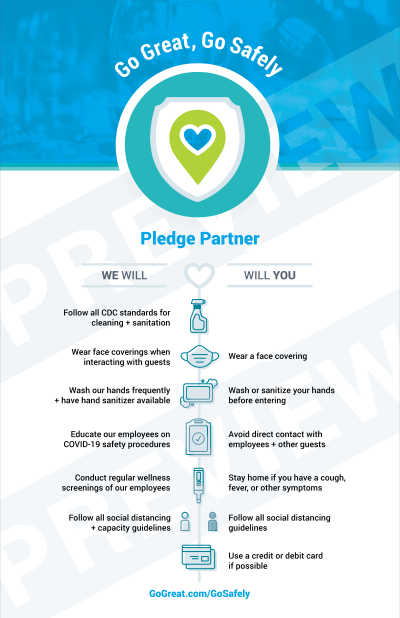 ---
---
Step 1: Take the Pledge
When you take the Go Great, Go Safely Pledge below, you'll gain instant access to an entire Pledge Toolkit — full of ready-to-use assets for print, web, and social media — all designed so you can effortlessly share what you'll be doing to keep guests safe.
Step 2: Share the Pledge
Use the print-ready art in your Pledge Toolkit to produce your signage through a professional printer, or in-house. Display the poster at the entrance to your business, highlight the badge on your website, share the curated post on social media, and use the press release template to share your own announcement.
Step 3: Live the Pledge
Ensure your employees follow the Pledge, encouraging guests to do the same. Keep promoting your commitment to safety via social media and customer newsletters, and include it in your advertising. We'll even add a special Pledge Partner badge to your GoGreat.com listing!
---
Take the Go Great, Go Safely Pledge Today!