RECENT SHIAWASSEE NWR SIGHTINGS - October 17, 2014
Fall migration is well underway. Common songbird migrants being seen right now include Yellow-bellied Sapsucker, Ruby-crowned and Golden-crowned Kinglet, Brown Creeper, Eastern Bluebird, Hermit Thrush, American Pipit, Yellow-rumped Warbler, Rusty Blackbird, and flocks of thousands of Red-winged Blackbirds. Several species of sparrows are being seen, including Savannah, Song, Lincoln's, Swamp, White-throated, and White-crowned. Dark-eyed Juncos are migrating through as well.
It is a great time of year to see fall foliage and wildflowers at the refuge. The Silver Maples dominate our woods and they are bright red and yellow. Look for two very colorful vines - Virginia Creeper and Poison Ivy. Virginia Creeper turns a beautiful burgundy and Poison Ivy will be bright orange or yellow. The berries of both species are coveted by songbirds. Fall wildflowers include New England, Sky Blue and Calico Asters, Canada Goldenrod, Woodland Sunflower, and Jerusalem Artichoke.
Results of the weekly Waterbird Survey include Canada Goose 2360, Trumpeter Swan 24, Wood Duck 199, Gadwall 89, American Wigeon 198, American Black Duck 21, Mallard 3010, Blue-winged Teal 26, Northern Shoveler 18, Northern Pintail 27, Green-winged Teal 150, Canvasback 2, Ring-necked Duck 33, Hooded Merganser 3, Common Merganser 178, Ruddy Duck 4, Pied-billed Grebe 50, Double-crested Cormorant 16, Great Blue Heron 29, Great Egret 41, Black-crowned Night-Heron 2, Common Gallinule 9, American Coot 762, Sandhill Crane 127, Killdeer 1, Lesser Yellowlegs 2.
Check out the Shiawassee National Wildlife Refuge website
to keep up to date on trail closures for deer hunting and Wildlife Drive open hours.
Many thanks to Linda Menger for sending us this beautiful sunset picture taken along the Wildlife Drive!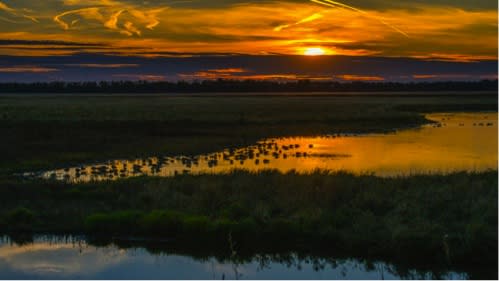 Steven F. Kahl
Refuge Manager
Shiawassee National Wildlife Refuge