---
Perhaps the one of the world's best walleye fisheries, Lake Huron's Saginaw Bay is certainly among Michigan fishing's most enticing puzzles. The Saginaw Bay challenge is to find its abundant gamefish in a vast, relatively featureless underwater landscape.
Think jigsaw puzzle — without a picture, and with little difference between the pieces. And in that massive 1,143-square-mile Lake Huron bay swim walleyes so plentiful that the biggest challenge facing fisheries biologists is getting anglers to catch more of them!
---
Board Trolling
Nearly all Saginaw Bay open-water walleye fishing is done by trolling: presenting a bait lure behind a slow-moving boat. That's the key to finding fish that wander constantly in search of food and comfortable water temperatures.
To present multiple lines (anglers are allowed three each) and get offerings away from the fish-scaring disturbance of a boat, most people employ side-planing devices, whose angled edges pull them out from moving boats.
Planers come in two main types: plastic devices about a foot long, clipped to the fishing line and removed by hand during a fish fight; or a board three or four times as long and tethered to a mast, from which lines pop free when a fish strikes.
A side planer carries a single line; a board can offer a half-dozen. Other line-tending devices include diving planers, which can carry lines out from the boat as well as down, and several styles of in-line and bottom-bouncing weights.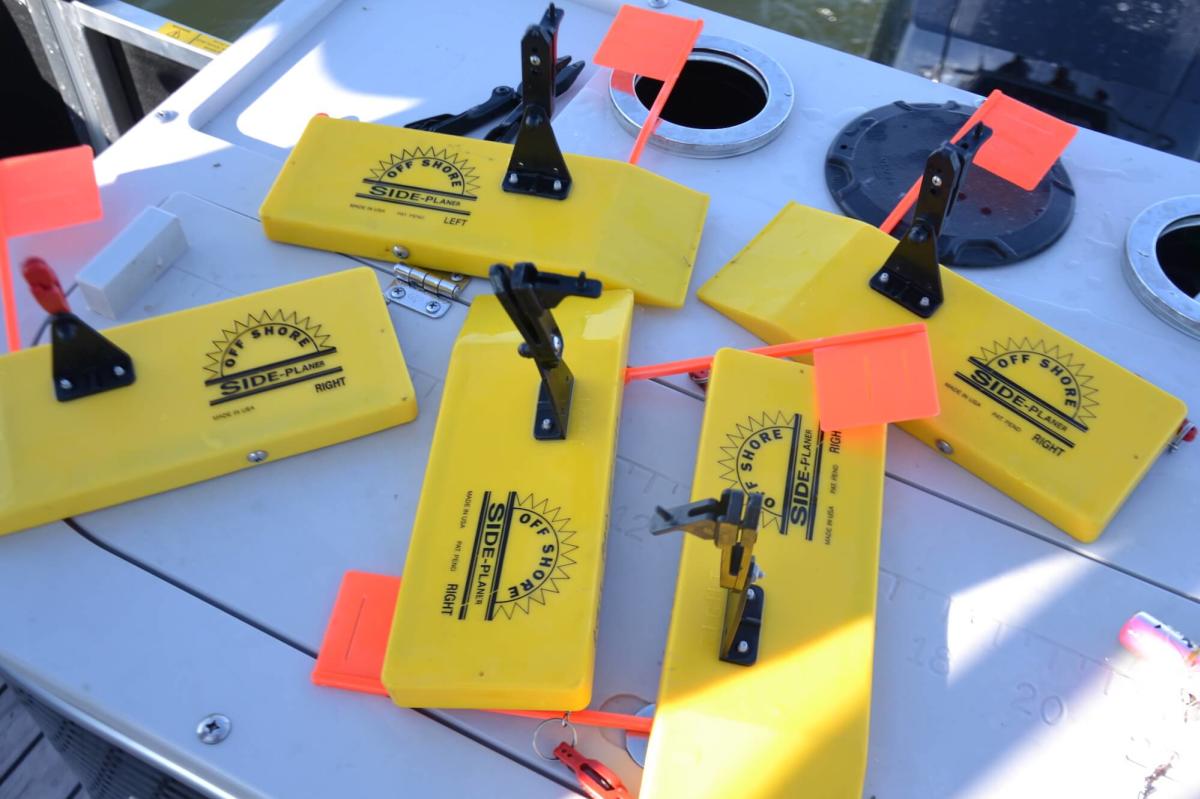 Get The Lead Out!
Mark Martin, a walleye tournament champion who conducts popular Fishing Vacation Schools on the Saginaw Bay's open water and ice, admits a special fondness for trolling with lead-core line, spooled-up between a reel's backing line and a leader running to the lure or bait. Letting out a specific number of color sections, the troller determines how deep the offering will travel.
Martin loves the way lead-core lets him adjust his presentation by reeling in or letting out more line, or by speeding up or slowing the boat. He says he can lift a lure over a weed bed, for example, by goosing the throttle a bit — or plumb a bit deeper water by letting out another color of line.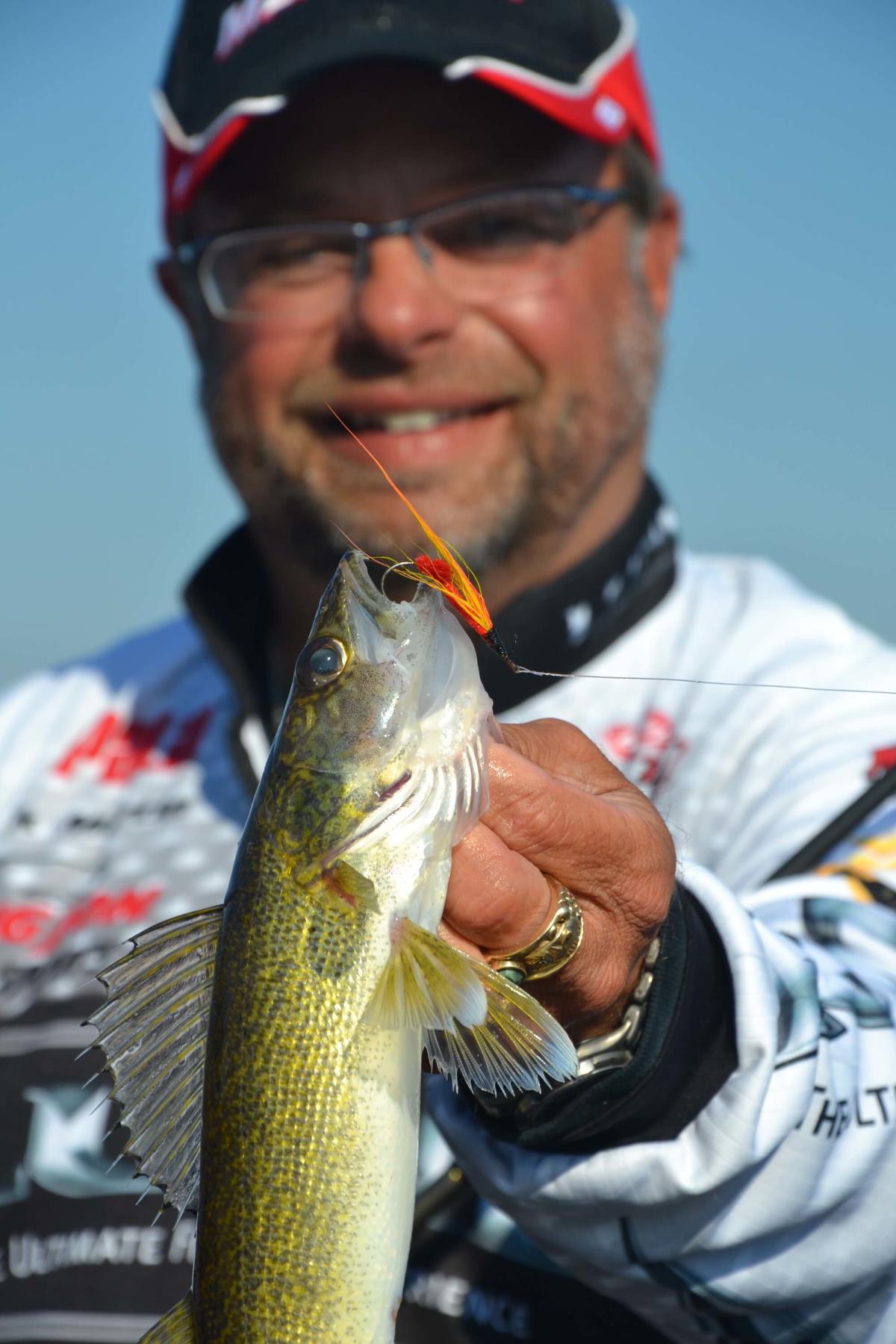 What's for Walleye Dinner? "Meat!"
Night crawlers are likely the Bay's most common offering, usually offered on a beaded, bladed harness behind a bottom bouncer, a lead weight on a coat-hanger-like wire that traces the bottom as the boat traverses the Bay.
Pluggin' Along
Plugs, solid lures that imitate fish, have their fans. Favorites on the Bay include Rapala Husky Jerks and Storm Hot 'n' Tots. Suspending, Husky Jerks are especially productive in spring and fall, and their fans go big. Diving crankbaits such as Hot 'n' Tots are good choices any time of year.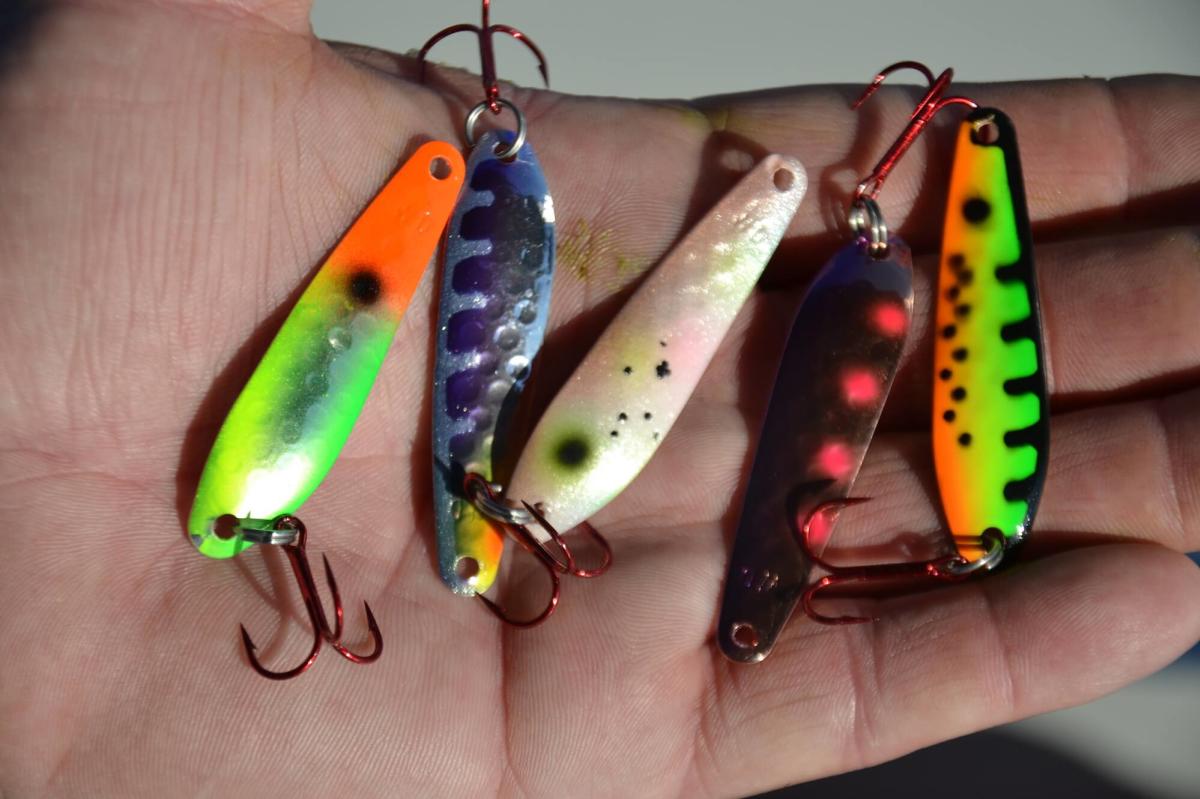 Spoon-Fed Fish
Outdoor Magazine radio host Mike Avery hates fishing with crawlers, largely because of the mess that invariably comes with them, and loves to spoon-feed walleyes. He uses Offshore Tackle Tadpole diving sinkers (and sometimes lead-core lines) to take the thin spoons walleye deep. He varies weight sizes and line length to plumb different depths; the fish tell him which is best!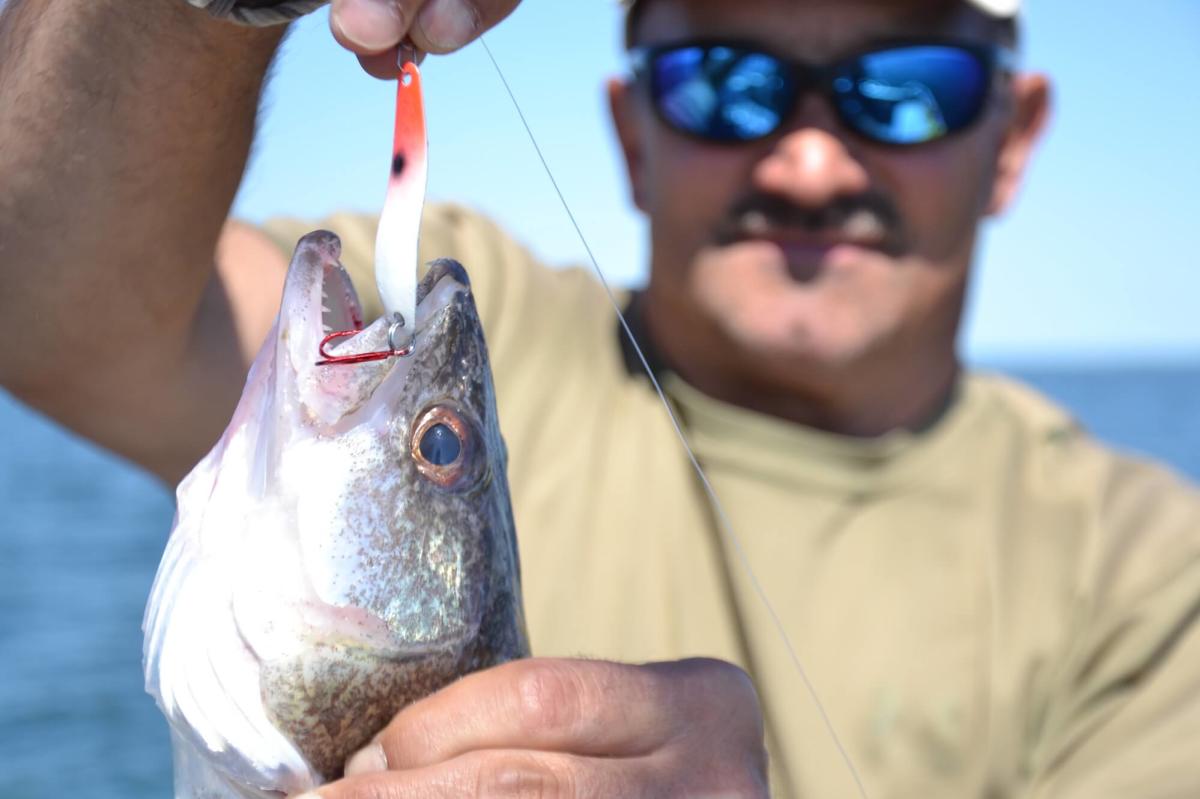 Pack a Bag of Tricks!
Mark Martin says the smart angler stays ready to do it all — sometimes all the same day. "You might start the day running (side-planing) boards with big Husky Jerks working 10 feet, then see they're down 20 feet. So, you think maybe you'll put down bottom-bouncers and see what that does. Maybe they want some meat (night crawlers), an inline weight with a harness." Better to switch tactics, he says, than to waste time and gas running all over the Bay.
Seasonal Considerations
Saginaw Bay DNR fisheries biologist Jim Baker says tagging and electronically tracking walleyes has sketched a seasonal pattern. After spring spawning in tributary rivers, fish drop back down to the Bay where they hang out near river mouths for a few weeks, fueling hot spring fisheries.
By Memorial Day, they move deeper, to maybe a dozen feet of water. In June and early July, try twice that deep. After that, think deeper and colder yet, including Outer Saginaw Bay, beyond the Point Au Gres to Sand Point line, or beyond.
Unless you're just after "eaters". Tournament angler Jake Trombley says, "In summer, you get a lot of 13- to 17-inchers, hanging in the Bay. But the big ones [tournament-winning fish] move out when it gets really hot." Action moves inshore again as fall sets in.
Another Idea: Eat Your Weedies!
The Saginaw Bay may be fairly featureless, but it does have weedbeds, and smart walleye anglers don't neglect them. Trombley, Martin and Avery all say they hit the weeds with crawlers or crankbaits, often connecting with eating-size walleyes, plus fish of other species.
Speed Demons
However you seek them, going slow is often the key to a Saginaw Bay walleye catch. Some trollers use a smaller, 'kicker' motor. Others employ a flip-down plate that reduces the main motor's prop thrust.
An electric trolling motor might be your solution; some will self-steer the route you've programmed. Other anglers reduce the big motor's thrust by using a flip-down plate, or deploy sea anchors or trolling bags to slow the boat.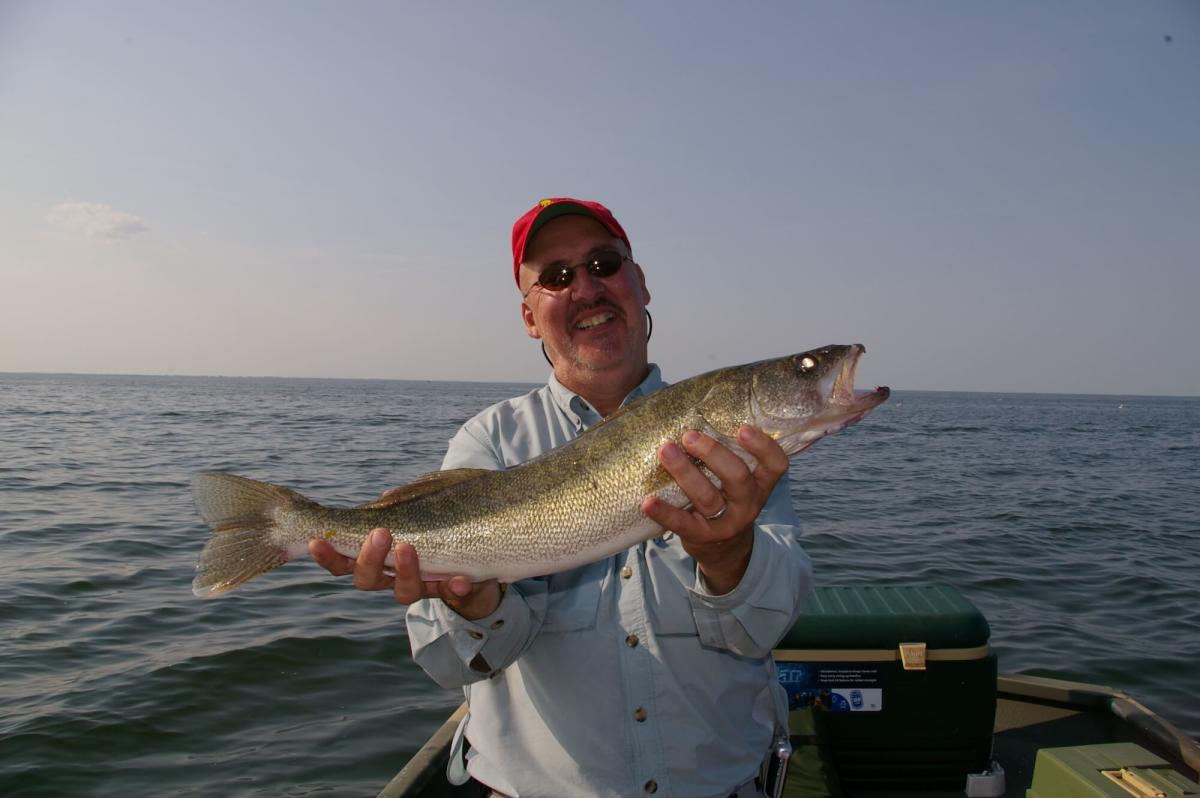 Acquire Walleye Wisdom
Booking a Saginaw Bay fishing charter is a great way to learn about the Bay. They've got the boat, the tackle and the know-how you'll need when you launch with your own.
Frank's Great Outdoors in Linwood knows the fishery and stocks the right gear for it, and Linwood Marina provides sales, service and launch facilities. For even more hands-on lessons and local fishing knowledge, consider enrolling in one of Mark Martin's Fishing Vacation Schools.