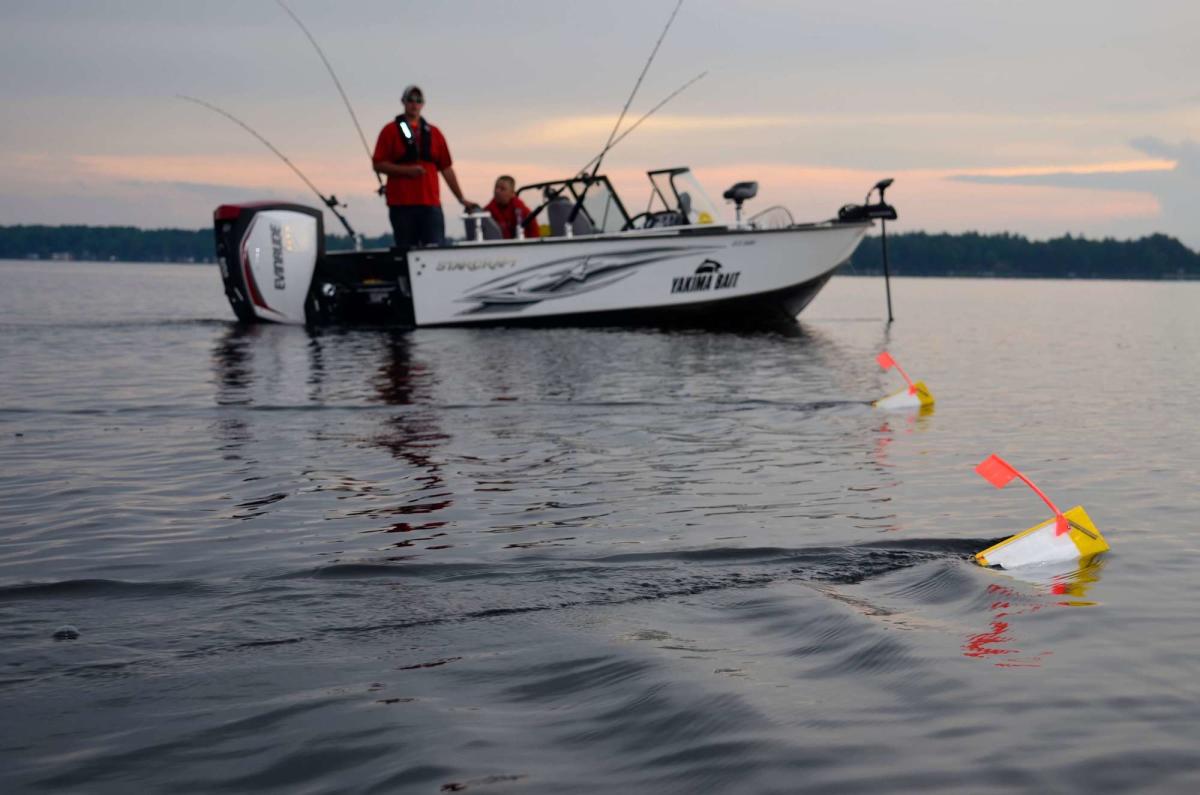 ---
Summertime is prime time for walleye anglers visiting the Great Lakes Bay Region. Not only is the weather stellar, a world class walleye bite occurs throughout June, July and August.
---
Trolling, Trolling and More Trolling
Trolling tactics dominate the walleye fishing scene on Saginaw Bay during the summer months. At this time of year, walleye become widely distributed throughout every corner of the Bay. Finding these popular fish often boils down to covering lots of water.
Trolling style spoons, crankbaits and nightcrawler harnesses are the primary terminal tackle used among avid Saginaw Bay trollers.
Spoon Feeding Walleye
Spoons are perhaps the least understood trolling lure used for Saginaw Bay walleye. A host of manufacturers produce "walleye sized" spoons designed especially for trolling, but the Wolverine Tackle Jr. Streak, and Michigan Stinger Scorpion are hands down the most popular options. Both of these spoons are Michigan-made, slender in shape and they do a good job of imitating emerald shiners, the most common forage species preyed upon by summer time walleye. Trolling spoons are lightweight and generate a lot of fish, attracting flash and an aggressive wobbling action. Because trolling spoons are light, they need to be fished in combination with a diving device to get these lures to depth. On Saginaw Bay, some of the popular divers used in combination with spoons include the Off Shore Tackle Tadpole Diver, the Big Jon Mini Disk, the Luhr Jensen Jet Diver and the Mini Dipsy. With each of these divers, the main line is attached to the front of the diver and the spoon is attached to the back of the diver using a six- to seven-foot leader of 15-pound test fluorocarbon line. To get the most action from small spoons, a small ball bearing swivel is recommended at the terminal end. Lead core line is a sinking line that is also color-coordinated and a popular choice among Saginaw Bay spoon trollers. Lead core line is most often used as a "segment" of sinking line, knotted between 200 yards of backing line and a 50-foot fluorocarbon leader. The outer nylon coating of lead core line changes color every 10 yards. Known as "colors", this feature makes it easy for anglers to determine how much line is being deployed and, relatively speaking, how deep those lures are in turn fishing. On Saginaw Bay, lead core trollers routinely set up trolling reels in pairs including two, three, four and five color lead core set ups. Shorter and more shallow running lengths of lead core are fished on outside board lines. Longer and progressively deeper running lengths of lead core become the middle and inside board lines.
Crankbait Trolling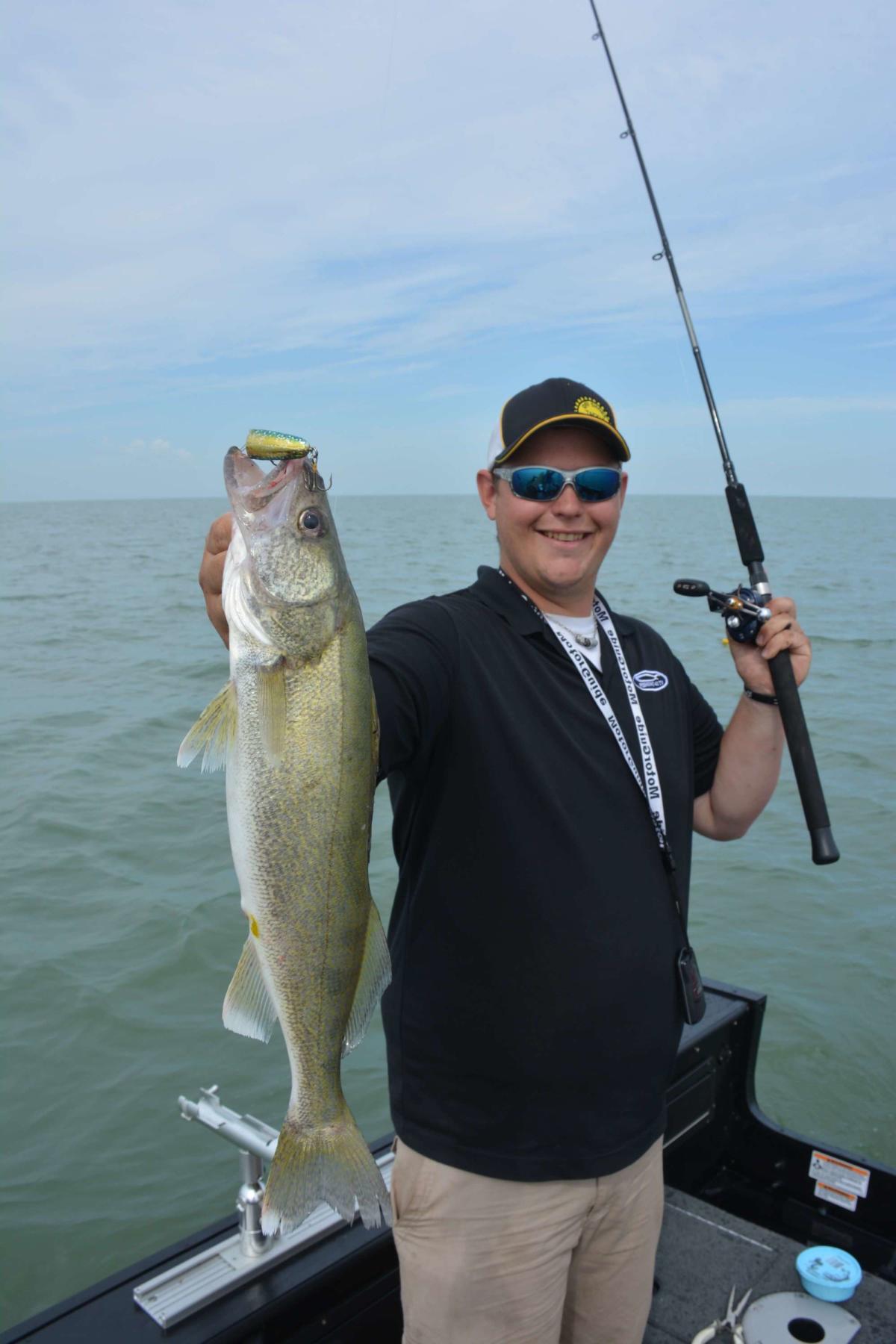 The author's son Jake Romanack of Fishing 411 TV holds a typical Saginaw Bay walleye caught trolling high action crankbaits. In the summer time when the waters of Saginaw Bay are warm, trolling faster and using wide wobbling plugs is a tried and true method for boxing limits of walleye.
Crankbaits are popular with Saginaw Bay walleye trollers. During the summer months, smaller lures with more aggressive actions dominate the trolling scene. Not only do these smaller lures more closely replicate "young of the year" forage minnows, the increased action of these lures generates more fish attracting noise and flash. Classic summertime walleye crankbaits include the Storm Hot n Tot 1/4 and 3/8 ounce Rattle Tot, Salmo No. 6 Hornet, Yakima Bait 3.0 and 3.5 Mag Lip, Berkley No. 7 Flicker Shad and Rapala No. 7 RS Shad Rap. All of these lures can be trolled on short leads designed to target fish suspended in the water column or longer leads aimed at targeting structure- or bottom-loving walleye.
Spinners are Winners for Saginaw Bay Walleye
The third lure group commonly trolled on Saginaw Bay are nightcrawler harnesses collectively known as "spinner" rigs. Like spoons, spinner rigs are most commonly trolled in combination with in-line weights or diving devices designed to reach target depths. Some of the most popular options include the Off Shore Tackle Snap Weight, and the Off Shore Tackle No. 1 and No. 2 Tadpole Diver, Bass Pro Shops XPS Keel Sinkers, Big Jon Mini Disks and Luhr Jensen Jet Divers. Similar to how spoons are trolled, the main line is tied to the front of these divers and also in-line weights. In turn, the spinner rig is attached to back of the diver or weight. For the best results, the spinner rig should be from 40 to 60 inches in length. Many anglers prefer to tie their own spinner rigs using No. 3, 4, 5 or 6 size Colorado blades.
For those who prefer to purchase factory-tied tackle, the Yakima Bait Hammer Time Walleye Harness, Northland Tackle Baitfish Spinner and the Wolverine Tackle Walleye Harness are popular and productive spinner rigs.
Boards are Best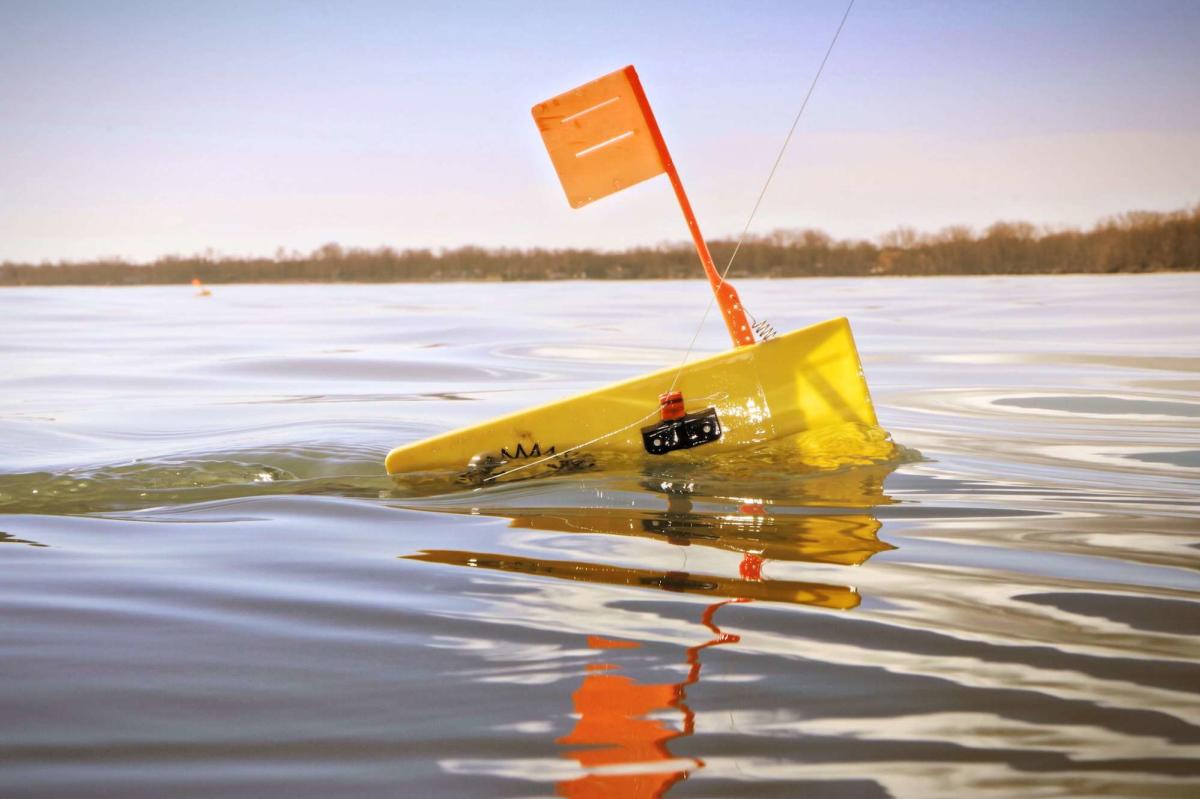 In-line boards like this Off Shore Tackle Side-Planer are useful for trolling spoons, spinners and crankbaits for Saginaw Bay walleye. These popular boards are made right on the shores of Saginaw Bay in Port Austin, Michigan.
When spoons, crankbaits or spinner rigs are trolled on Saginaw Bay, planer boards are required to spread out lines and also to help cover more water. In-line boards like the famous Off Shore Tackle Side-Planer are manufactured on the shores of Saginaw Bay in Port Austin, Michigan. In-line boards not only help to spread out lines, they function as "directional bobbers" helping anglers visually detect when a fish has been hooked. For slow trolling applications such as routinely employed with spinner rigs, adding an articulating flag strike indicator such as the Tattle Flag is a good idea. When a fish bites a spinner rig trolled using a board equipped with a Tattle Flag, the flag goes down indicating even the lightest strike. Tattle Flags are also useful for detecting subtle bites from small and also non-target species such as white perch, white bass, channel catfish or sheepshead. Because literally every fish that lives in Saginaw Bay is eager to strike a spinner rig, using a strike indicating flag system is almost mandatory for trolling live bait rigs.
A Word on Speed
Trolling speed matters a great deal when trolling for open-water walleye. Spoons crave speed to bring out their best action and work best at 2.0 to 3.5 MPH. Crankbaits excel when trolled from 1.5 to 3.0 MPH and spinner rigs are most productive when trolled 1.2 to 1.6 MPH. Spoons and crankbaits enjoy similar trolling speeds and are commonly mixed in the same trolling pattern. Because spinners must be trolled slower on average than spoons or crankbaits, it's not usually a good idea to mix spinners with spoons or crankbaits in a trolling pattern.
Wrapping It Up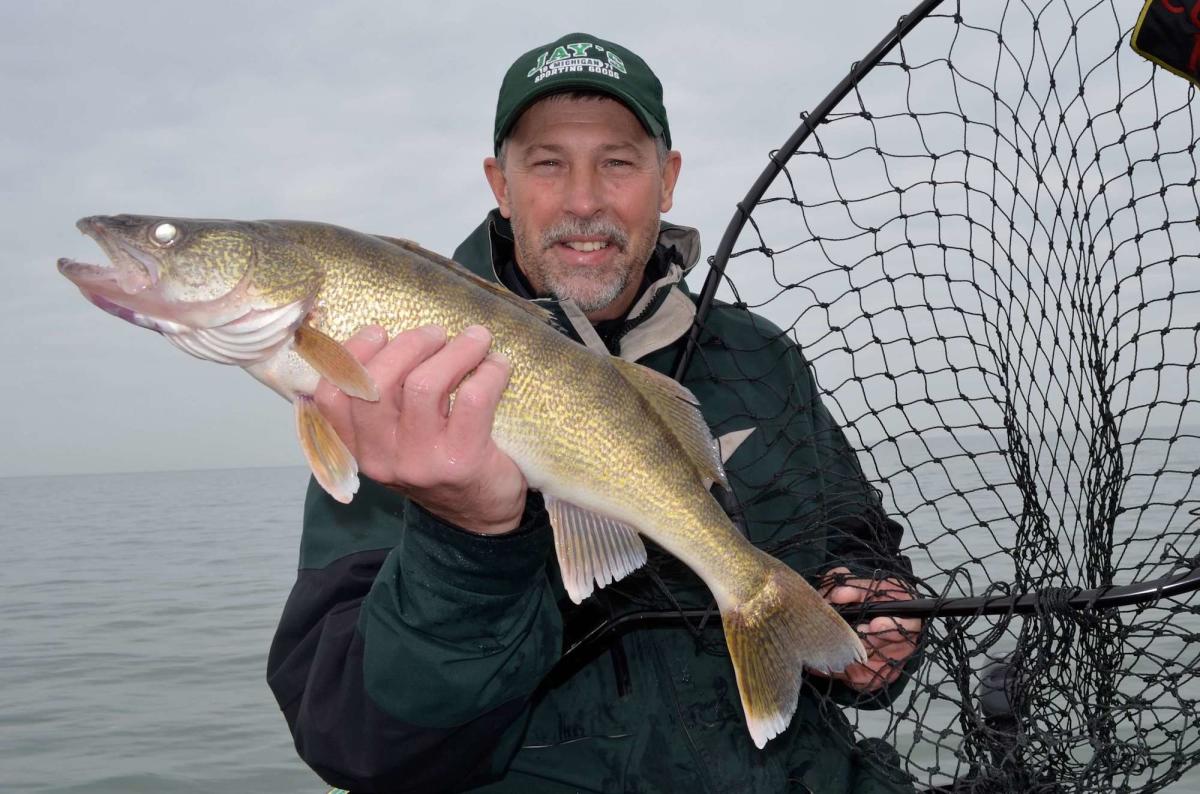 Even a little rain can't dampen the spirits of the author who fishes Saginaw Bay often. Not only is Saginaw Bay one of Michigan's top fisheries, the Great Lakes Bay Region attracts avid walleye anglers from all around the nation.
The Great Lakes Bay Region hosts world class walleye trolling opportunities all summer long. Anglers will find great walleye action in the shallow, near-shore waters and great fishing can also be found in the deeper, off-shore haunts. Walleye anglers who visit Saginaw Bay enjoy the most generous creel limit in the state. The daily limit on walleye is eight fish and the minimum size limit is 13 inches.