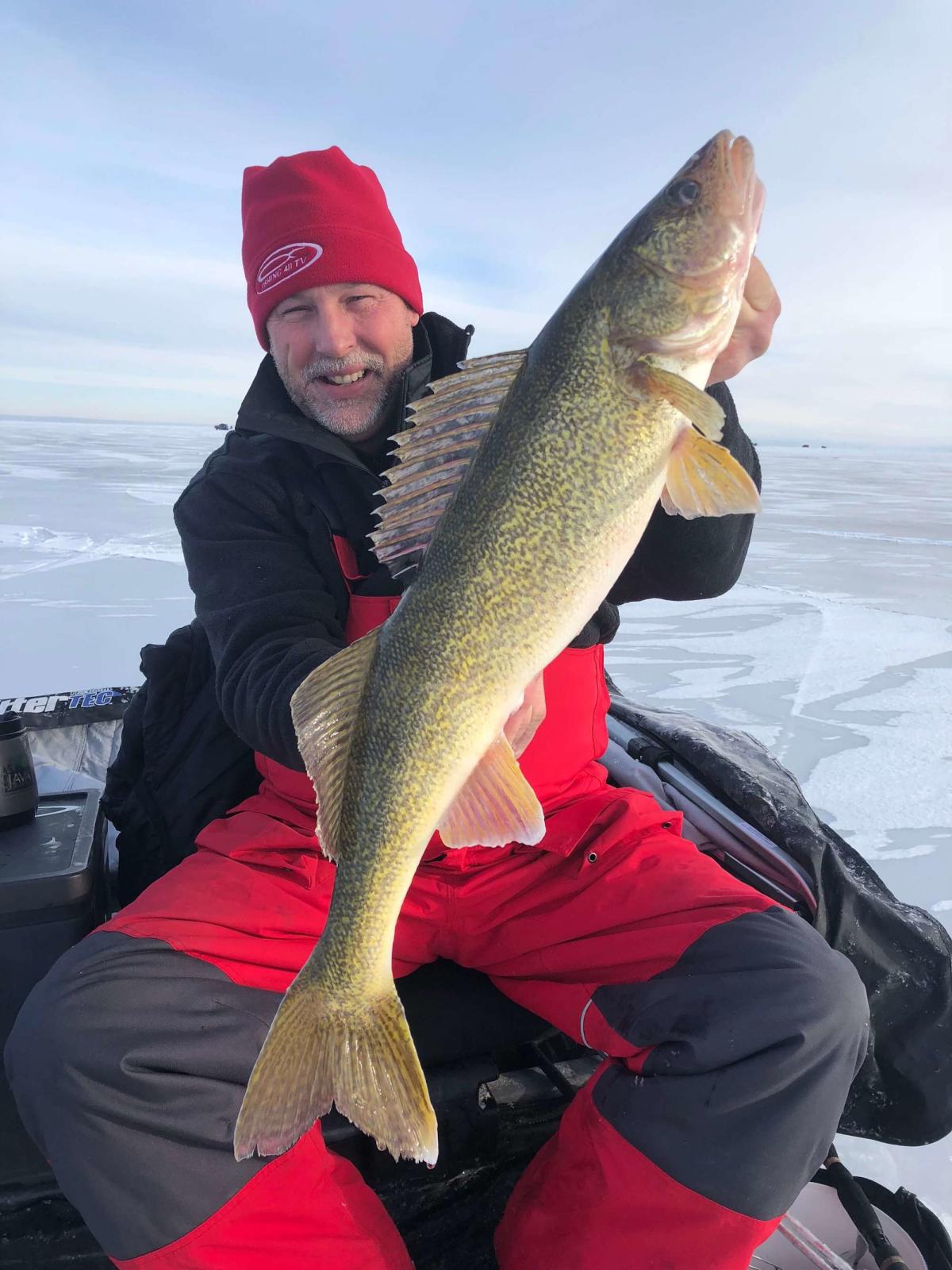 ---
The Great Lakes Bay Region is a year-around fishing destination. That goes double for the winter fishery this popular destination boasts. In a typical winter, Saginaw Bay gets safe fishing ice somewhere in early- to mid-January. Once the ice locks in edge-to-edge, anglers enjoy arguably the best ice fishing for walleye in Michigan.
---
In most years the ice provides a safe fishing platform throughout January, February and March. However, it's important to note that ice is never completely safe and anglers are always advised to check ice conditions before venturing onto Saginaw Bay.
A Word on Ice Safety
Using the word "safe" and "ice" in the same sentence is a slippery slope. Ice conditions on big bodies of water such as Saginaw Bay change so rapidly, it's always good to assume the ice is questionable, until confirming otherwise.
Because Saginaw Bay is so large and connects directly to Lake Huron, prevailing winds regularly push ice sheets around. This movement of ice creates pressure ridges where the ice sheets collide and buckle. Crossing one of the pressure ridges requires great caution because shifting sheets of ice are never completely solid or safe.
Anglers who don't have a lot of experience dealing with pressure ridges are wise to hire the services of a fishing guide who knows how to navigate these hazards safely. "The ice on Saginaw Bay is like a giant gig saw puzzle," says Charter Captain Brandon Stanton of Team Gunsmoke Sport Fishing. "Ice is constantly moving around and the pieces joining one another and refreezing. While the sheets of ice themselves might be thick enough to support fishermen, often the pieces of ice don't fit together evenly, leaving pockets of thin ice."
When fishing Saginaw Bay, always carry an ice spud that can be used to quickly check the integrity and thickness of the ice. Proceed with caution and always avoid pressure ridges or areas where the ice appears to be gray or shaded.
Ice Fishing Overview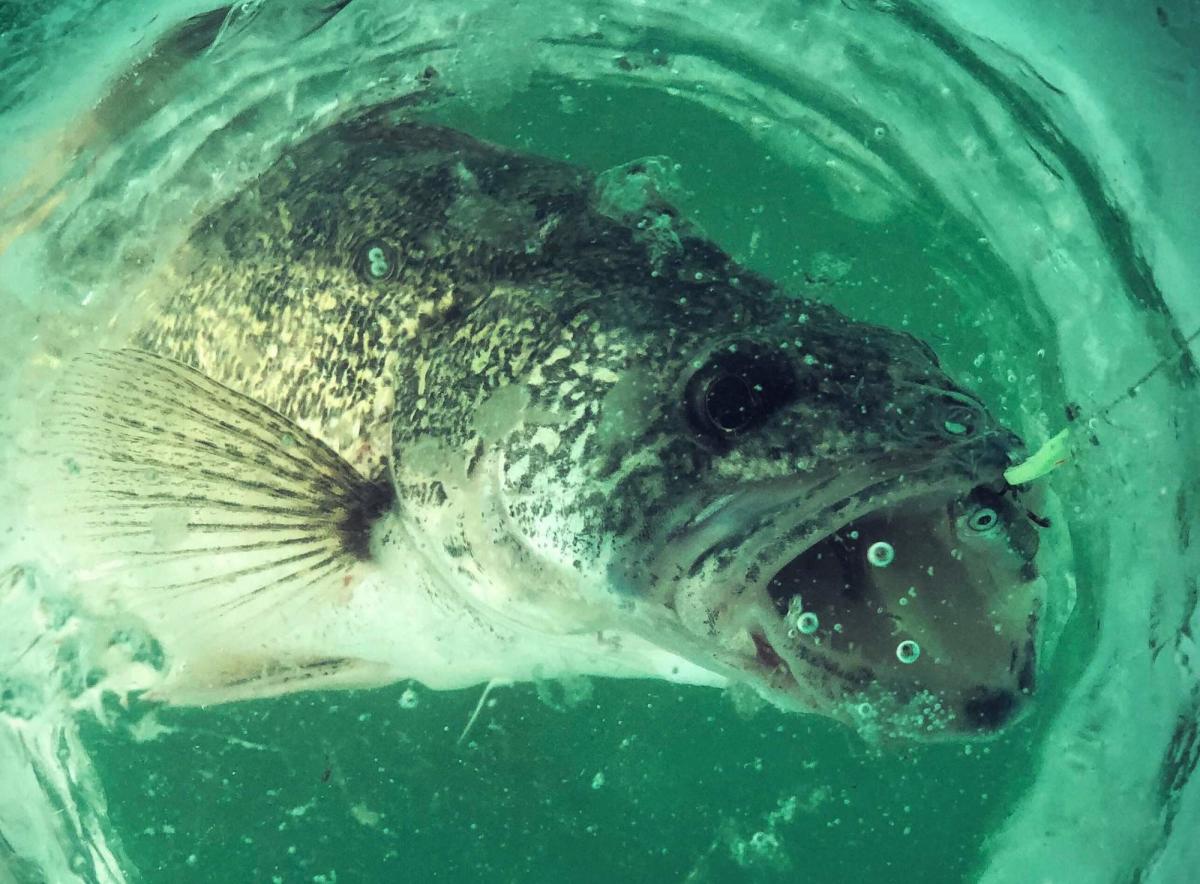 Sights like this occur over and over again every winter on Saginaw Bay. Considered by many to be the best winter walleye fishery in the Great Lakes region, the ice fishing action gets started in most years during early- to mid-January.
Most of the walleye taken on Saginaw Bay are caught by anglers who employ jigging tactics. A few anglers have success using tip-ups, but jigging with one rod while fishing a "dead stick" with a second rod is the preferred method of guides and serious walleye anglers.
The "One, Two, Three" Jigging Approach
Three lure groups routinely produce limit catches among Saginaw Bay ice fishermen. A simple lead head jig tipped with a live shiner minnow, a jigging spoon tipped with the head of a minnow and a glide bait tipped with the head of a minnow round out the popular choices.
In the jig category most anglers favor a clean 1/8 to 1/4 ounce ball jig tipped only with a live shiner minnow. This simple and classic presentation produces countless walleye on Saginaw Bay.
In the jigging spoon category there are several brands and models that routinely produce including the Bay de Noc Lures Do Jigger, Northland Tackle Buckshot Rattle Jig'N Spoon and the Moonshine Lures Jigging Spoon. The most productive sizes include the 1/4, 1/3 and 3/8 ounce models.
Glide baits are minnow shaped and feature a fin at the back of the lure that causes it to glide when allowed to drop on a slack line. The Jigging Rapala, Moonshine Shiver Minnow and Northland Puppet Minnow are a few of the popular glide baits on the market.
It's interesting to note that among glide baits, some anglers tip them and others say tipping glide baits reduces their natural swimming action. Among those who choose not to tip their glide baits, adding a natural fishing scent as an attractant makes sense.
Pro Cure Super Gel is a natural based fishing scent made by grinding up popular forage species into a sticky and oily paste. When this paste is applied to fishing lures, a natural scent stream is given off in the water that help trigger strikes. Pro Cure comes in different formulas and on Saginaw Bay the Trophy Walleye, Gizzard Shad, Emerald Shiner, Smelt and the new Goby scent are all popular choices.
Dead Sticking
It's no secret that jigging catches the majority of the walleye taken through the ice on Saginaw Bay. Jigging is a pro-active approach and tends to attract and generate strikes from actively feeding fish. Meanwhile, catching inactive walleye can be more challenging and calls for a less aggressive approach. A dead stick rig is little more than small jig fished motionless by placing the rod in a conveniently located rod holder. The jig is tipped with a live minnow and suspended about 12 inches off the bottom.
It's surprising how often jigging attracts fish, but it's the motionless dead stick rig that ends up generating the bite! Using both approaches at the same time puts the angler in the driver's seat and helps to ensure that the fish see more than one presentation.
Rods used for dead sticking should feature an extra soft tip that allows a walleye to pick up the bait without feeling the resistance of the rod. The Walleye Snare produced by JT Outdoor Products is a very popular choice among hard core ice fishermen. Designed to be the ultimate "Dead Stick" this unique rod action has a soft tip to telegraph strikes and a stiff backbone that allows the angler to set the hook solidly.
Mobility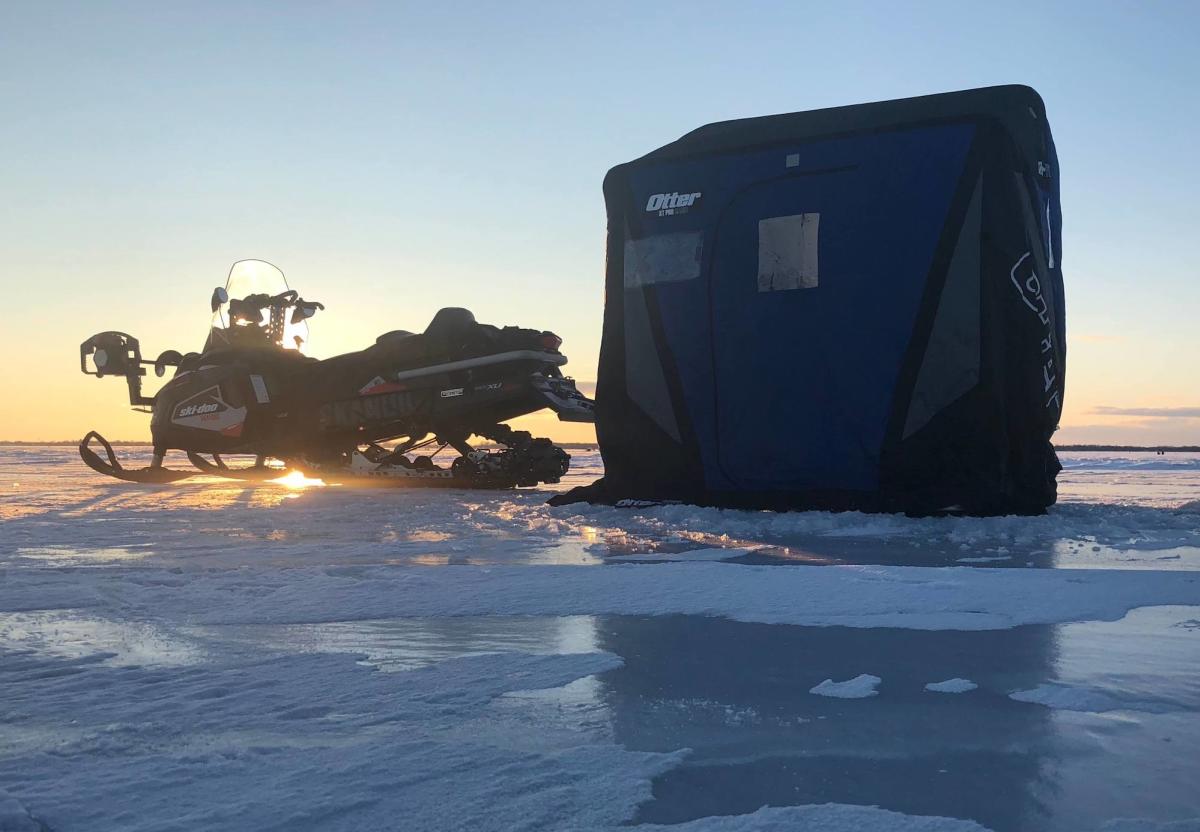 Mobility is the key to being consistently successful on Saginaw Bay. Having a machine capable of hauling shelters, augers and all the gear an ice fisherman needs is vital to finding fish and staying on roaming schools of walleye.
Ask any serious angler who fishes Saginaw Bay often and they will tell you the key to their success is mobility. The ability to cover water quickly, then pack up and move as often as necessary to find fish is a critical part of ice fishing success.
Remaining mobile on Saginaw Bay requires using a snow machine, quad or side-by-side that is capable of hauling ice shelters, augers, electronics and all the gear an ice fisherman routinely uses. One of these machines matched up to a lightweight "flip style" shelter is the ideal set up for walleye fishermen who must remain mobile to be successful.
Sonar Suggestions
Ice fishing without sonar is like treasure hunting without a metal detector. You can't catch what you can't find. Modern sonar suitable for ice fishing comes in the form of both flasher units and liquid crystal readout graphs. Both options allow anglers to see fish, bait fish, bottom structure, weeds and also to determine the activity level of those fish.
Active walleye show off their aggressive tendency by chasing jigging lures that are lifted off bottom to entice the fish into striking. With quality sonar the angler can see both his lure and the fish at the same time and determine quickly how interested the fish is in that particular presentation.
If fish appear on the sonar, but do not react to whatever presentation an angler is using, it may be time to change that presentation. Without sonar and the ability to judge the activity level of walleye, ice fishing success would be much more fleeting.
All the major manufacturers of sonar sell "ice fishing units" factory set up with a special floating style transducer, portable battery and carrying case.
Bonus Catches
On Saginaw Bay anglers encounter not only roaming schools of walleye, but also jumbo perch. Often if fish are marking on the sonar and not biting walleye gear, those fish might well be yellow perch. Keeping a rod handy with smaller "perch sized" jigging lures is a good way to add a few bonus perch to the catch.
Generous Limits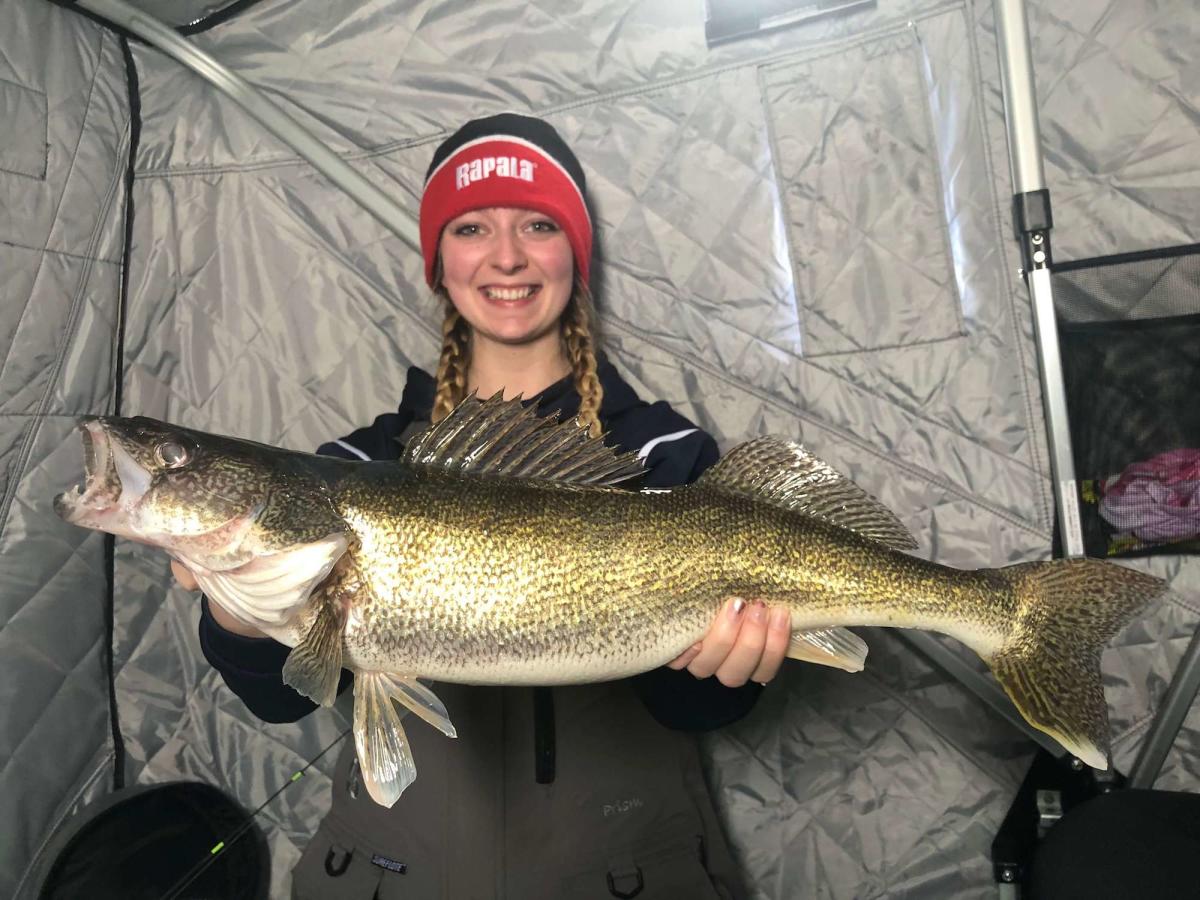 Paige Romanack caught this impressive Saginaw Bay walleye ice fishing with her husband Jake. Saginaw Bay is arguably the best winter walleye fishery in Michigan.
The walleye creel limit on Saginaw Bay is the most generous in the State of Michigan. Anglers are allowed to keep eight fish per day over 13 inches. The perch limit is 25 fish per day. The generous limit on Saginaw Bay is a big part of why anglers travel so far to enjoy this world class fishery. Catching walleye and perch is fun, but almost everyone who chases these popular fish also enjoys fresh fish on the table.
The Great Lakes Bay Region is Michigan's top destination for winter walleye and yellow perch fishing. It only takes one trip to the "Bay" to understand why everyone is talking about this world class fishery.