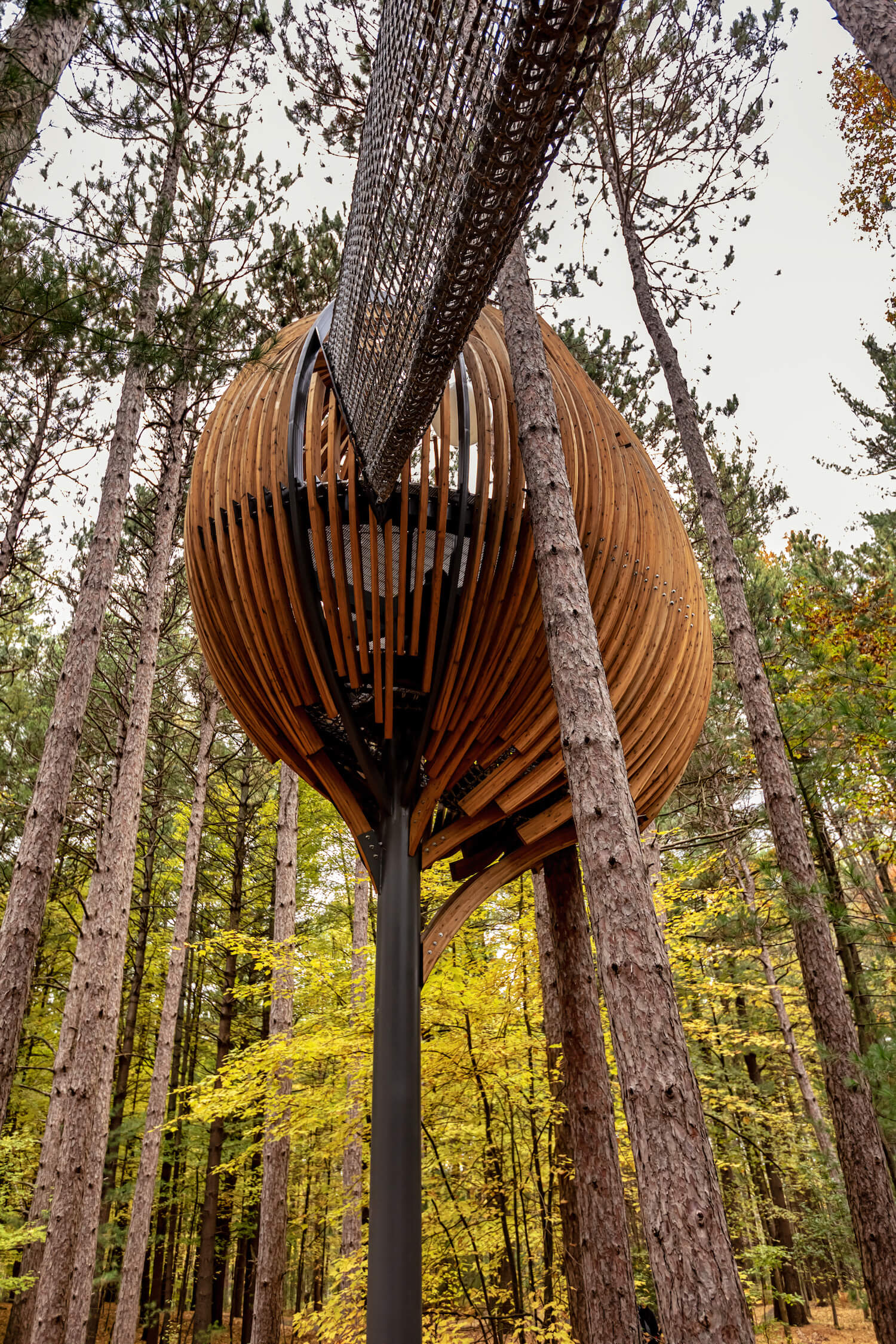 ---
Tired of the same old leaf peeping? Find fresh, new ways to put a twist on the traditional fall color tour in Michigan's Great Lakes Bay at these unconventional spots for spotting autumn's showcase!
---
COVID-19 Update:
As we welcome you back, we'll be doing our best to keep you in the loop on what's open & closed in the Great Lakes Bay Region. Just look for the orange banners below on our partner listings as you start planning for your next trip!


While we all navigate this new normal, some experiences may be slightly different, and some businesses may only be partially reopened. Please check with the individual businesses for their reopening status, new hours of operation, and updated policies before visiting!
---
Autumn in Michigan looks like Mother Nature has waved her wand over every tree and leaf around, transforming our forests into vibrant visions of crimson and gold. The beauty of our fall colors is a treat unto itself, and to enhance the viewing experience? One might say it's not possible — but that'd be one who's not toured the seasonal shades in Michigan's Great Lakes Bay!
Here, you can zoom right through the canopies and even hover over top of the hues from four stories high (while walking out onto a glass-floored overlook, if you dare)! You can tour fall colors from the comfort of your car, hop aboard a sailboat for awe-inspiring views, and even pedal custom bikes through (possibly sipping pints of brew as you do)!
The Great Lakes Bay offers exciting places to tour fall colors in Michigan, and this is your map to the multi-colored, magical experiences up ahead!
Colors on High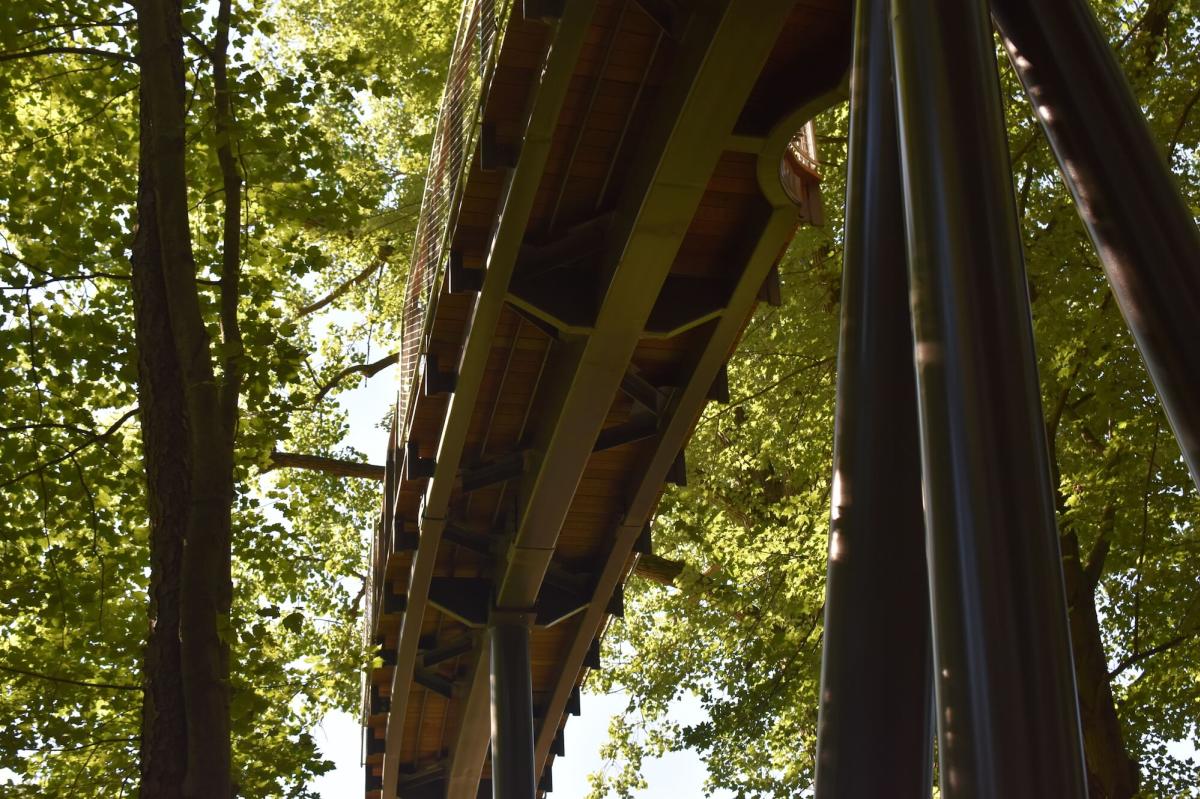 Instantly heighten your fall color touring experience with a visit to the canopy walk inside Whiting Forest of Dow Gardens. The nation's longest, this 1,400-foot, elevated walk will have you journeying four stories high above Whiting Forest's majestic groves, ponds, and meadows! Even more? Its glass-floored overlook offers thrilling views, and the suspended cargo nets and swaying hammock arm make this place a must-experience for fall enthusiasts of all ages!
Want to up the ante and actually zoom through the fall-tinted treetops? Be ready to rope climb and zip line at Frankenmuth Aerial Park! Afterward, visit the Frankenmuth Holzbrucke Wooden Covered Bridge for fall splendor along both sides of the beautiful Cass River, and consider a horse-drawn carriage ride to round out your tour along picturesque Downtown Frankenmuth streets decked out in harvest-time glory! 
Set out to take in ample fall colors, too, at the 1,200-acre woodland haven that is Chippewa Nature Center (with over 19 miles of trails, including the 3.7 mile paved Chippewa Trail). Be sure to catch your birds-eye view from CNC's two-story observation tower! 
Wondrous Water Views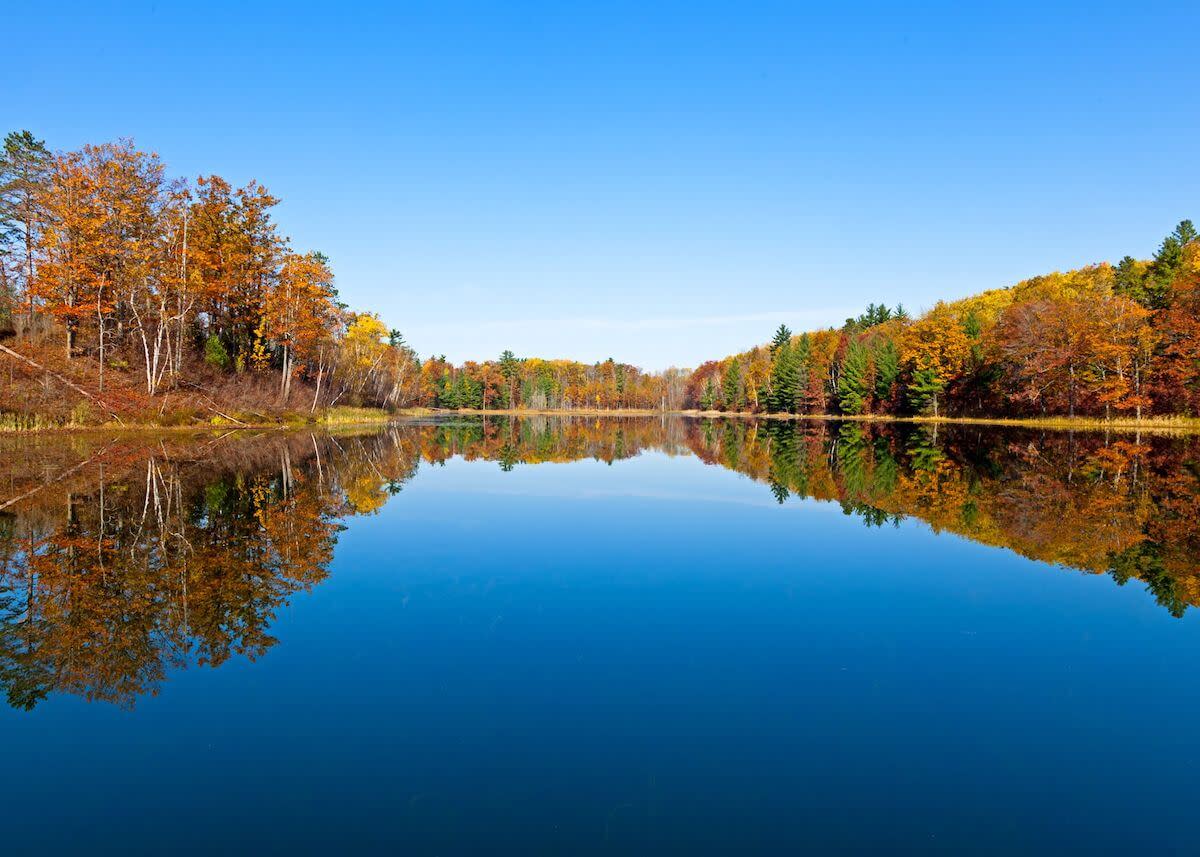 Could there be anything more enjoyable than cruising upriver aboard BaySail's Appledore Tall Ship sailboats while enjoying warm apple cider and fresh donuts — and witnessing fall foliage and wildlife all around? Reserve your tickets to an Autumn Color Tour River Cruise to find out!
You could also board shallow draft, custom built boats with Johnny Panther Quests Adventure Trips and experience autumnal beauty amidst the wetlands, rivers, creeks, and bayous that make up the Shiawassee National Wildlife Refuge. Expert guide Johnny Panther calls this area the "Everglades of Michigan" and refers to his Fall Color Tours by Boat as the "cheap trips". Enjoy the priceless views! 
If sipping wines paired with chocolates while fawning over fall colors sounds deliciously entertaining, be sure to board Frankenmuth FunShips' 12-passenger boats for a Wine & Chocolate River Tour! You could also board the Bavarian Belle Riverboat for a one-hour narrated tour, fall scenery, and the serenity of the Cass River.
Want to get right into the water while experiencing the colorful display of fall all around you? Frankenmuth Kayak Adventures, Ike's Mobile Kayak Rentals, and Float Paddle Center all offer single and tandem kayaks, and gorgeous views of the fall hues.
Ride This Way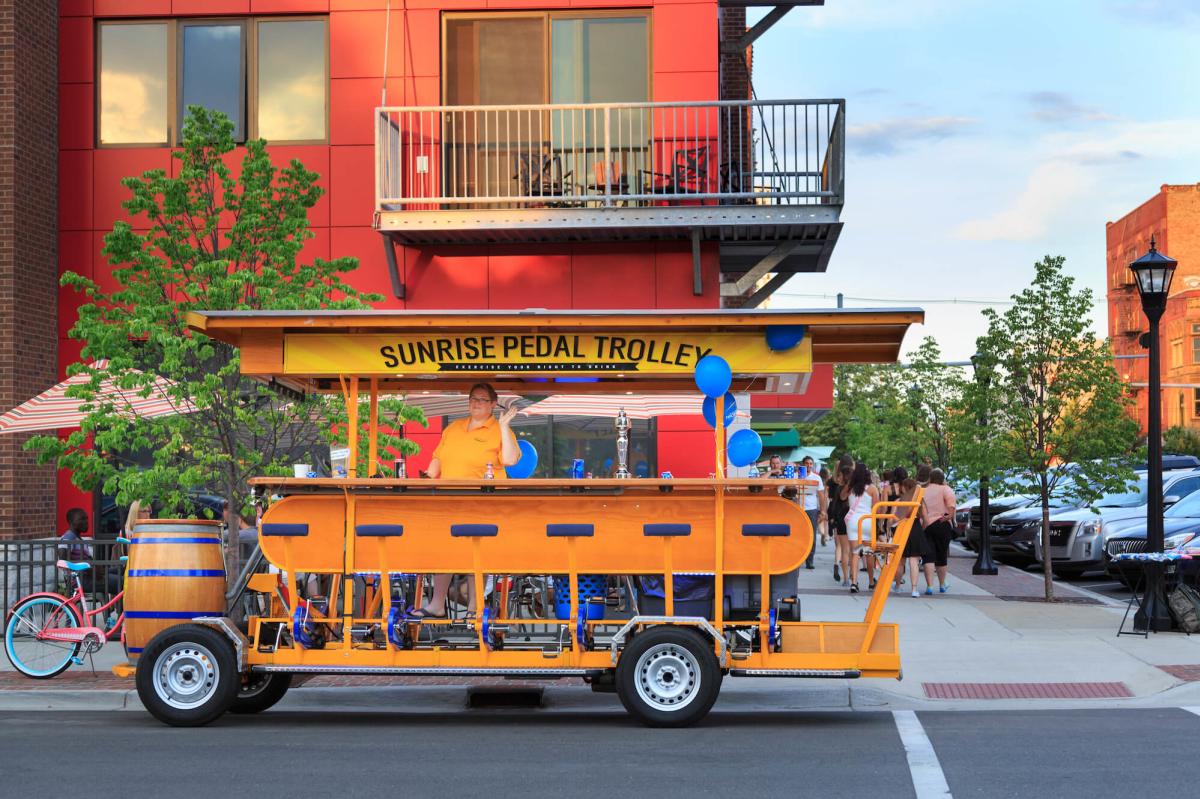 If biking is your color tour adventure of choice (and you're traveling with a big group), book one of the eight- to 15-passenger bicycles of Sunrise Pedal Trolley in Bay City or PedAle Trolley in Frankenmuth. You'll not only discover guided tours, fresh air, and fall beauty, but you'll also find that these bikes offer the chance to sip a seasonal brew or two while you ride! Cruising for autumn views with a smaller group? Try the PedAle Trolley's four- to six-person Circle Cruiser in Frankenmuth!
If you're looking for a way to sit back and enjoy the colors while riding and relaxing, look no further than a Wildlife Drive Auto Tour through the Shiawassee National Wildlife Refuge (through September 30). Prepare for amazing views of fall color and wildlife galore while enjoying the comforts of your car!
Looking to hike amidst the leaves instead? Venture along the Saginaw Bay Birding Trail, or 142 sprawling miles of shoreline and surrounding lands, where you'll find more than 200 species of birds plus extensive natural areas with public access.
---
Whether you bike or hike, ride or float, hover and hang or even zoom and zipline, you're sure to see breathtaking scenery while experiencing exciting new ways to take a fall color tour in the Great Lakes Bay!
---