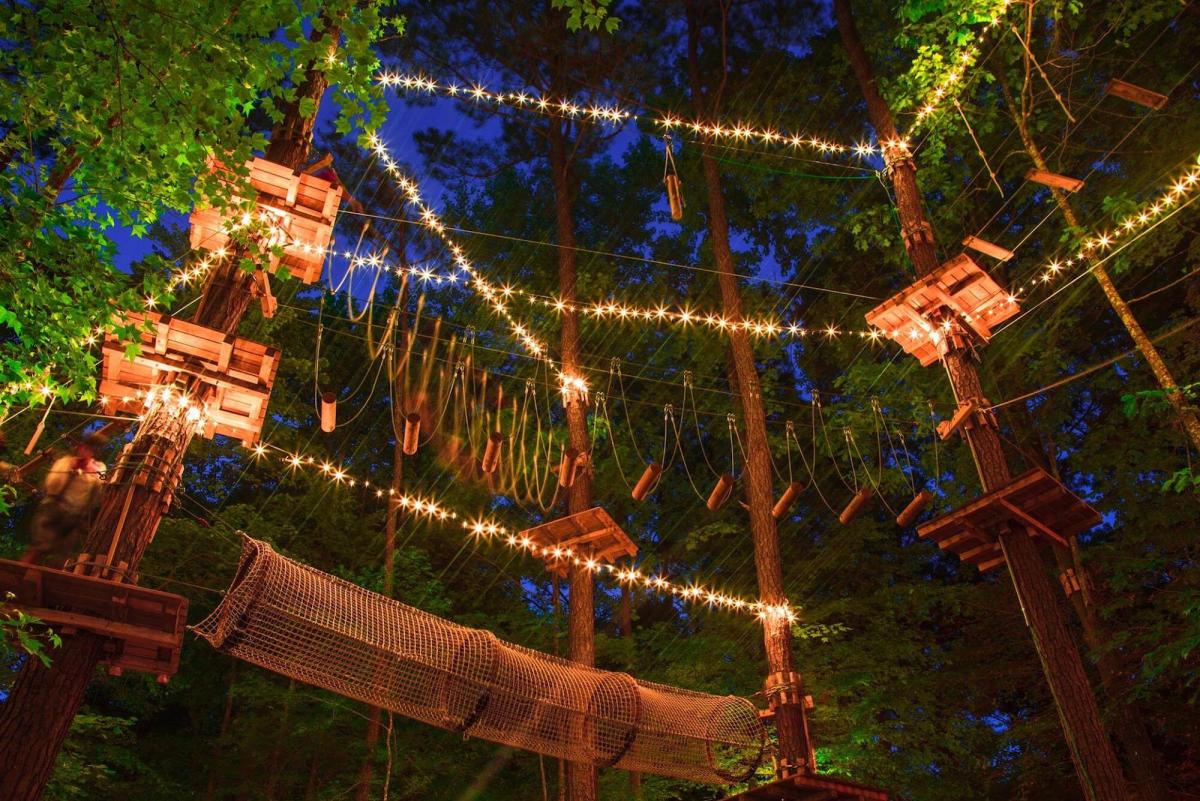 Sailing on an enchanting tall ship on waters edged by waves of fall color, ziplining through a forest of colorful foliage, or strolling up to four stories high in the trees on the nation's longest canopy walk — places to immerse yourself in autumn's beauty are anything but ordinary here!
With winter comes even more opportunity to explore outdoors — skiing or snowshoeing winter-white trails, speeding down one of Michigan's last-remaining toboggan runs, or setting up a shanty to enjoy some of the top ice fishing you'll find in all of Michigan!
---
COVID-19 Update:
As we welcome you back, we'll be doing our best to keep you in the loop on what's open & closed in the Great Lakes Bay Region. Just look for the orange banners below on our partner listings as you start planning for your next trip!


While we all navigate this new normal, some experiences may be slightly different, and some businesses may only be partially reopened. Please check with the individual businesses for their reopening status, new hours of operation, and updated policies before visiting!
---
Outdoor Adventures + Natural Wonders
Whiting Forest of Dow Gardens (Midland) Draped in breathtaking fall foliage or dripping in ice crystals, this forest is home to year-around natural splendor — and the longest canopy walk in the United States! Enjoy epic, panoramic views over 54 acres of forest trails and a four-zoned orchard along this scenic trek — 1,400 feet long, up to 40 feet above the forest floor, and fully ADA-accessible. Lay in suspended cargo nets and gaze up at the lush canopy of trees that envelopes you in fall color, or pause to reflect on nature's frosted-over beauty from wooden pod sanctuaries in winter. No matter which season you enjoy this gem, don't miss one magnificent inch!
Dow Gardens (Midland) Explore all 110 acres of this garden for all seasons, dotted by distinctive architectural bridges and connected to the above-mentioned Whiting Forest by pedestrian bridge. Amble through groves of towering pines or ponder nature by peaceful reflecting pools and waterfalls in autumn, and make time for a special winter visit where you'll roam the softly-lit, snow-dusted paths to the sound of strolling carolers during Dow Gardens Christmas Walks.
Frankenmuth Aerial Park (Frankenmuth) Experience fall color from inside a shaded canopy of trees at this sprawling aerial adventure park! Zipline through the forest — surrounded in a sea of greens, golds, oranges, and reds — and enjoy six courses made for all from beginner to expert. Twilight climbs in the illuminated forest at dusk add a whole new layer to this already-incredible experience!
PedAle Trolley (Frankenmuth) 16-person pedal trolley offering pub crawls and city tours of Michigan's Little Bavaria. Book the entire trolley if you're traveling with eight or more, buy single seats (offered Thursdays and Saturdays for the 9 p.m. tour at just $25/each), or rent their smaller Circle Cruiser for groups of four to six! Try popular stops like Frankenmuth Brewery or Prost! Wine Bar & Charcuterie, cross the iconic Covered Bridge and loop back to Michigan on Main to warm up with a local craft brew, or pedal down Main Street to Bronner's CHRISTmas Wonderland, where you'll see 25 Christmas Lane aglow with over 100,000 holiday lights!
Sunrise Pedal Trolley (Bay City) Traveling with a big group? Book this eight- to 15-person, Dutch-made bike for a two-hour tour of Bay City where you'll pedal between local pubs (while sipping your favorite beverage on board)! Prefer an alcohol-free tour? Pop between some of Bay City's favorite local coffee shops, grab a cup of artisanal coffee or a latte to-go, and caffeinate while you cruise!
Chippewa Nature Center (Midland) One of the nation's largest private, non-profit nature centers — offering two river overlooks, 1,200 scenic acres of wetlands and woodlands, and more than 19 miles of trails. Visit the 1870s-style Homestead Farm or the Log Schoolhouse, and enjoy an impressive lineup of events — from Fall Color Tours by Golf Cart, Kayak, or Voyageur Canoe to Full Moon Strolls and Snowshoe Hikes!
Fall Golf Getaways (Multiple Cities) With four Championship courses and over 20 others to choose from, get ready for nothing but lush greens and long drives! Try two of mLive's "Must-play Public Golf Courses in Michigan" — Apple Mountain in Freeland and The Fortress in Frankenmuth — or craft a mix & match golf package, where one call books both your tee times and the overnight stay!
Horse-Drawn Carriage Rides (Frankenmuth) Head just south of Zehnder's of Frankenmuth to hitch a ride with Fantasy Carriage Company or take off from beneath the Glockenspiel Tower with Frankenmuth Carriage Company. Either way, you'll experience the seasonal beauty of Michigan's Little Bavaria — surrounded by fall foliage or by shops lined with garlands and twinkling holiday lights!
Fall Color Tours on the Water
BaySail - Autumn Color Tour River Cruises (Bay City) Savor hot apple cider and freshly baked donuts while you sail upriver on a majestic tall ship schooner — cozy quilts on laps and brilliant fall foliage all around — aboard these one-of-a-kind cruises on the Appledore IV!
Johnny Panther Quests Adventure Trips - Fall Color Tours (Saginaw) Cheekily referred to as "The Cheap Trips", the experience aboard these fall color tours by boat is anything but! For priceless, up-close-and-personal wildlife encounters and the best seats in the house to autumn's showcase of hues — hop on these shallow-draft boats alongside an expert local guide!
Frankenmuth FunShips (Frankenmuth) Scenic river tours of Frankenmuth, offered through October on the Cass River, weather permitting. Climb on these virtually noiseless electric boats for a 30-Minute or 1-Hour River Tour, or try a Wine & Chocolate River Tour to take in the fall scenery while you sip wines and sample handmade chocolates! 
Bavarian Belle Riverboat (Frankenmuth) Depart from the waterfall docks of Frankenmuth River Place Shops for these one-hour narrated cruises aboard a 150-passenger paddlewheel riverboat — and enjoy panoramic views of Frankenmuth as the perfect fall backdrop, all the way through mid-October!
Ike's Mobile Kayak Rentals (Midland) Guided or solo, single or tandem — the experience when kayaking with Ike's is tailored entirely to your liking. Enjoy drop-off at your choice of launch sites and pick-up when you're finished paddling, and consider a pass beneath The Tridge — an iconic, three-legged bridge found at the confluence of two rivers!
Frankenmuth Kayak Adventures (Frankenmuth) Self-guided kayaking tours on the Cass River, where you'll see Frankenmuth drenched in fall color as you paddle at your own pace in single (sit-in or sit-on) kayaks or double (sit-in) kayaks.
Float Paddle Center (Bay City) Rent single or tandem kayaks (or even stand-up paddleboards) to set out on your own adventure, or "go with the float" on one of their guided ecotours!
Trails + Birding
Saginaw Bay Birding Trail (Multiple Cities) Scenic birding trail that winds 142 picturesque miles along the Saginaw Bay shoreline and surrounding lands — with half of its 40 sites here in Bay and Saginaw Counties! Set out on your birding quest from the official trail hub inside Discovery Preserve — a natural oasis in urban Bay City — and don't miss other incredible checkpoints, from Nayanquing Point State Wildlife Area to Green Point Environmental Learning Center.
Great Lakes Bay Regional Trail (Multiple Cities) Earn the right to say you've traversed a piece of the United States' longest designated state trail — Iron Belle Trail — when you explore our almost-100-mile regional trail system! Self-guided fall color tours to birding excursions, snowshoeing treks to fat tire biking — gear up and get outdoors! Start your expedition on any of three main trail legs — the 30-mile Pere Marquette Rail Trail, 21-mile Bay City Area Riverwalk/Rail Trail, and 11-mile Saginaw Valley Rail Trail — and keep exploring dozens of network trails that intertwine.
Shiawassee National Wildlife Refuge (Saginaw) U.S. Important Bird Area attracting over 270 species of birds and peak fall waterfowl populations of over 48,000! Explore the four trails and seasonal auto tour route that wind through the Refuge, and enjoy a new vantage point from any of three elevated wildlife observation decks.
Wildlife Drive Auto Tour Route (Saginaw) 6.5-mile seasonal auto tour route woven through the raw, untouched beauty of the Shiawassee National Wildlife Refuge. Spot wildlife galore while you experience this extraordinary gem from the comfort of your car, all the way through September!
Shiawassee River State Game Area (St. Charles) Nearly 10,000 acres adjoining the Shiawassee National Wildlife Refuge, named one of Michigan's Wetland Wonders! See abundant waterfowl here, and hike the Saginaw Valley Rail Trail that passes through for even more great birding opportunities!
Bay City State Park (Bay City) More than 2,000 acres of wetland woods, meadows, marshlands, and prairies — making an ideal staging area for migratory birds. Witness one of the Great Lakes' largest remaining freshwater coastal wetlands, or enjoy more than five miles of trails — perfect for hiking, biking, or cross-country skiing!
Winter Sports
Ice Fishing (Saginaw Bay) Taking part in the annual Mark Martin Ice Fishing Vacation School or taking to the frozen-over waters solo for what's revered as the best ice fishing for walleye in all of Michigan — every moment spent shivering in your shanty is well worth it for the trophy walleye you'll have the chance to catch on Lake Huron's Saginaw Bay!
Cross-Country Skiing (Multiple Cities) Setting out for uninterrupted stretches of winter-white trails along our almost-100-mile Great Lakes Bay Regional Trail system or looking for the smaller (but just as scenic) jaunts that places like Chippewa Nature Center, Midland City Forest Winter Sports Park, and Bay City State Park provide — put some miles on your poles while you bask in the still, snow-covered beauty of Pure Michigan!
Snowshoeing (Multiple Cities) Trekking through the 1,200-acre landscape of Chippewa Nature Center on borrowed decks during an expertly guided snowshoe hike or traversing the best snowshoeing spots tucked within Midland City Forest Winter Sports Park on your own, the hush of winter is broken by the soft crunch of snow under-shoe at these unique spots and more!
Fat Tire Biking (Multiple Cities) Bring your own fat bike for a snowy ride along almost 100 miles of pathways that make up our Great Lakes Bay Regional Trail, or take to eight miles inside Midland City Forest on a fat bike rented from the almost-on-site Ray's Bike Shop location!
Tobogganing (Midland) One of Michigan's last remaining toboggan runs, enjoy Midland City Forest's two snow-packed, iced, and elevated tracks — and welcome your new favorite Pure Michigan winter pastime! Personal toboggans aren't allowed here, but you can rent them on-site for just $8/hour.
Ice Skating (Multiple Cities) Enjoy a large, lighted rink inside Midland City Forest Winter Sports Park on skates rented on-site — then huddle in and warm up at the City Forest Fire Pit, just north of the Chalet! Or, head to Saginaw's Hoyt Park for another favorite local rink complete with rentals — plus a warming house and hills for sledding or snowboarding. You'll find on-site skate rentals (and hot chocolate, too!) at the new Nickless Family Community Pavilion in Downtown Bay City — a beautiful, lighted rink inside waterfront Wenonah Park!