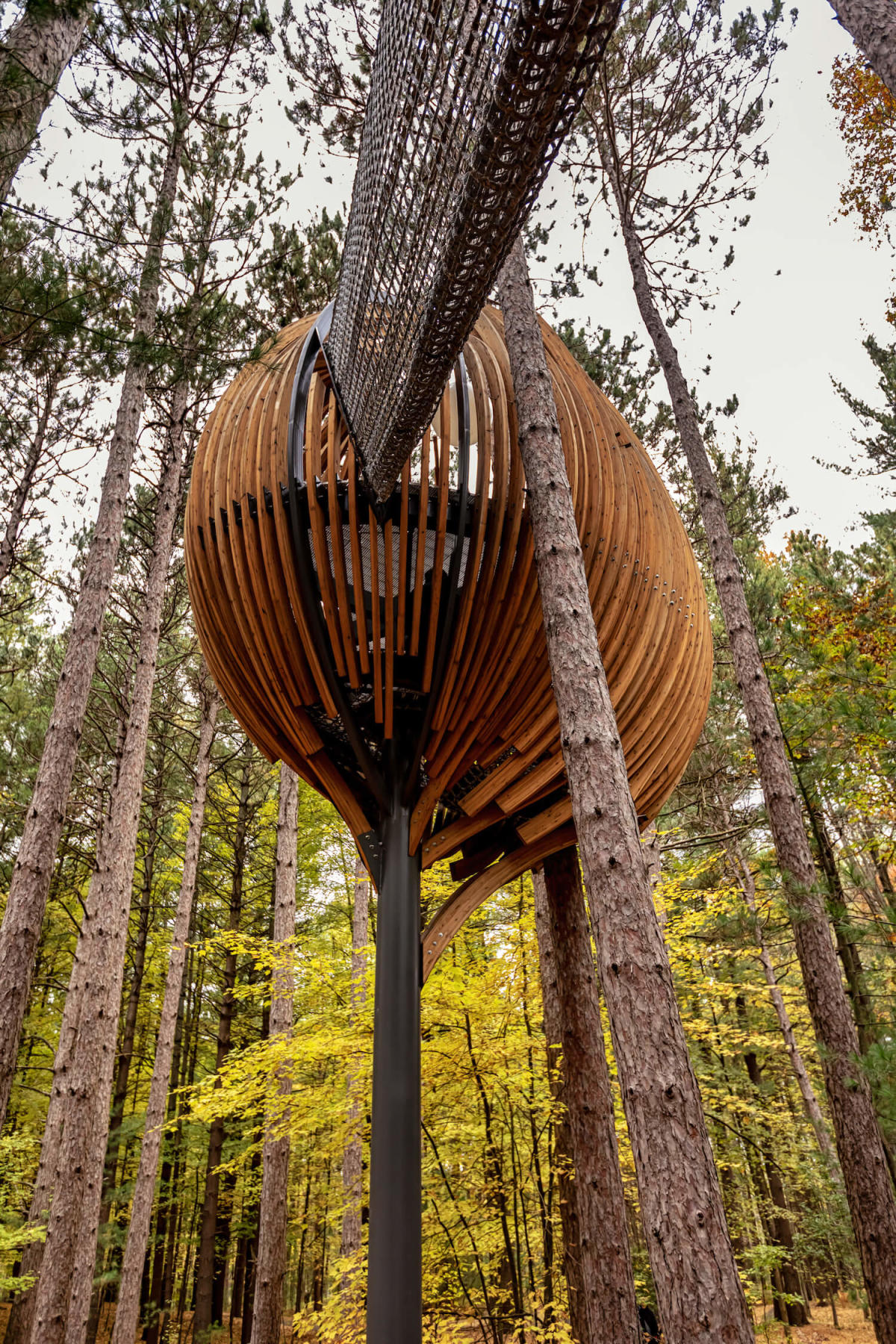 ---
Sailing aboard a tall ship on an enchanting Autumn Color Tour River Cruise, weaving through the treetops on the country's longest canopy walk, or browsing Michigan's largest antique center and two bustling, modern city markets, it's clear what sparked Chicago Tribune to name the Great Lakes Bay Region among the "Best of the Midwest" — one of "9 must-see destinations worth a visit in 2019"!
---
This fall, will you take a self-guided kayaking color tour or sample wines and handcrafted chocolates on a tranquil river cruise? Bike between pubs or coffee shops on a bundled-up ride aboard a group pedal trolley, or set out by boat for one of the last adventure eco-tours of the season? Maybe you'll take the whole family on a historic working farm tour, hayride through an orchard on your way to a gigantic pumpkin patch, and sip fresh-pressed, warm apple cider all while you do. Whichever you choose, our fall excursions are always packed with panoramic vistas and fresh harvest flavors!
With the first snowfall of winter comes the promise of even more adventure — from a year-around canopy walk and garden for all seasons to a winter sports park tucked inside a towering forest. Shake off the winter chill while you shop Michigan's largest antique center or one of the Midwest's largest outlet malls — even the world's largest Christmas store — and experience seasonal makers markets and holiday festivals that'll quickly become your new favorite Pure Michigan traditions!
Cozied near Pure Michigan's eastern shoreline with easy access to the Saginaw Bay of Lake Huron, you'll find this whimsical waterfront city. And, Uptown to Downtown, enjoy every special detail — from some of the best antiquing in Michigan to a collection of well-curated artisan boutiques.
Set sail on the Appledore IV tall ship for an Autumn Color Tour River Cruise, where warm apple cider and donuts served on-board are just the delightful added touch to autumn's showcase of color. Or, set out for a different style of adventure altogether — a pub crawl or city tour on Sunrise Pedal Trolley's 15-person, Dutch-made bike — maybe with a pause to capture the moment under the glow of the 3rd Street Star Bridge!
Shop Michigan's largest antique center along an entire city block, browse the many and varied vendors of Downtown's modern City Market, and don't miss seasonal happenings from fall's Great Lakes Market in Uptown to winter's Sundays in the City — where free horse-drawn carriage rides, festive streetscapes, and storefronts, strolling carolers, and classic holiday film showings make Bay City an even more magical place to be!
Whether you've built a tradition on returning each fall for the unbelievable savings and inevitable surprises that come with Deal Hunters' Weekend or you're making your very first visit to one of the Midwest's largest outlet malls — Birch Run Premium Outlets — prepare for a life-changing shopping experience made possible by over 100 stores! Browse favorite brands from Columbia Sportswear Company to Michael Kors, Lenox to Kate Spade New York — and get ready to enjoy so much more than shopping alone!
Catch one of the season's final, fast-paced races at Birch Run Speedway & Event Center in September, pull the kids in rented wagons along the winding paths of Wilderness Trails Zoo, and time your visit to the exciting lineup at Frankenmuth Credit Union Event Center, where you'll enjoy everything from Shipshewana on the Road in October to Smetanka's Holiday Craft Show in November!
This quaint and charming village is a welcome throwback to simpler times — offering its own uninterrupted slice of uniquely-Pure-Michigan magic. From a boulevard lined with beautiful plantings (or festive holiday decorations, depending on when you visit) to streets dotted by small-town shops — visiting here means respite and retreat from the everyday.
And, speaking of retreat, that's exactly what you'll do at any of four Creative Passions Crop & Quilt locations. Whether you'll choose one of two housed in historic churches, another inside a charming Victorian home, or the grandest of them all — Creative Passions Retreat Center — the scrapbooking and quilting experience offered is every bit as memorable.
Visiting this cozy village with the kids? You won't want to miss one single square inch of the sprawling, 25,000-square-foot wonderland that is Santa's Village - The North Pole USA. Here, you'll see 175+ gorgeously trimmed trees and a model train display — all while enjoying holiday carnival rides, Christmas-themed crafts, and visits with Santa himself!
Savoring the bounty straight from our farms at spots that shine a light on seasonality and local sourcing or pulling up seats around a circular table to dine like family on the world-famous chicken dinners of Bavarian Inn Restaurant and Zehnder's of Frankenmuth — harvest time in Frankenmuth is bursting with flavors as fresh as they are good-for-the-soul.
See this inviting Bavarian village come alive during traditional fall festivals from Auto Fest to Oktoberfest, stroll the German-themed outdoor shopping mall at Frankenmuth River Place Shops, and soak up every vibrant vista in-between — ziplining through the forest at Frankenmuth Aerial Park or sightseeing on the water with Frankenmuth FunShips, Bavarian Belle Riverboat, or Frankenmuth Kayak Adventures!
And, when winter arrives? Where better to spend it than one of Time magazine's "9 Most Christmassy Towns in America"! After all, holiday cheer's always radiating here — especially at the world's largest Christmas store, Bronner's CHRISTmas Wonderland, and its illuminated 25 Christmas Lane, aglow with 100,000+ twinkling lights each night of the year!
Whether you'll stroll beneath the heated tents of an outdoor, European-style Christmas market or wash off the winter chill at two incredible indoor waterparks — Zehnder's Splash Village Hotel & Waterpark and Bavarian Inn Lodge — welcome to family traditions you'll never outgrow!
Dotted by mid-century modern architecture and artful spaces, places for makers and places to immerse yourself in nature — this inspired city is alive and vibrant, both outdoors and in. Here, the country's longest canopy walk is yours to roam, soaring up to 40 feet in the air and tucked into the 54-acre Whiting Forest it overlooks. Just cross the bridge to connected Dow Gardens (included in your admission) — where botanical gardens, groves of towering pines, and interesting architectural bridges make this oasis worth exploring in any season!
Plan a self-guided paddle beneath The Tridge — an iconic, three-legged bridge at the confluence of two rivers — on rented craft from Ike's Mobile Kayak Rentals, then browse the Midland Area Farmers Market found at its base. Stroll down to nearby Larkin Beer Garden for food trucks and fall brews all the way into late-September, or enjoy other local haunts like WhichCraft Taproom — serving only made-in-Michigan beer, wine, cider, and mead!
Still, there's much more Midland to explore — touring one of the "25 Best Historic Homes In America" inside Alden B. Dow Home & Studio or using Mid-Century Modern Midland's mobile app to track down more than 400 architectural wonders throughout the city. Spend a day discovering Midland Center for the Arts' two museums, two performance venues, art studios, and more, or take a seat at Space Studios' glaze bar to put the finishing touches on your own take-home pottery.
Wildlife spotting and leaf-peeping amidst almost 19,000 combined acres of National Wildlife Refuge and State Game Area on a fall color ecotour by boat — with expert local captain "Johnny Panther" as your guide — you'll find it hard to believe you're no more than minutes from the core of this eclectic city.
At the heart of the Riverfront Saginaw district, you'll find both a buzzing, modern city market — with over 30 diverse vendors inside — and the grand 1927 Temple Theatre just blocks away. One of North America's most authentic Japanese tea houses, and an art museum encased in Italianate gardens. A bright and playful children's museum, and an AZA-accredited children's zoo — all yours to enjoy.
Whether you'll slip into Saginaw's original craft distillery or saunter up to the bar at Oracle Brewing Company to order another round of their unconventional brews — you'll soon discover this city holds new surprises and fresh experiences around each historic corner.